Here's How To Get Cast On Chopped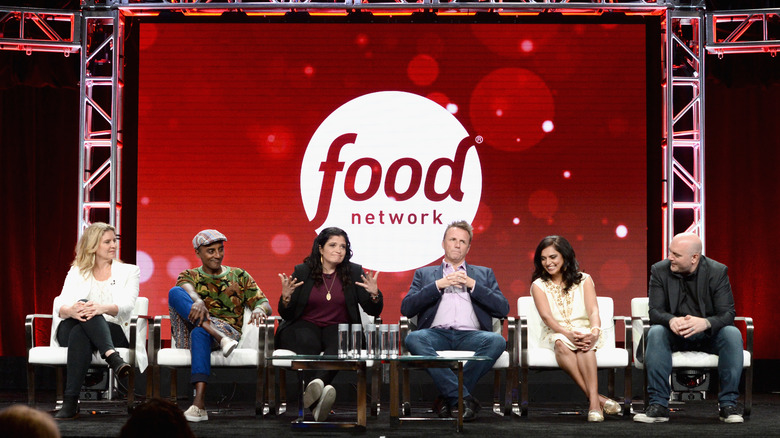 Amanda Edwards/Getty Images
Go big or go home. That, in a nutshell, is the advice four-time "Chopped" winner Stephen Coe gives to contestant wannabes. Well, at least when it comes to personality. Coe, who currently has six "Chopped" competitions under his belt — in addition to a win against Bobby Flay — persevered for two years before he made the cut. 
Once he got the call, Coe, who hails from Plymouth, Massachusetts, decided to let his Boston swagger shine. Then he rode that love-it-or-leave-it quality made famous by the likes of "Boston" Rob Mariano all the way to the finish line. "I thought to myself, what would I want to be watching," Coe told Mashed. "I tried to make myself laugh while I was in the competition."
Another "Chopped" competitor, Josh Lewis, told AV Club it also took him about two years from the time he submitted his application until he got the call to compete. (Apparently, patience really is a virtue in the realm of reality television.) He made it through the in-person interview stage (and noted, like Coe, it's important to have a personality or story producers think will resonate with the audience), but he didn't get selected immediately.
Once he got the big green light, Lewis had about four months to prepare for filming. While he acknowledged it's difficult to practice for an in-the-moment competition like "Chopped," Lewis said he knew he'd be working with a curve-ball array of ingredients. To prepare, he recruited a friend to brainstorm unlikely combinations, categorizing ingredients by flavor profile, and making plans for theoretical ingredients.
How Chopped works
If you haven't seen the fly-by-the-seat-of-your-pants cooking competition, you may be wondering about the premise for "Chopped." The widely popular Food Network show debuted in 2009, and Wide Open Eats pegs it among the network's most successful ventures.
Each episode pits four professional chefs against one another. The challenge? In a three-round elimination face-off, four competing chefs display their cooking prowess (and imaginations) by creating three dishes — usually an appetizer, an entrée, and a dessert, although special themes occasionally enter the mix — using only four ingredients. The catch? The mystery ingredients are revealed at the very last minute and they always present a flavor-profile dilemma (via Food Network).
Ted Allen, of original "Queer Eye for the Straight Guy" fame, hosts the show while a panel of three celebrity chefs judges the competitors' creations. The contestant still standing at the end of the three elimination rounds takes home $10,000 and, perhaps more importantly, bragging rights as a "Chopped" winner.
Chopped is the perfect place to start when it comes to competing on reality TV
If you're a professional chef interested in competing on a reality cooking show, Casting Master says "Chopped" is one of the easiest places to start (and amateur chefs can apply for special episodes). The show airs multiple seasons each calendar year. Do the math — with an average of 50 new episodes a year and four chefs competing per episode, "Chopped" showcases about 200 contestants annually. Take a look at the standard application via JS Casting. Pretty routine, according to PopSugar, but let's face it, lots of professional chefs have the "chops" — pun intended — to spin creative dishes out of wacky ingredients.
The Beat says casting is one of the most important elements of creating successful reality television programming. Producers are looking for authentic contestants willing to let their personalities shine. Scroll down to the "More About You" section on the "Chopped" application. That's where you're going to convince producers you're ready to go big or go home.