The Real Reason Jeff Mauro Thinks Tacos Are Sandwiches
Jeff Mauro made his name competing on Food Network's "Star Competition," participating as none other than the Sandwich King and winning the season. Since then, Mauro has gone on to host a number of cooking shows including "$24 in 24," "The Kitchen," and, of course, "The Sandwich King."
Per Mauro's bio, while living in Westmont, Ill., he opened up his own business called Prime Time Deli & Catering where he learned the ins and outs of perfect sandwich-making. The sandwich maker clearly has a real love for this food. And who doesn't love a grilled cheese, the ultimate PB&J, or Mauro's creation of a hanger steak sandwich with bourbon creamed spinach? The only person who possibly loves sandwiches more than Mauro is Joey Tribbiani from "Friends."
But what makes a sandwich a sandwich? According to the online Merriam Webster Dictionary, a sandwich is "two or more slices of bread or a split roll having a filling in between or one slice of bread covered with food." But does the culinary world feel the same? A case in point, the Reddit community took to their board to pose the following pondering: "I wonder if Chef Jeff Mauro would consider a taco a sandwich."
It's a fair question, but one that could easily start a food fight. So, what does Mauro think?
Tacos are sandwiches, based on this belief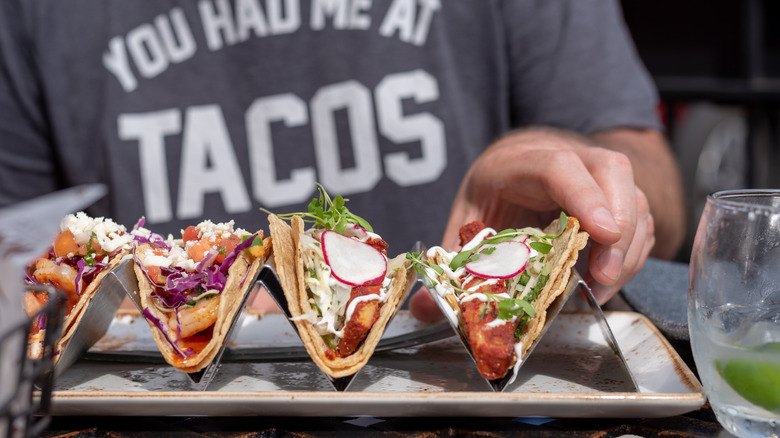 Shutterstock
Jeff Mauro did not directly answer the Reddit community's question about whether or not a taco is a sandwich, but instead shared a poem he penned about the same question that surrounds a hot dog. Perhaps his answer is really expressed in those lines that read: "But you're in between some bread! / And I can eat you on the go!" So, does that mean the taco is not a sandwich? There's no bread. But the Redditors still seem divided with some believing yes, a taco does qualify as a sandwich, and others saying no, it doesn't. 
Well, we did a little more sleuthing and you might be surprised to learn that the famed chef does indeed consider a taco a sandwich. Mauro doesn't feel restricted by the dictionary's limiting definition in the slightest. That might be controversial to some or an "about darn time" for others. In a Wall Street Journal interview, the Sandwich King shared that there are many foods that qualify as a sandwich if they meet this one criteria: "It's all hand-held food."
So, yes, tacos with whatever meat or vegetable filling you want to stuff them with are sandwiches as long as they don't require a fork and knife to eat them with.