Traditional Welsh Cakes Recipe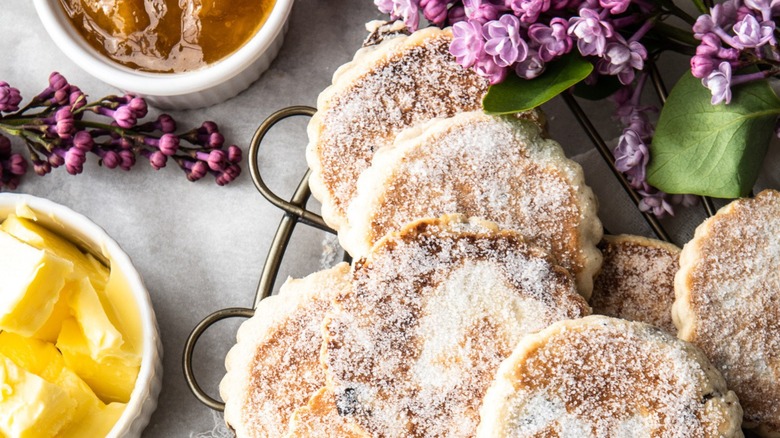 Jennine Bryant/Mashed
Welsh cakes, as the name implies, have their origins in the land where language is complicated and vowels are in short supply. What they are not, however, are "cakes," at least not in the American sense of the word. Welsh Baker describes Welsh cakes as a kind of cookie/scone/pancake mash-up: they look like thick cookies, their ingredients are similar to those of scones, and they're cooked on a griddle, pancake-fashion.
Back in the dark days when many Welshmen had to go down into coal mines to make a living in Wales, these cakes were baked by their wives so they'd have a little portable home cooking to see them through what had to be one of the toughest working days imaginable. These cakes were also served on happier occasions, too, as a favorite accompaniment to an afternoon cup of tea. While recipe developer Jennine Bryant of The Marshside Pantry may be known for gluten-free cooking, here she's returning to her British roots by giving us a taste of authentic Welsh baking. "In my household," she tells us, "we have a tradition of having Welsh cakes on St David's Day." St. David, in case you're not familiar with him, is the patron saint of Wales, and his feast day falls on March 1st. Bryant calls Welsh cakes "quite a traditional British cake," although she says that the tradition encompasses a number of different variations.
Assemble your ingredients for the Welsh cakes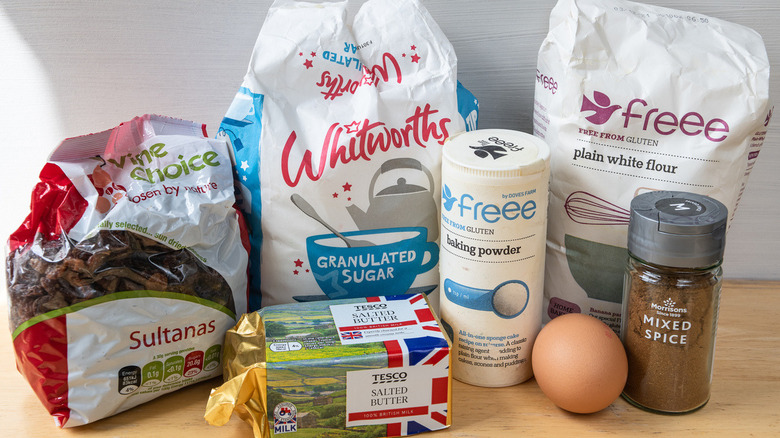 Jennine Bryant/Mashed
Unlike many British recipes, these Welsh cakes are made with plain old all-purpose flour. While the Brits are partial to self-rising flour, with this recipe you won't have to go through the bother of making your own if it's not one of your pantry staples. In addition to the flour, you'll also need granulated sugar, butter (Bryant says unsalted is best, but salted is ok), an egg, maybe a tiny bit of milk, and some currants. You will also need "mixed spice," a popular British seasoning often used in gingerbread cookies like the Queen's favorite holiday treat.
If one or both of these last-named ingredients is giving you pause, don't worry! We know that some ingredients that can easily be found in any U.K. supermarket might be harder to come by in the U.S. If you can't find currants, it's no big deal if you swap them out for golden raisins (a.k.a. sultanas) or just regular raisins. You could even leave them out altogether if you can't stand little dried brown fruits hiding in your food. In fact, Bryant herself confesses, "We usually omit the currants and instead make them with chocolate chips! " As for mixed spice, well, this is something you're practically guaranteed not to find at Kroger. If you're a recipe purist and/or an Anglophile, you might want to order some online. If you're a DIY-er and/or more budget-conscious, you can always make your own.
Here's what to use in place of mixed spice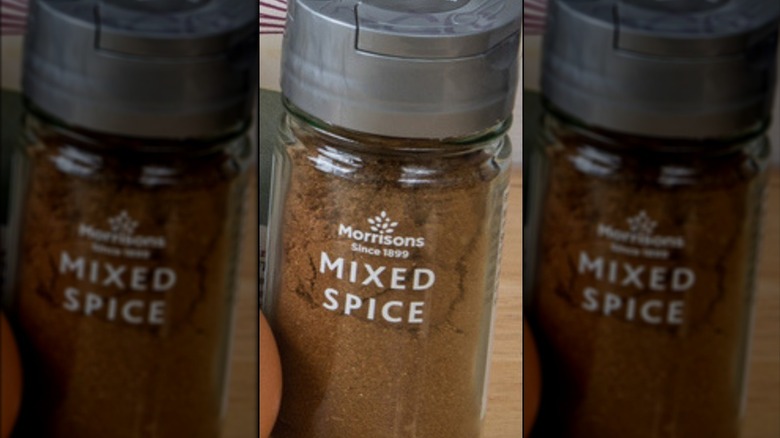 Jennine Bryant/Mashed
To make your own mixed spice, you can combine the following: 3 parts each ground cinnamon and ground nutmeg, 2 parts ground mace, and 1 part each ground cloves, ground coriander, ground ginger, and ground allspice.
If you don't want to go through all that bother or perhaps you're not entirely sure where to find mace, coriander, or allspice (much less what to do with the rest of the jar), you can also replace the mixed spice with an equal amount of pumpkin pie spice! Sure, this somewhat simpler blend of cinnamon, nutmeg, ginger, and allspice isn't exactly the same thing, but it has a similar enough flavor profile that you probably won't notice the difference even if you have tried authentic British mixed spice.
Make the dough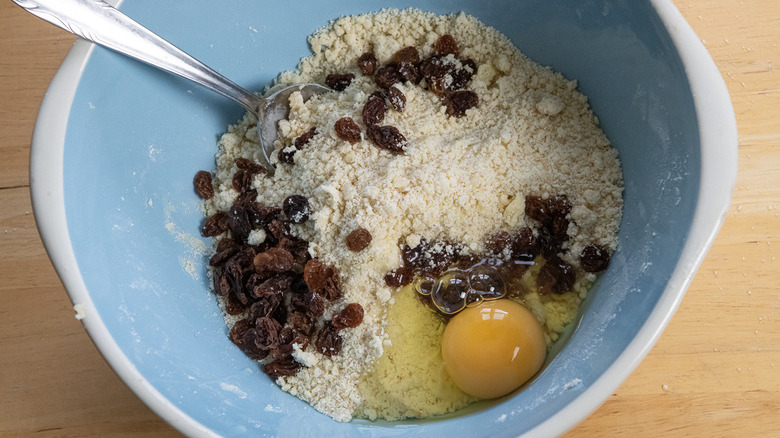 Jennine Bryant/Mashed
Measure the dry ingredients, including the mixed spice (or whatever substitute you're using), into a mixing bowl and stir them all together until they are thoroughly combined. Cut the butter into small cubes, then use your fingers to rub it in to the flour mixture until it has a crumbly texture — Bryant says it should feel kind of like breadcrumbs.
At this point, stir in the currants, raisins, chocolate chips, or whatever your chosen addition (if any). Bryant tells us "You just directly substitute your desired addition, keeping to the same weight as the recipe and adding them at the same time." Mix the egg into the dough, then check the texture. If it still feels a bit too dry to form into cakes, you may need to add a tiny bit of milk in order to make a slightly sticky dough.
Cut out and cook the cakes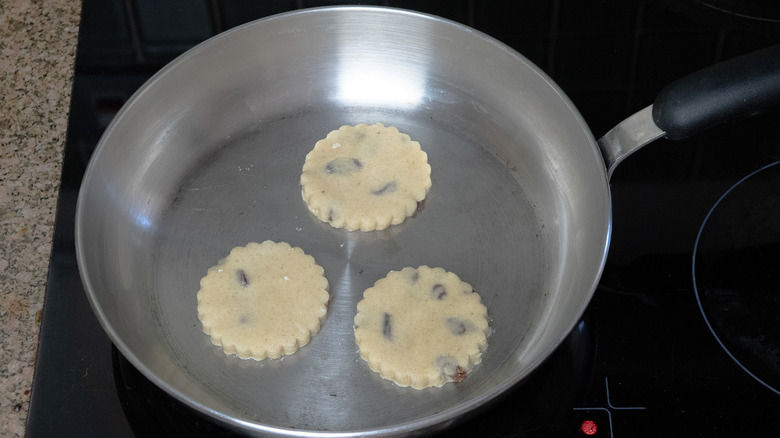 Jennine Bryant/Mashed
Lightly flour a countertop, cutting board, or other work surface and place the dough on that surface. Using a rolling pin (or a wine bottle, in a pinch), roll the dough out until it's about 1/4-inch thick. Use a cookie cutter or a glass to cut out the dough in round shapes. Leftover dough scraps can always be squished into your best approximation of a circle, as well, since there's no point letting good dough go to waste!
When the cakes are ready to cook, heat a griddle or a frying pan. Use a little butter to grease the pan, then add as many cakes as you can without crowding the pan. Fry the cakes for a few minutes on each side until they are golden brown, then repeat with the next batch of cakes.
Serve the Welsh cakes with your chosen topping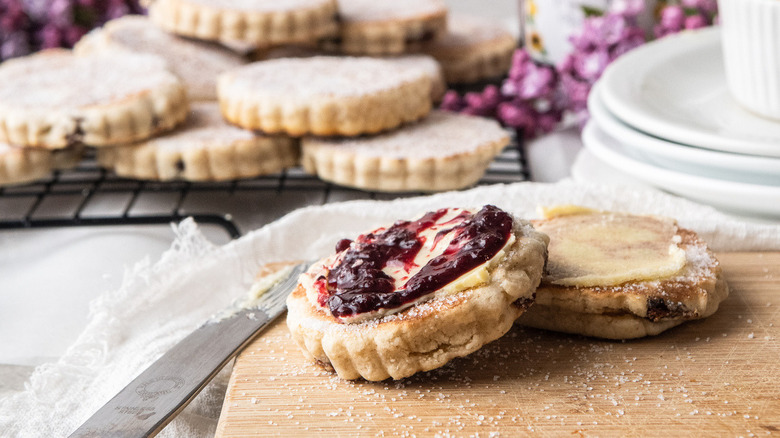 Jennine Bryant/Mashed
As soon as you slide each cake out of the pan, give it a generous sprinkling of granulated sugar while it is still warm. While Bryant says it should take about half a cup of sugar to sprinkle all of the cakes, this particular measurement doesn't need to be exact so there's no need to divide that half cup by the number of cakes baked or anything complicated like that.
Allow the sugared cakes to cool completely on a wire rack. If you like, you can serve them with some butter and or jam, but you can also eat them just as they are, since they're delicious even without any embellishment!
Yes, you can make gluten-free Welsh cakes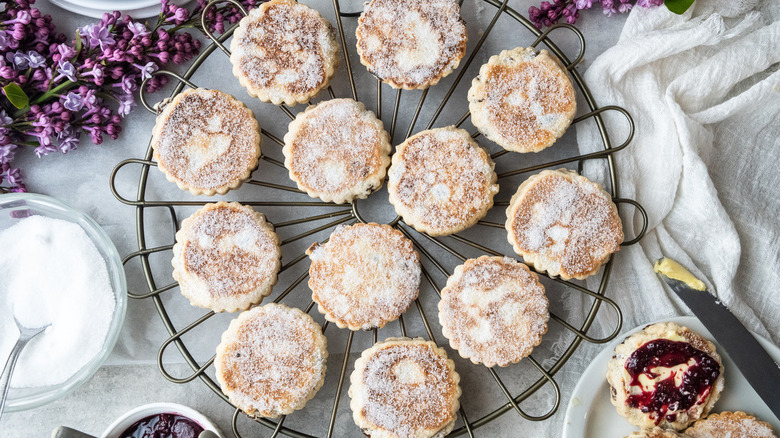 Jennine Bryant/Mashed
Many times, when you're looking up recipes online, you might see people on gluten-free diets asking the recipe developer if it's ok to make a gluten-free such-and-such. While the recipe developer may really want to offer helpful advice, they won't always know for sure just how well a gluten-free version would work, since they haven't actually tried baking the item that way.
Bryant, however, specializes in gluten-free baking, and she absolutely has baked gluten-free Welsh cakes. In fact, she does so on a regular basis and tells us "These are so incredibly simple to make gluten-free!" All you need to do, she tells us, is to substitute gluten-free flour on a one-to-one basis for the all-purpose flour called for here. "The recipe works equally well with both types of flour," she says, remarking that "regular flour just makes them a little more sturdy and less crumbly."
Traditional Welsh Cakes Recipe
These traditional Welsh cakes are one part pancake, one part cookie, and one part scone -- what's not to love about that?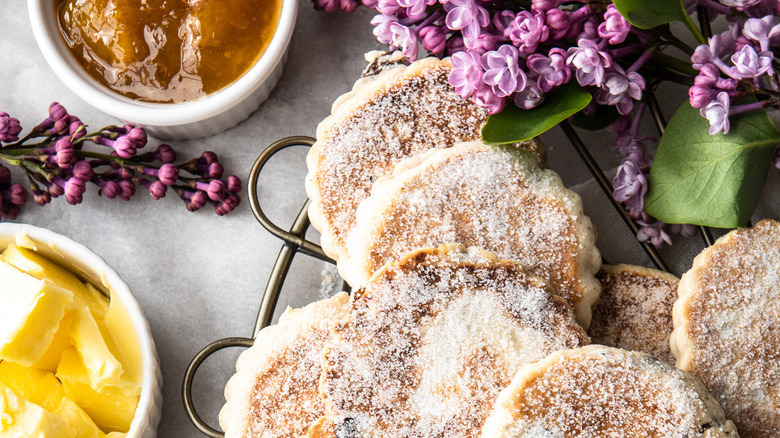 Ingredients
1 ½ cups plus 2 tablespoons all-purpose flour, divided
1 teaspoon baking powder
⅓ cup granulated sugar plus an additional ½ cup for dusting the cakes
½ teaspoon mixed spice
7 tablespoons unsalted butter, cut into small cubes, plus extra butter for greasing the pan
¼ cup currants
1 large egg at room temperature
Milk, if needed
Optional Ingredients
Raisins
Chocolate chips
Jam
Directions
Mix together the 1 ½ cups of flour, baking powder, ⅓ cup granulated sugar, and mixed spice in a bowl until thoroughly combined.
Add the cubed butter and rub the mixture between your fingers until it is well combined and has a crumbly, breadcrumb-like texture.
Add the currants to the bowl and then mix in the egg. The mixture should form a slightly sticky dough, but if it is still a bit dry, add a little milk as needed until the ingredients combine.
Add the 2 tablespoons of flour to the surface on which you will roll out the dough. Roll the dough out until it's about ½-inch thick, and then use a cookie cutter or glass to cut out round shapes from the dough.
Heat a griddle or a frying pan, grease it lightly with some butter, and then fry the cakes in small batches for a few minutes on both sides until they are golden brown.
As soon as the cakes are removed from the pan, dust them with extra ½ cup of granulated sugar and leave them to cool on a wire rack.
Serve the Welsh cakes with butter and jam if desired.
Nutrition
| | |
| --- | --- |
| Calories per Serving | 129 |
| Total Fat | 6.2 g |
| Saturated Fat | 3.7 g |
| Trans Fat | 0.2 g |
| Cholesterol | 27.5 mg |
| | |
| --- | --- |
| Total Carbohydrates | 16.7 g |
| Dietary Fiber | 0.5 g |
| Total Sugars | 6.1 g |
| Sodium | 30.2 mg |
| Protein | 2.0 g |