Here's Why Einat Admony From Battle Of The Brothers Is So Familiar
If you tune in to Discovery+ on June 17 to watch the new cooking competition "Battle of the Brothers," you'll eventually see a familiar face among the guest judges. Brothers Bryan and Michael Voltaggio will host and mentor contestants who are competing for an opportunity to take over a Voltaggio restaurant as guest chef, according to Discovery+. Among those who will decide the competitors' fates will be Einat Admony, a New York chef and restaurateur who has earned praise for her refined approach to falafel, a street food offered at hundreds of outlets in the city, per Cooking Channel. Even with all that competition on the city's streets, New York magazine declared that Admony's Taim Falafel & Smoothie Bar had the best falafel in the city (via Food Network).
In addition to her Taim falafel chain, Admony owns and runs the Middle Eastern fine-dining restaurant Balaboosta and Kish-Kash, New York's first couscous bar, according to her website.
After Admony arrived in the U.S. from Israel to gain more experience in restaurant kitchens, she worked as a line cook for Bobby Flay at his restaurant Bolo. She also worked at the well-known restaurant Patria ' the only female cook ever at that establishment. "I would do what any other man did and probably more," Admony said.
Einat Admony won 'Chopped' twice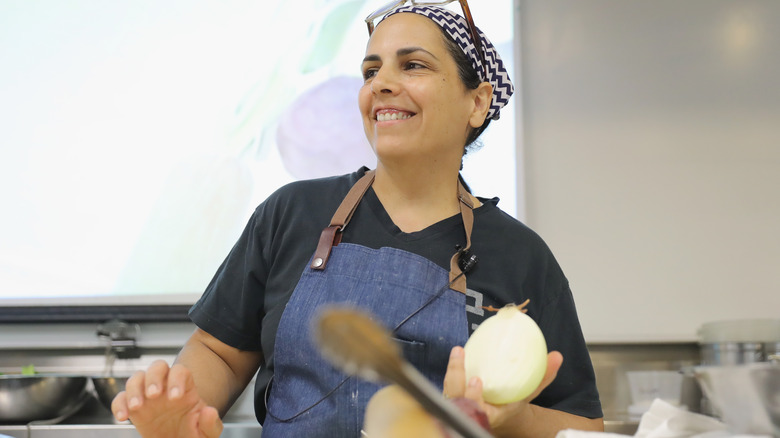 Neilson Barnard/Getty Images
Unless you love couscous and falafel and live in New York, Einat Admony's impressive restaurant résumé won't explain why she looks so familiar. Admony will appear soon as a guest judge on the new Discovery+ cooking competition "Battle of the Brothers," but she's been on TV before. She went on the Cooking Channel to compete in a falafel challenge against her former boss in "Throwdown with Bobby Flay," according to the network's website. Flay may have been the underdog in this competition, as falafel is Admony's specialty. However, even Flay was surprised when he was declared the winner on the show, according to the Jewish Standard. Admony got redemption during her appearances on Food Network's "Chopped." She won the show twice in three appearances, per Speax.
Admony may be most familiar to lovers of food TV from her appearances on "Chopped." She made a strong impression on host Ted Allen, who called her one of the show's most memorable competitors, according to Food Network. "Einat had a falafel business, and she went up against an executive chef from a really fancy restaurant, and she kicked his butt," Allen said.
Admony will make another TV appearance soon. She announced on Instagram she will judge the season finale of "Worst Cooks in America," which premiered May 30 on Food Network.