Homemade Turkey Breakfast Sausage Recipe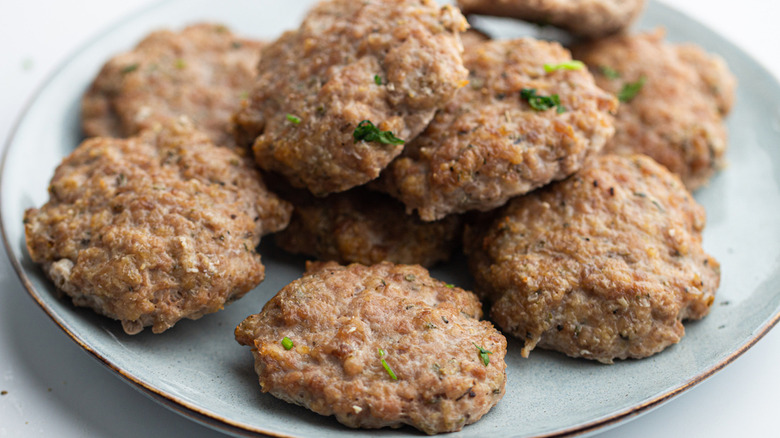 Susan Olayinka/Mashed
When you think of breakfast sausage, you probably think of pork slabs served with fresh bacon and eggs in the farmlands of America's southern states. Or maybe you think of the British "bangers," which are unique for their use of rusk, which acts as a wheat-based filler in the traditional British sausage, according to MyRecipes. But like all recipes, experimenting can lead to tasty new discoveries and improvement upon the original inspiration. And when it comes to meat, turkey has become quite a popular substitute for traditional meats in recipes for breakfast sausage and beyond, given that it contains less saturated fat than beef and many comparable pork products. 
Recipe developer Susan Olayinka of The Flexible Fridge describes her creations as "quick," "healthy," and "family-friendly," and her homemade breakfast sausage definitely fits the bill. With a preparation time of 5 minutes and a cook time of 20 minutes, these turkey-based treats are the perfect way to start your day. Now, let's take a look at what you'll need to get started.
Gather your turkey breakfast sausage ingredients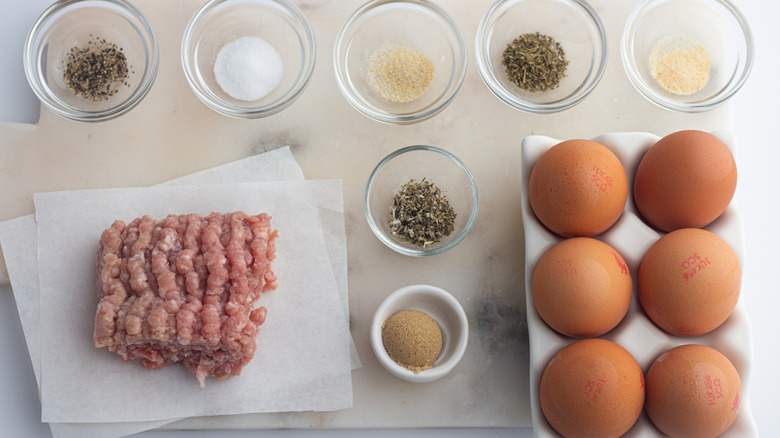 Susan Olayinka/Mashed
For this breakfast sausage recipe, you'll need to pick up some dried sage, dried thyme, onion powder, garlic powder, and 1 egg. You'll also need brown sugar, pepper, and salt.
Then, there's the protein to consider. When you're choosing your ground turkey, there is one crucial tip to keep in mind: go with dark meat. When it comes to flavor and moisture content, darker meat is best, especially for applications like breakfast sausage. So, be sure to check the mixture when purchasing your protein. According to Slender Kitchen, most standard turkey packages are a combination of white and dark meat and can be spotted by carefully reading the package label. If you want pure dark meat, then frozen ground turkey is the best bet.
As for the exact mix of white and dark meat in your ground turkey, that's largely up to you and how you want to balance flavor and dietary needs. "Dark meat ground turkey is definitely more flavourful," says Olayinka. "If readers want a healthier option, white meat is good as breast is leaner, but dark meat is much more flavourful."
Make your turkey sausages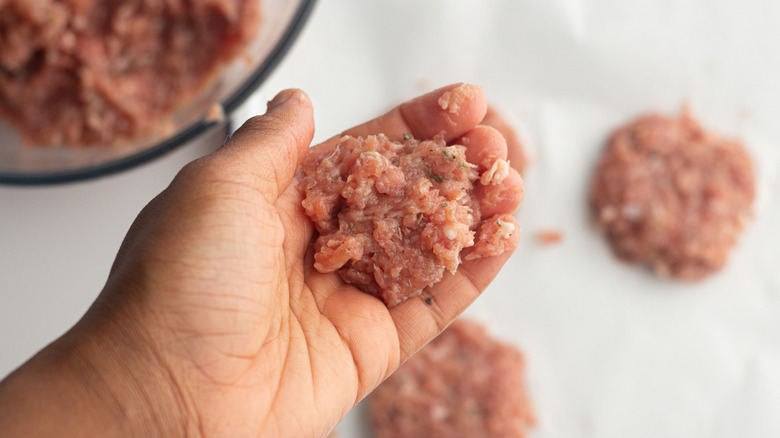 Susan Olayinka/Mashed
First, take a minute to get your oven preheating to 350 degrees Fahrenheit. Then, gather all of your ingredients and add them to a medium mixing bowl. Use a flat-bladed spatula (or your choice of mixing tool) to combine all of the ingredients together until the blend is an even consistency.
Now it's time to make your sausages! Start by lining a baking tray with a piece of parchment paper. From here, use your hands to scoop out the ground turkey and form it into 10 equally sized pieces of turkey sausage. Make sure you leave enough space between each piece so that the tray is not overcrowded and the sausage will have the space to cook properly.
You should also avoid over-handling the turkey, as this will compact the meat and could take away some of the juiciness of your cooked sausages. To avoid this, lightly oil your hands before forming the patties and take care not to be too firm with them as you're shaping everything.
Bake your turkey sausages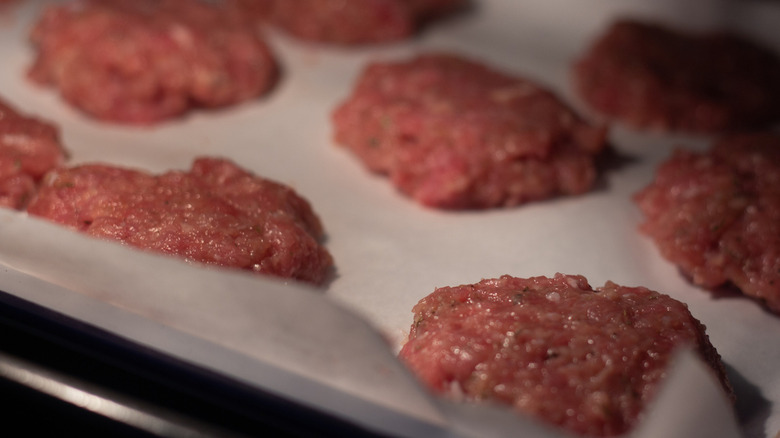 Susan Olayinka/Mashed
Once your turkey sausages are perfectly formed and ready to go, throw them into the oven and bake them at 350 degrees Fahrenheit for 20 minutes. There's no need to flip the patties, as they're small enough to cook from both sides in the oven.
If you have an instant-read thermometer, check the internal temperature of each piece before you prepare to serve them. For safety's sake, poultry should be cooked to 165 degrees Fahrenheit on the inside.
When you've made sure your sausages are cooked through, remove the baking tray from the oven. You can carefully drain any excess grease or liquid if you like your sausages with minimal grease, but Olayinka said this isn't necessary.
Serve your homemade turkey breakfast sausage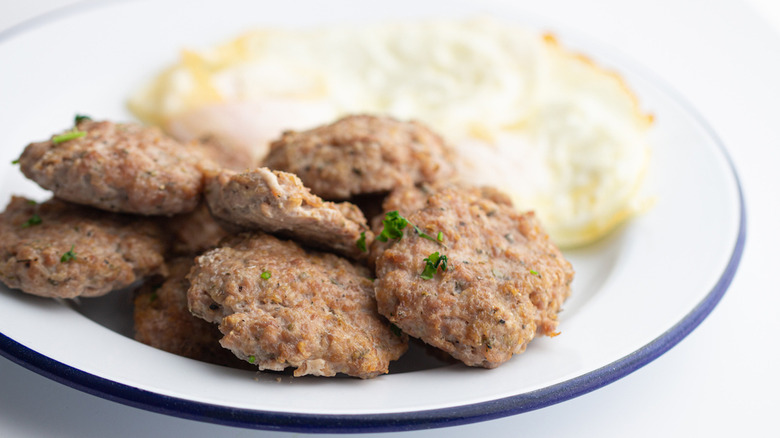 Susan Olayinka/Mashed
With your homemade breakfast turkey sausage cooked and ready to eat, it's time to consider some meal pairings. Lucky for you, this recipe is as flexible as they come, given that it is a great team player with a wide array of breakfast items and more. "This is wonderful as a breakfast option and pairs well with bacon, eggs, breakfast rolls, waffles, pancakes," Olayinka said.
Although you can store your sausages in the refrigerator as leftovers if you absolutely have to, Olayinka recommends eating them immediately. The cold temperature of the fridge can sap their tenderness and make the leftover sausages a little tough.
Homemade Turkey Breakfast Sausage Recipe
Made with ground turkey, these homemade breakfast sausages bring a healthy and flavorful twist to a breakfast table classic. Here's how to make them at home.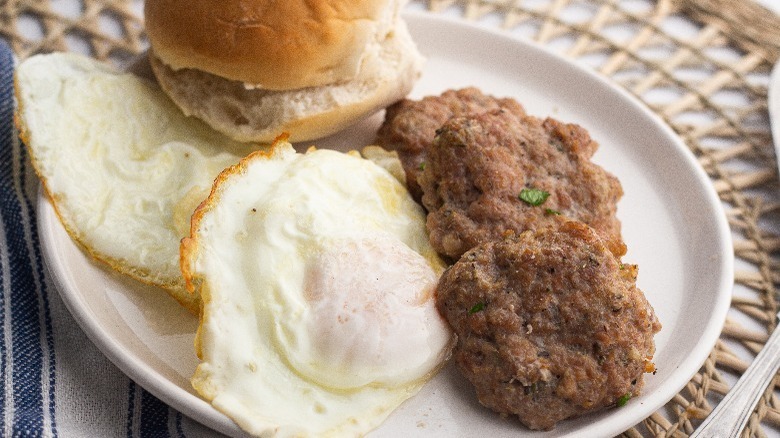 Ingredients
1 pound of ground turkey
1 teaspoon dried sage
¼ teaspoon dried thyme
⅛ teaspoon onion powder
¼ teaspoon garlic powder
1 teaspoon of brown sugar
⅛ teaspoon of pepper
½ teaspoon salt
1 egg
Directions
Mix turkey, dried sage, dried thyme, onion powder, garlic powder, brown sugar, black pepper, salt and egg in a medium mixing bowl until well incorporated.
Line a baking tray with parchment paper.
Scoop out the turkey mixture and flatten it into 10 sausages of equal size on the lined baking tray. Do not overcrowd the baking tray.
Cook the sausages at 350 degrees Fahrenheit for 20 minutes.
Drain the excess liquid in the baking tray if necessary.
Serve your homemade turkey breakfast sausages and consume immediately.
Nutrition
| | |
| --- | --- |
| Calories per Serving | 75 |
| Total Fat | 3.9 g |
| Saturated Fat | 1.1 g |
| Trans Fat | 0.0 g |
| Cholesterol | 47.3 mg |
| | |
| --- | --- |
| Total Carbohydrates | 0.5 g |
| Dietary Fiber | 0.1 g |
| Total Sugars | 0.3 g |
| Sodium | 116.7 mg |
| Protein | 9.5 g |