Belgian Waffle Recipe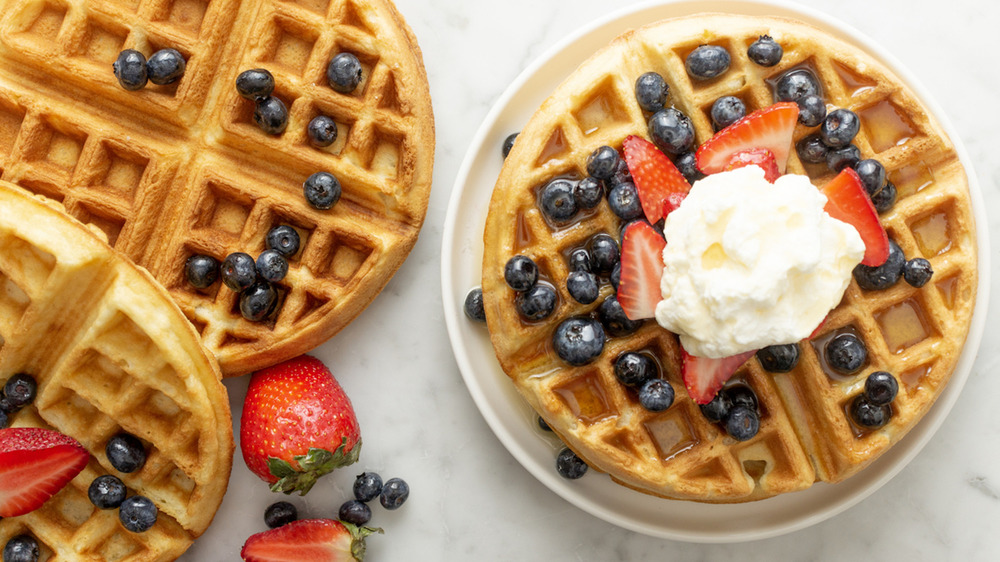 Liz Capozzoli/Mashed
For breakfast lovers, few food-related sentences bring joy like hearing someone say "in the morning, I'm making waffles." All the more so when they're Belgian style waffles straight off the waffle iron. Enter this recipe by Liz Capozzoli of the baking blog OwlBBaking.
Capozzoli knows exactly what makes the ultimate waffle. "The key to the perfect Belgian style waffle is a crisp outside and soft and fluffy inside," she says. "That's really what sets this waffle apart from others."
All it takes is a few quick steps, some basic ingredients, a waffle maker (preferably one designed for thicker Belgian-style waffles), and about 15 to 20 minutes. One of the best parts about these waffles is that you can customize them with any number of toppings, too. That means you can satisfy even the pickiest of eaters with a topping of whipped cream, fresh fruit, maple syrup, or whatever sweet treat you prefer.
This is how to make Belgian-style waffles with the perfect texture and flavor.
Gather your ingredients for Belgian waffles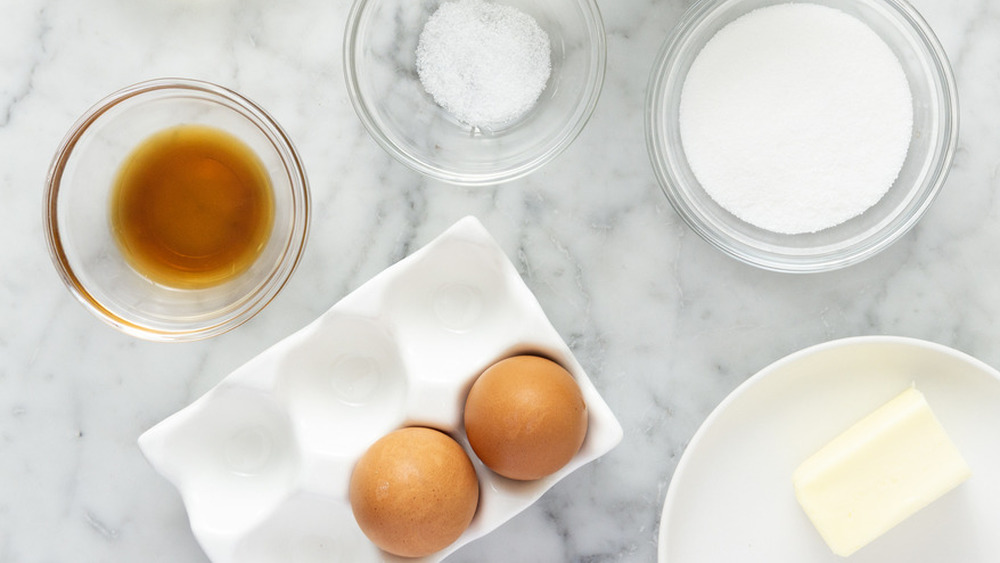 Liz Capozzoli/Mashed
Anyone who dabbles in baking every now and again likely has all of the ingredients needed for this Belgian-style waffle recipe (though frequent bakers who've been too busy to keep up with the grocery shopping lately may need to go next door and ask for some sugar).
For this recipe, you'll need baking powder, salt, eggs, unsalted butter, vegetable or canola oil, whole milk, and vanilla extract. Capozzoli prefers using ghee to grease the waffle iron if you have it on hand or can get it (more on that later). You'll also need granulated sugar — that's the standard baking sugar that's broken down to minuscule crystals perfect for even distribution — and all-purpose flour.
Finally, you'll need the topping of your choice. The possibilities here feel endless. The best way to find your topping of choice is to make this recipe again and again and experiment with what you like best, whether that be berries, fresh peaches, or a Greek yogurt and honey mixture, for starters.
Mix ingredients for Belgian waffles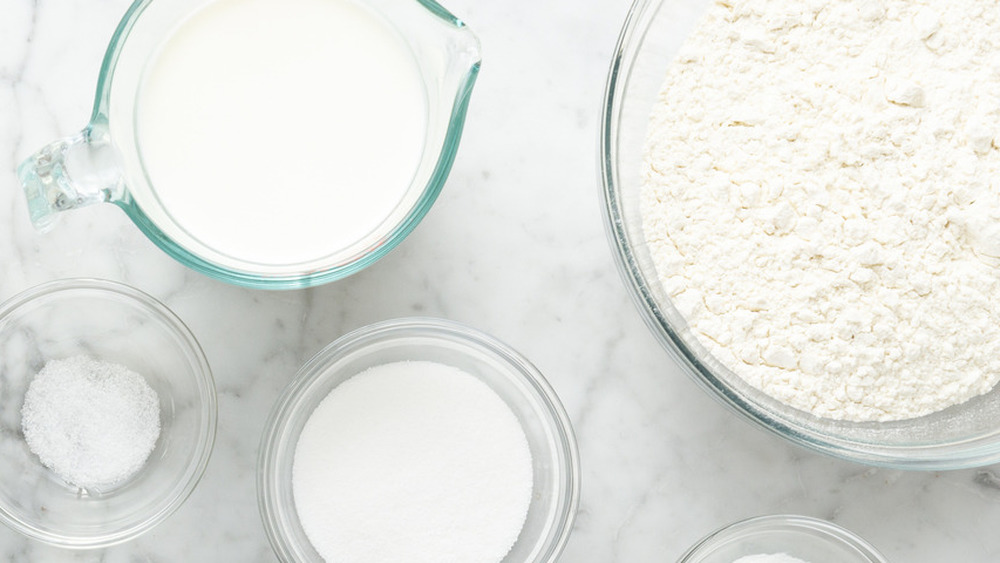 Liz Capozzoli/Mashed
Baking is all about evenly distributing ingredients so there are no spots with clumps of one ingredient while the rest of the ingredients are spread elsewhere. The best way to make sure that happens is to mix your wet ingredients (in this case the egg yolks, melted butter, oil, milk, and vanilla) in a bowl separate from your dry ingredients (flour, baking powder, sugar, and salt for these Belgian-style waffles). Yes, this means more dishes, but it's the only way to get the waffles just right. And what's just one extra bowl to clean, anyway?
If you look closely at the directions, you'll notice that only the egg yolks make it into the wet ingredients bowl. You'll need another bowl for the egg whites to beat them with an electric hand mixer until they're whipped up to stiff peaks.
"When the egg whites are whipped separately and folded into the batter, they help to ensure the batter stays extremely fluffy and light," Capozzoli says. "If the egg whites were added in without being whipped first, it wouldn't create the same end result. You'd end up with not-so-fluffy waffles."
Bring the two sets of mixes together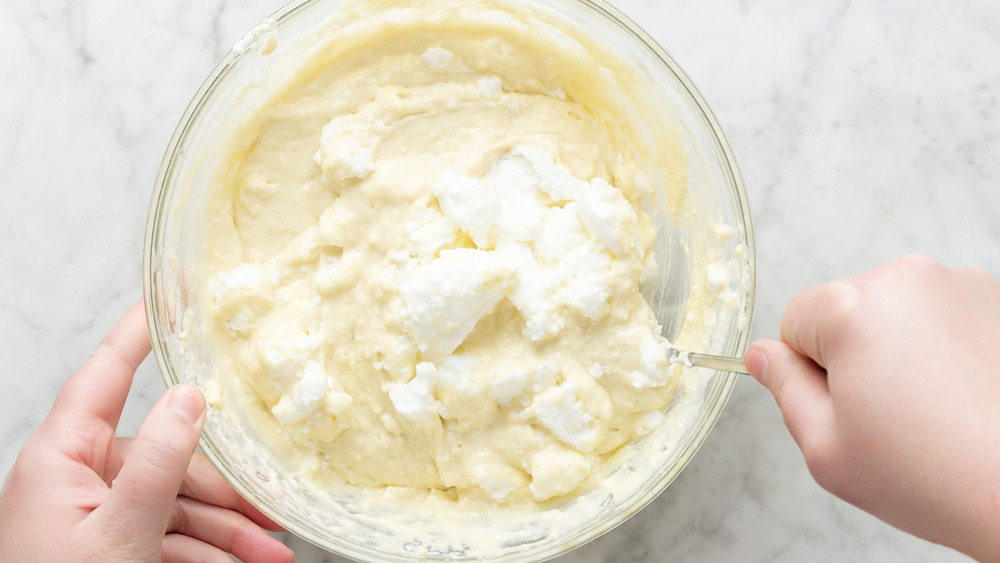 Liz Capozzoli/Mashed
Once the two sets of ingredients are well incorporated, it's time to bring them together. Add the dry ingredients into the bowl of wet ingredients and stir until all of the flour is absorbed. This isn't just a dump and mix until smooth, however. Avoid overmixing! Rest easy if you see some small clumps in the batter and resist the urge to smooth it all out. Those little clumps are more than fine, they're actually preferable, as it means your final waffles will be perfectly tender. Then, gently fold in the egg whites until the batter is fully mixed.
"If the waffle batter is overmixed, a couple of things would happen," Capozzoli says. "The flour would develop more gluten which would result in a more dense texture. And also, if the egg whites are not gently folded into the batter and those are overmixed, you'd lose all of the air from the whites."
Grease the iron and add the Belgian waffle batter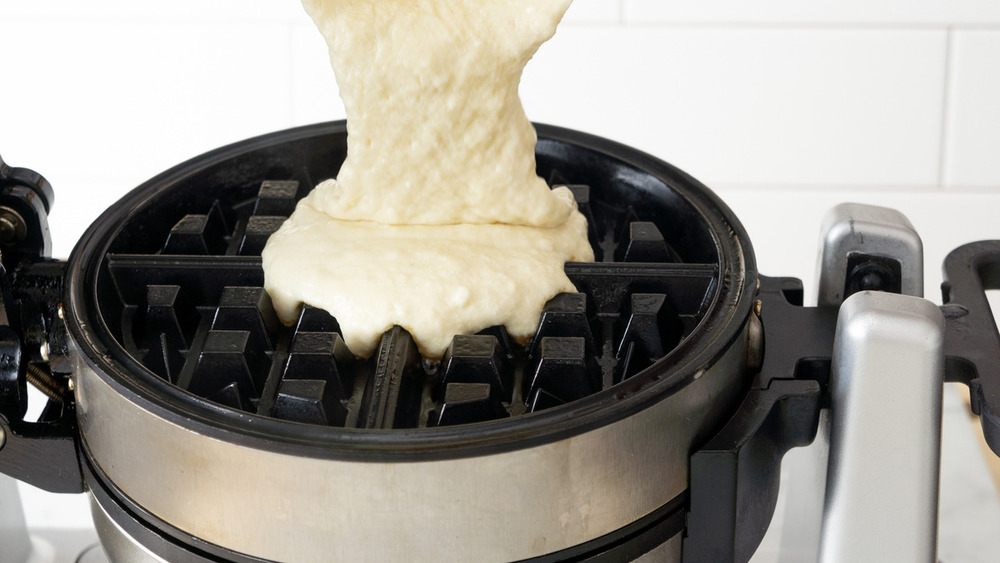 Liz Capozzoli/Mashed
Cooking with a waffle iron is a breeze. All you need to do is grease the waffle iron, using between a third of a cup to one cup of batter as soon as it's preheated. Remember that each waffle iron is slightly different, so just follow the directions specific to the one you own.
The magic that makes for a waffle with a fluffy inside and ultra-crisp outside is both in the ingredients — egg whites and vegetable oil do much of the heavy lifting in this case — and in a good waffle iron. What you use to grease the hot iron matters as well, though. Ghee, a type of clarified butter often used in Indian cuisine, gives some of the best results.
"When greasing the hot iron, I really like to use ghee because it gives you a nice buttery flavor on the outside of the waffle," Capozzoli says. "Using regular butter in a very hot waffle iron is doable but it can burn a little bit. Vegetable oil is also great because it has a high smoke point."
Cook the Belgian waffles until golden brown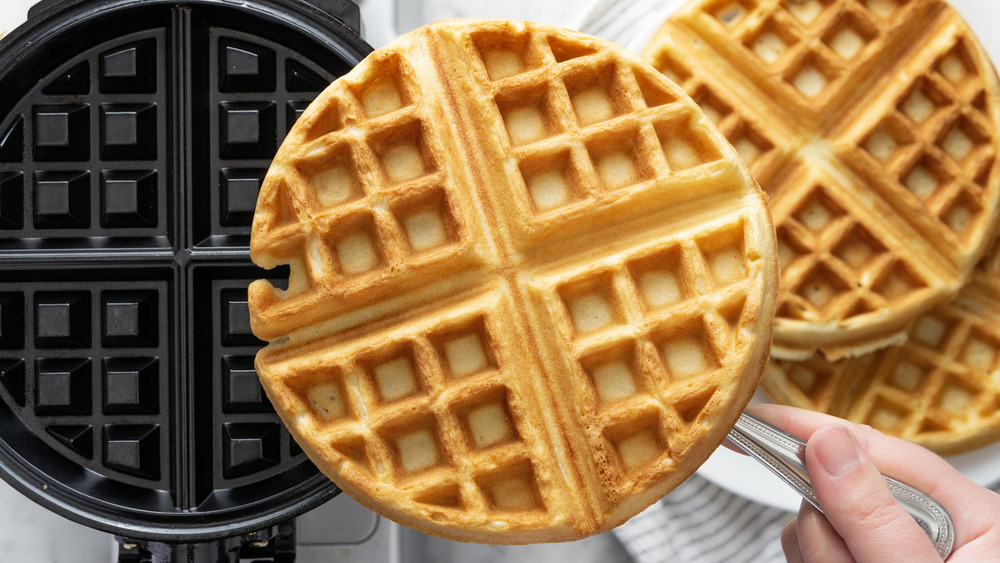 Liz Capozzoli/Mashed
The actual cooking in a waffle iron is easy. In fact, the tool does pretty much all the work, leaving you to stand back and sip some coffee or tea while you wait. All you have to do is wait until the timer goes off or until the waffles are golden brown outside. Again, this all depends on the specifics of your waffle iron.
"It's ideal to use a proper Belgian style waffle maker to make thick waffles," Capozzoli says. "This recipe definitely still works in other makers but [I] definitely recommend using the proper waffle iron to stay true to what a Belgian style waffle is."
Belgian waffle irons are unique because they typically have deeper grooves than other types of waffle irons. This allows the inside to get as fluffy as possible (thank you, whipped egg whites!), creating that classic crispy exterior and tender interior so beloved to Belgian waffle enthusiasts.
Add your favorite Belgian waffle toppings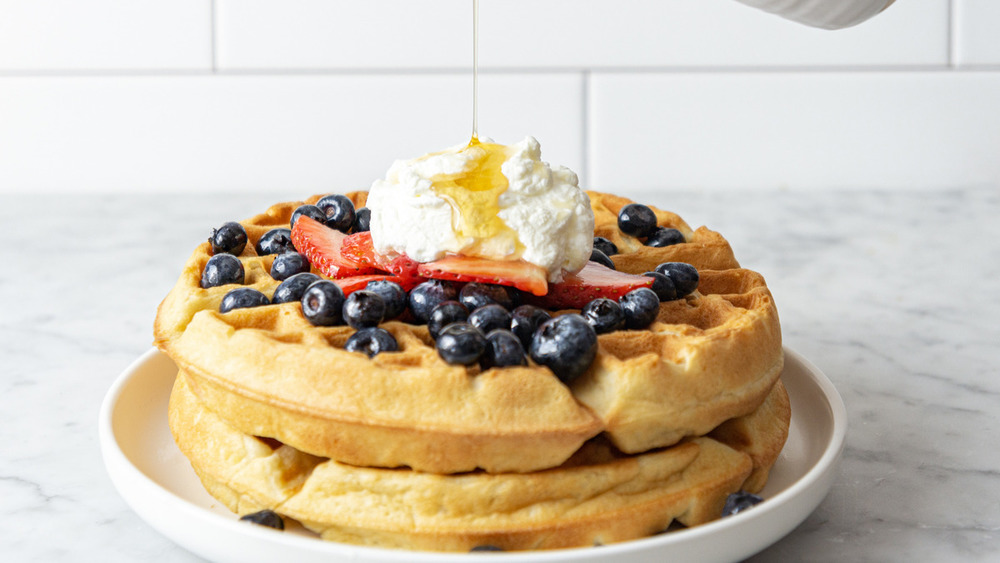 Liz Capozzoli/Mashed
This is one part of the recipe that's only limited by your imagination, so take this as an opportunity to flex your creative muscles in the kitchen.
"For toppings, there are definitely lots of options," Capozzoli says. "The waffle has a light vanilla aroma from the extract, so it would pair well with mostly everything. I would say blueberries and strawberries as shown here are probably classic, but I think raspberries and blackberries are great."
Other ingredients you might add could include cooked apples or a canned apple pie filling, bananas foster, lemon butter, peaches, or a mixture of Greek yogurt, honey, and walnuts. Sweet isn't the only option, either.
"If you leave out the vanilla extract you could definitely do some savory toppings too," Capozzoli says. "Fried chicken, cheddar and chive, bacon and avocado, [...] pork roll with egg and cheese, lox & cream cheese...." You get the gist, right? The only qualification for toppings, really, is that they're something you enjoy.
Belgian Waffle Recipe
For breakfast lovers, few things bring joy like hearing someone say "I'm making waffles." All the more so when they're Belgian style waffles from this recipe.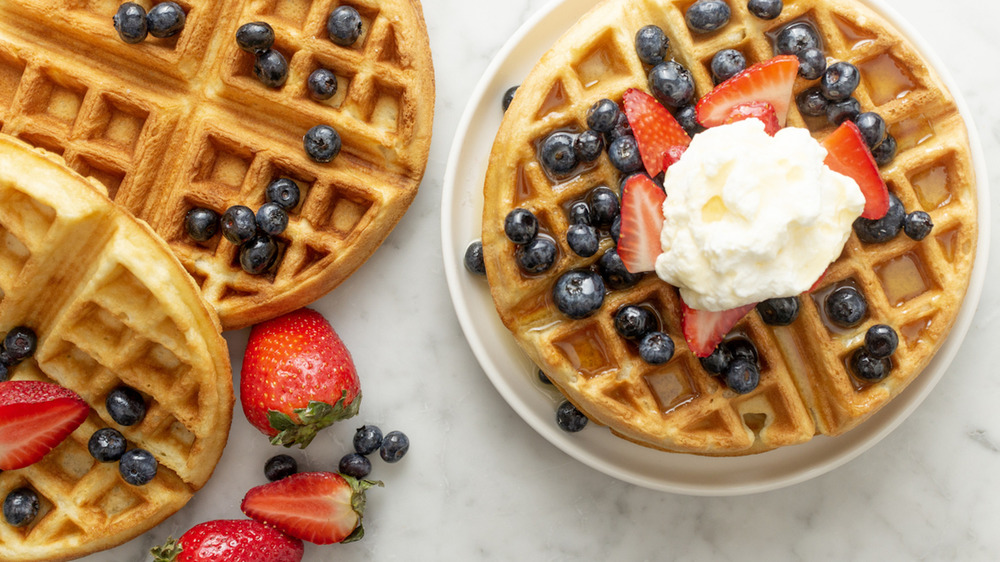 Ingredients
2 ⅓ cups all purpose flour
1 tablespoons baking powder
¼ cup granulated sugar
¼ teaspoon salt
2 eggs, separated
¼ cup or 4 tablespoons unsalted butter, melted
¼ cup vegetable or canola oil
1 ¾ cup whole milk
1 teaspoon vanilla extract
Vegetable oil or ghee for greasing the iron
Directions
Preheat the waffle iron (these waffles are best made with a Belgian style waffle iron).
In a medium bowl, whisk together the flour, baking powder, sugar, and salt. Set aside.
In another bowl, using an electric hand mixer, beat the egg whites until stiff peaks form. Set aside.
In a large bowl, whisk together the egg yolks, melted butter, oil, milk, and vanilla.
Add the dry ingredients into the milk mixture. Stir until all the flour is absorbed. Do not overmix. Leaving some small clumps is fine.
Lastly, gently fold in the egg whites until the batter is fully mixed.
Grease the waffle iron with vegetable oil or ghee.
Add the batter to the preheated iron according to the instructions for your iron. This can generally range from ¾ cup to 1 cup of batter for a full waffle.
Cook as per your iron's instructions or until medium golden brown.
Repeat until all waffles are made.
Top with fresh berries, whipped cream, and maple syrup.
Nutrition
| | |
| --- | --- |
| Calories per Serving | 569 |
| Total Fat | 23.7 g |
| Saturated Fat | 4.4 g |
| Trans Fat | 0.1 g |
| Cholesterol | 92.6 mg |
| | |
| --- | --- |
| Total Carbohydrates | 74.4 g |
| Dietary Fiber | 2.0 g |
| Total Sugars | 18.3 g |
| Sodium | 495.9 mg |
| Protein | 13.6 g |