Slow Cooker Seafood Paella Recipe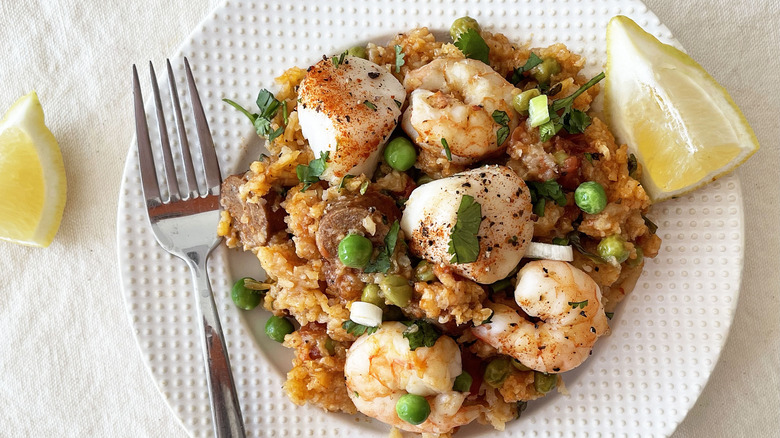 Jason Goldstein/Mashed
When many people think of paella, they think of a dish that you can only order at a restaurant. However, it's actually possible to make paella on your own and with little fuss. All you need are a few ingredients and the help of your slow cooker, and you can enjoy this fantastic symphony of seafood and rice in no time! Whether you're looking to please your family or your friends, this quick and easy dish is just what the doctor ordered. Another plus? It will make you feel like a world-class chef even though it's super simple. Don't worry, we won't tell anyone! 
Jason Goldstein, who appeared on season 14 of "Next Food Network Star" and proud owner of the website Chop Happy, is the brains behind this recipe, which features shrimp, scallops, and chorizo. He opted to leave out mussels, which are commonly found in paella, but for a good reason! "I left mussels out because of its being a slow cooker [meal] and also to make it an easier recipe," he says. And the easier, the better, in our humble opinion.
Keep scrolling to find out how to make this tasty seafood dish that is sure to knock your socks off.
Gather the ingredients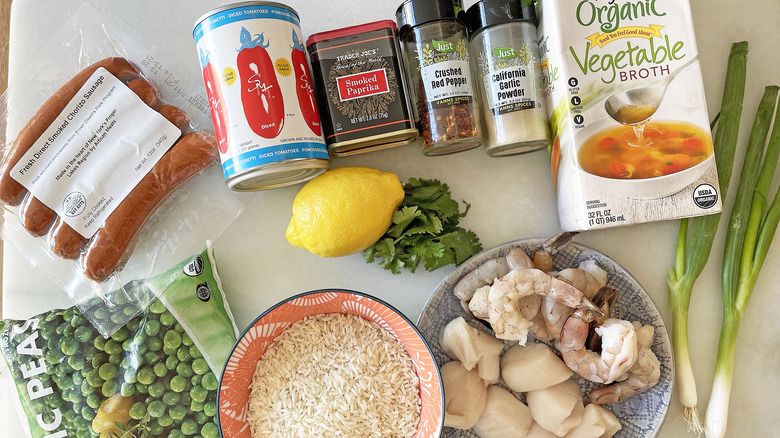 Jason Goldstein/Mashed
For the first step in the process, you'll want to gather all the necessary ingredients to make this fantastic slow cooker dish. The first few items on your list should be jasmine rice, water, and vegetable broth. In terms of spices, you'll need just a few, including salt, pepper, smoked paprika, garlic powder, and red pepper flakes. These provide the Spanish dish with a bit of a kick.
You will also need a 14.5-ounce can of chopped tomatoes and 4 sliced Spanish chorizos. You'll also need to grab a handful of cilantro and scallions. In addition, get frozen peas, shrimp, scallops, and juice from a lemon. Phew! Now that you have everything present and accounted for, it's time to get cooking!
Place the first few items in the slow cooker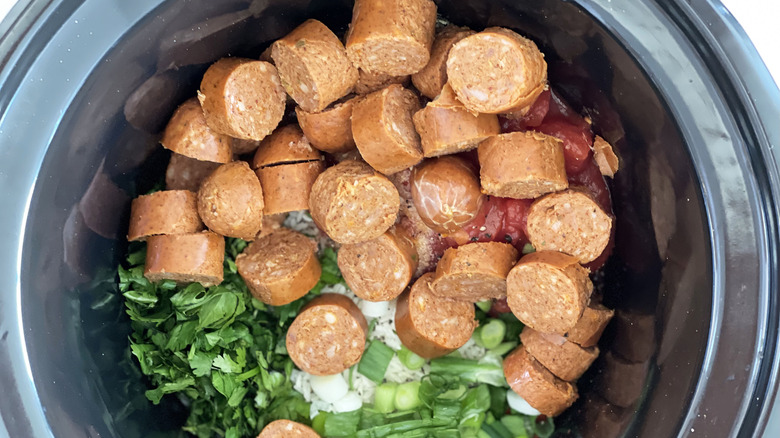 Jason Goldstein/Mashed
Take out your trusty slow cooker and thank it in advance for the magic that it's about to do. Toss in your rice, water, and vegetable broth to start. The liquid helps the rice to cook, which is nice and easy for you. In addition, you'll need to add all of your spices, including the salt, pepper, paprika, garlic powder, and red pepper flakes. All of the spices cooking on low and slow will help the flavors pop.
Last but not least, dump in the canned tomatoes, chorizo, scallions, and cilantro. Give everything a good stir and set the timer to 4 hours on low.
Add the peas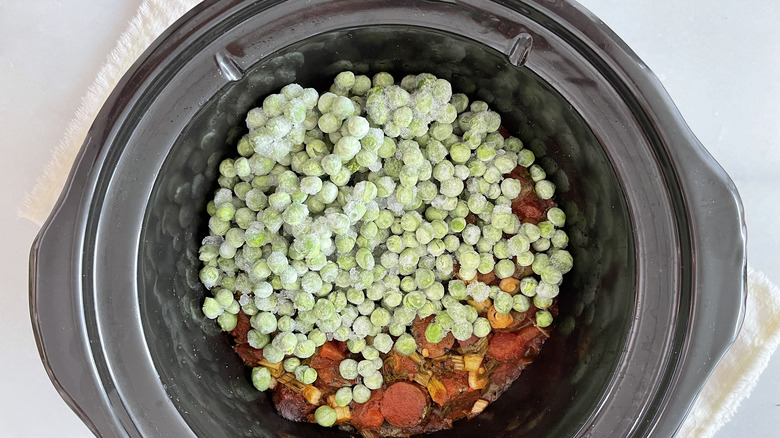 Jason Goldstein/Mashed
Once the mix has been cooking for 4 hours, you can uncover the slow cooker and take a peek at how things are doing. At this time, you can dump the frozen peas into the slow cooker to join the other items. Give everything a few good stirs so that the peas get evenly distributed. These are added a little later in the cooking process because they cook so quickly. We just want to be sure that they don't get overdone.
Add the scallops and shrimp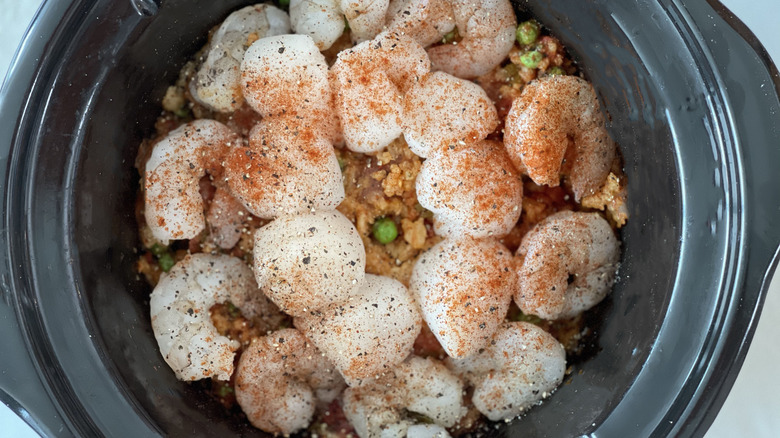 Jason Goldstein/Mashed
Don't close the lid just yet. You also want to put in your scallops and shrimp. Make sure they sit on the top of the rice mixture. Goldstein says that any type of scallop would work well with this recipe, telling us that "since you are not searing [them], any type of scallop works." Goldstein goes on to explain that "in other recipes that involve searing, you want to ask for what's called dry scallops. This means not treated with chemicals so they last longer. You get a better sear with non-treated." For this recipe though, we'll stick to any kind of scallop!
Season each scallop and piece of shrimp with more salt, pepper, and paprika. Squeeze a lemon over the top and cover the slow cooker for another 30 minutes. This time, turn your slow cooker on high.
Serve the seafood paella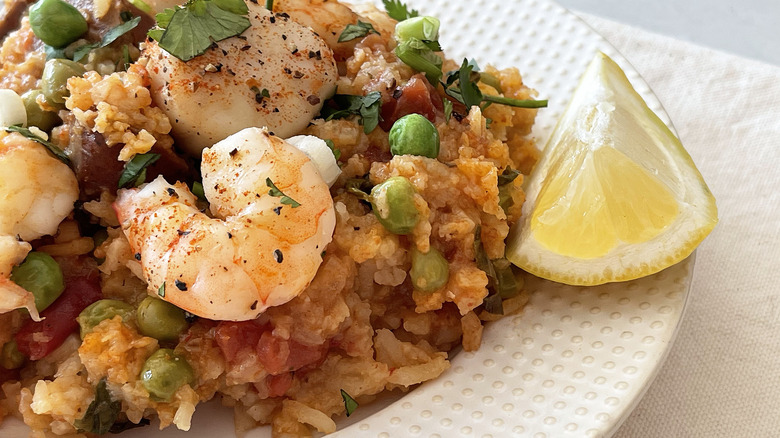 Jason Goldstein/Mashed
After your paella mix cooks on high for 30 minutes, it's time to enjoy it! Toward the end of the cooking time, your kitchen should smell amazing, which adds to the excitement and anticipation of this dish.
Take everything out of the slow cooker and plate it or serve it in bowls, whichever you prefer. Goldstein recommends using some extra chopped scallion and cilantro as a garnish, but you can also leave them out if you'd like. This paella is excellent served with a piece of crusty bread smeared with a lot of butter. For an additional kick of citrus, serve with a lemon wedge. Enjoy!
Slow Cooker Seafood Paella Recipe
Don't be afraid to try making paella at home -- this easy slow cooker recipe takes no time to put together and it's delicious to boot!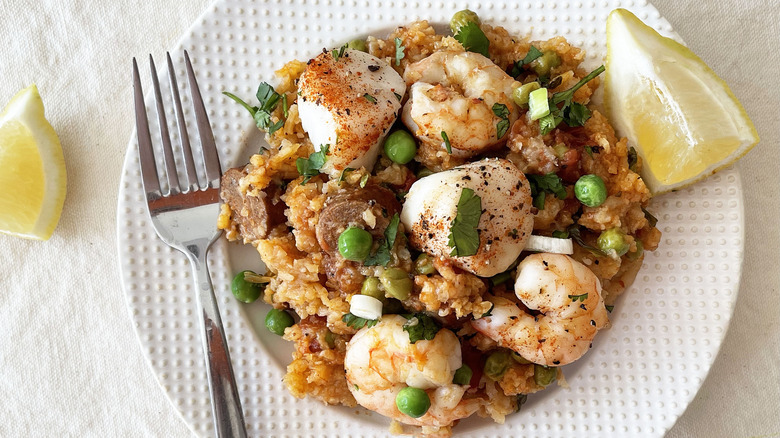 Ingredients
1 ½ cups jasmine rice
½ cup water
2 cups vegetable broth
2 teaspoons salt, divided
2 teaspoons pepper, divided
2 teaspoons smoked paprika, divided
1 teaspoon garlic powder
½ teaspoon red pepper flakes
1 (14.5-ounce) can chopped tomatoes
4 Spanish chorizo links, sliced
3 scallions chopped (leave some for garnish)
1 handful cilantro chopped (leave some for garnish)
½ cup frozen peas
½ pound shrimp
10 scallops
Juice of ½ lemon
Directions
Place rice, water, vegetable broth, 1 teaspoon of salt, 1 teaspoon of pepper, 1 teaspoon of paprika, garlic powder, red pepper flakes, canned tomatoes, chorizo, scallions, and cilantro into the slow cooker.
Mix and cover the slow cooker.
Cook for 4 hours on low.
After 4 hours, remove the lid and place the frozen peas into the slow cooker. Mix the rice and peas together.
Now place the shrimp and scallops on top of the rice mixture and season with 1 teaspoon each of salt, pepper, and paprika.
Add the lemon juice onto the seafood.
Cover the slow cooker and cook for 30 minutes on high.
Garnish with the extra chopped scallions and cilantro if desired, and serve!
Nutrition
| | |
| --- | --- |
| Calories per Serving | 328 |
| Total Fat | 12.5 g |
| Saturated Fat | 4.5 g |
| Trans Fat | 0.0 g |
| Cholesterol | 69.6 mg |
| | |
| --- | --- |
| Total Carbohydrates | 34.4 g |
| Dietary Fiber | 2.5 g |
| Total Sugars | 2.1 g |
| Sodium | 734.8 mg |
| Protein | 18.6 g |