Costco's Gluten-Free Multigrain Bread Is Turning Heads
If you've ever adhered to a gluten-free diet, or are currently doing so, then you know it can sometimes be challenging to find the foods you can eat that still taste great — and not like cardboard. While flour-y, gluten-y delights such as pancakes, pasta, and, a great slice of bread might be off the table, the great thing is there are always swaps to be had so you can eat with friends and still enjoy the same meals, with a few modifications. 
Many restaurants have become hip to the countless people following gluten-free eating and now offer options that fit within the parameters of this large customer base, such as California Pizza Kitchen, which just debuted a new gluten-free pizza crust and supermarkets such as Aldi that have a staggering variety of gluten-free items. Now, Costco has a great new gluten-free product that shoppers are really excited about — one that's supposed to be an excellent substitute for delicious multigrain bread.
Canyon Bakehouse Bread is a gluten-free favorite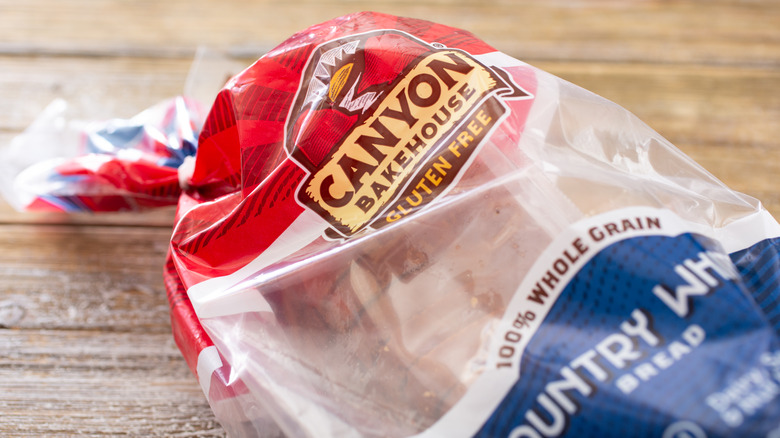 Shutterstock
These days, there are tons of gluten-free breads on the market, from Trader Joe's hamburger buns to Bread SRSLY's sourdough to Simple Kneads' pumpernickel. And people seem to have opinions on them all — many of which are often expressed on gluten-free forums across the internet, such as Reddit's gluten-free community. The consensus often seems to be that these picks are just not as tasty as the wheat-ful versions.
That could be why gluten-free dieters across the nation are reacting so strongly to a recent Instagram post by @costco_doesitagain, sharing a snapshot of a double pack of Canyon Bakehouse's gluten-free multigrain bread. Judging from reactions to the post (with more than 1,000 likes and more than 50 comments), this loaf and the manufacturer are both highly regarded.
"New to the celiac thing...there is a god," one user commented. "This is our favorite bread and normally 1 loaf is this price at Sprouts," added another person, referencing Costco's bargain $7.99 price for a double pack of bread.
This gluten-free multigrain bread is also free of dairy, soy, and nuts, making it a good choice for people with other allergies and intolerances.