Slow Cooker Belgian Chicken Booyah Recipe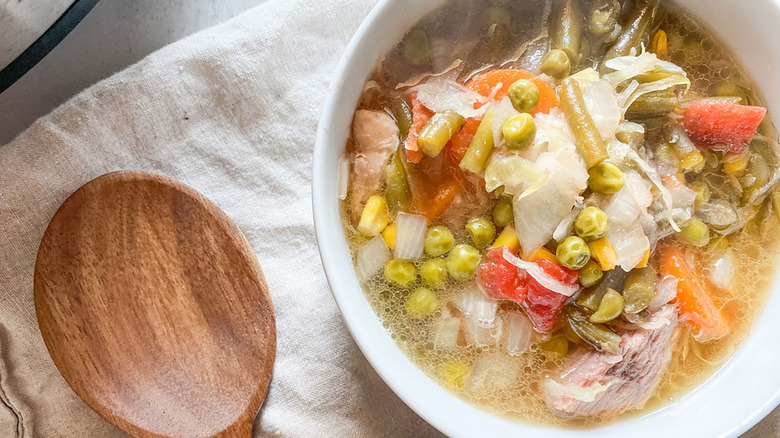 Kristen Carli/Mashed
If you're not from the Midwest, then perhaps the word "booyah" conjures up images of face-painted football fans high-fiving one another over a tiebreaking touchdown. But if you've ever spent any time in the Midwest, then you'll probably know "booyah" the way recipe developer Kristen Carli does, refers to a soup of Belgian origin that is "often served at picnics and other gatherings in the Midwest." As for why it's called "booyah," the prevailing story, according to Wisconsin's Green Bay Northwoods League is that a Green Bay resident cooked up a big vat of soup for a community fundraiser and identified it as "bouillon" — a French (and Belgian) word that's pronounced a lot like "booyah." 
Carli's slow cooker version of Belgian chicken booyah is particularly hearty and satisfying — in part because it contains chuck roast as well as dark-meat chicken. And it scores game-winning points because it's chock full of veggies. And as an added bonus, in Carli's version of booyah, most of the ingredients are either canned or pre-cut, making prep just about as simple as you could ever imagine.
Gather your ingredients for slow cooker Belgian chicken booyah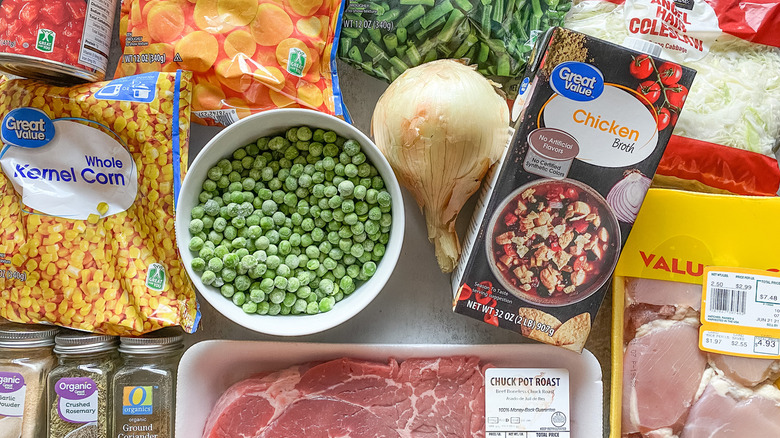 Kristen Carli/Mashed
For Kristen Carli's version of slow cooker Belgian chicken booyah, you're going to need several categories of ingredients, some of which may entail a trip to the supermarket. First, there is the protein, for which Carli uses two and a half pounds of boneless, skinless chicken thighs and two and a half pounds of chuck roast. Then there are 12 ounces each of frozen corn kernels, carrot slices, and peas. Then there's a half cup of diced yellow onion and a cup of shredded green cabbage (which you should purchase pre-shredded). You'll also need a 15-ounce can of diced tomatoes, five cups of chicken broth, and the following seasonings: a teaspoon each of ground coriander, crushed rosemary, garlic powder, and salt, and, finally, a half teaspoon of pepper. 
Cut up your chuck roast into one-inch cubes -- or start with pre-cut chuck roast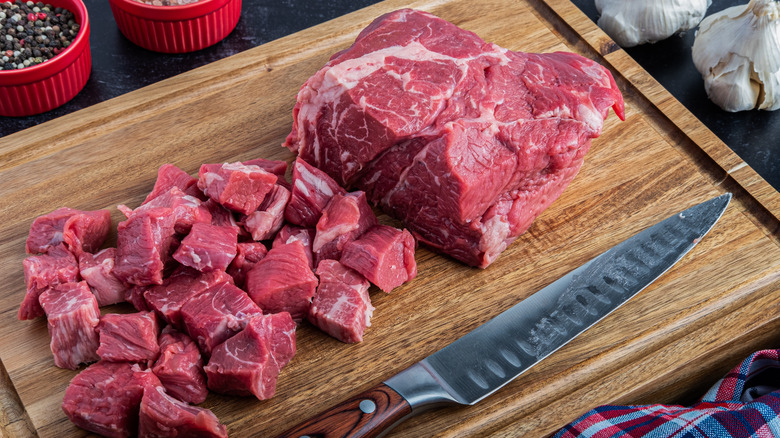 Shutterstock
As you can see, there is virtually no prep required for this slow cooker Belgian chicken booyah recipe. In fact, if you're feeling as decadent as you should allow yourself to feel when making a chuck roast-infused chicken booyah, you can even purchase pre-diced onions at your local grocery store. As for the chuck roast, simply grab a sharp chef's knife and cut the meat up into one-inch chunks. Or, heck, just go ahead and pick up a package of pre-cut chuck-roast.
Combine all of your fresh ingredients into the slow cooker vessel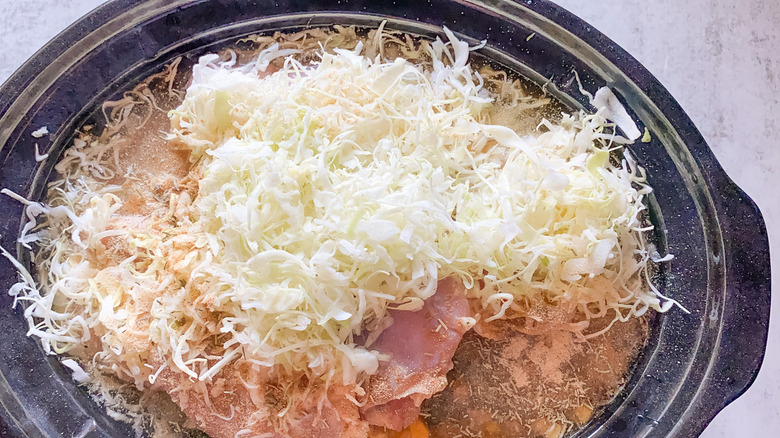 Kristen Carli/Mashed
The next step is to place all your ingredients into your slow cooker. Although you can add the ingredients in any order, if you want your dish to look exactly like Carli's does in the photos you see here, then you'll want to add them in the following order: first the peas, then the chuck roast, onions, tomatoes, carrots, green beans, corn, chicken thighs, and shredded cabbage. Then pour the chicken broth in, and sprinkle your coriander, rosemary, garlic, salt, and pepper on top.
Prepare to set and forget (for about six hours) your slow cooker Belgian chicken booya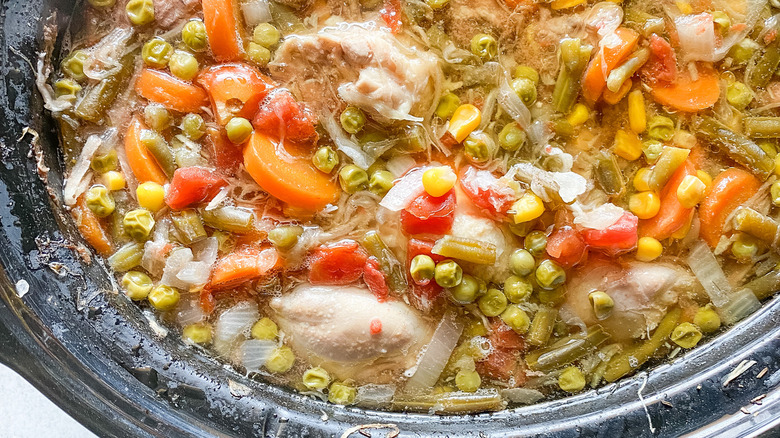 Kristen Carli/Mashed
All that's left to do now to prepare this simple and satisfying booyah is to place the lid on your slow cooker, set the temperature to high, and set the time for six hours. That being said, Carli pointed out that if you're cooking this dish while you're away at work or at school, then you can set the timer for as many as eight hours — but no longer, please. You won't want everything to go mushy. And don't make the slow cooker mistake of taking off the lid to check it too early. 
When that timer goes off, uncover, serve, and enjoy! 
Slow Cooker Belgian Chicken Booyah Recipe
If you're looking for a hearty meal that takes minimal effort -- you've found it. This slow cooker Belgian chicken booyah stew is sure to stick to your ribs!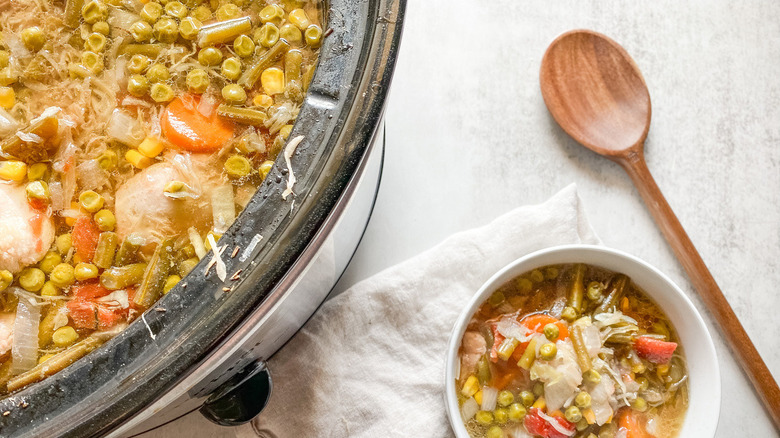 Ingredients
2 ½ pounds chuck roast
12 ounces frozen peas
½ yellow onion, diced
15 ounce can diced tomatoes
12 ounces carrot slices
12 ounces green beans
12 ounces corn kernels
2 ½ pounds boneless skinless chicken thighs
1 cup shredded cabbage
5 cups chicken broth
1 teaspoon ground coriander
1 teaspoon crushed rosemary
1 tablespoon garlic powder
1 teaspoon salt
½ teaspoon pepper
Optional Ingredients
Directions
Cut your chuck roast into 1-inch chunks.
Put all the ingredients into a slow cooker, and stir to combine.
Cover and cook on high for 6 hours, and serve.
Nutrition
| | |
| --- | --- |
| Calories per Serving | 368 |
| Total Fat | 10.9 g |
| Saturated Fat | 3.5 g |
| Trans Fat | 0.3 g |
| Cholesterol | 152.3 mg |
| | |
| --- | --- |
| Total Carbohydrates | 22.3 g |
| Dietary Fiber | 4.7 g |
| Total Sugars | 7.5 g |
| Sodium | 554.9 mg |
| Protein | 45.0 g |