Giada De Laurentiis' Genius Tip Takes Caprese Burgers To The Next Level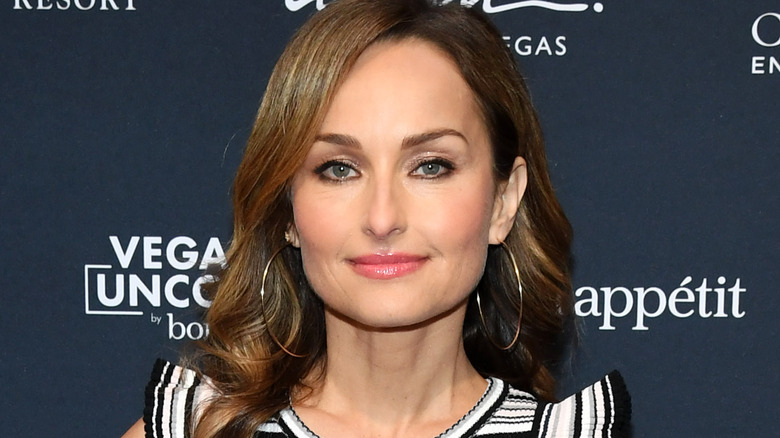 Ethan Miller/Getty Images
When it comes to burgers, few things can top the classic topping combo of ketchup, mustard, and pickles. But it's always nice to switch things up. After all, there are 15 weekends between Memorial Day and Labor Day, which means at there are at least 15 opportunities to host a barbecue where you can experiment with different seasonings, marinades, and toppings to go with your beef.
If you're already feeling a bit burnt out on your go-to summer burger fixings, it may be time for an upgrade. Well, celebrity chef Giada De Laurentiis has just the trick: pesto. Yup. It's not just for pasta. The "Bobby and Giada in Italy" star recently shared a recipe for caprese-style burgers on her website, which she describes as an "Italian twist on the traditional American BBQ fare." And based on the photo alone, which prompted one person to comment "Now THAT's a burger" on the Giadzy Instagram, we're already totally crazy for them. According to Giada's website, her variation on this barbecue classic features a mouthwatering combination of mozzarella, sliced tomato, and a creamy, herby pesto aioli between pieces of crusty, grilled focaccia. In other words, the caprese burger is dressed to impress, so be forewarned. It may be hard to go back to the old way of making burgers after trying her upgrade.
Give your caprese burgers a boost by stuffing the patty with pesto
Adding pesto aioli to a burger is one thing. But according to Giada, the real trick to win people over with a caprese burger its by mixing fresh pesto directly into the ground beef patty. This extra step adds moisture as well as a dose of yummy herbaceous flavor to every bite, she writes on her website. It's absolutely genius. And if you're wondering, yes, the recipe says store-bought pesto works totally fine. But if you're looking for that really fresh kick of basil, it may be worth it to make your own from scratch. Plus, if there's even a possibility you end up with any extra (which is doubtful) you could use any leftovers for other recipes, like pizza, compound butter, or chicken salad. 
Meanwhile, making the pesto aioli couldn't be an easier. Simply combine 1/2 cup store bought mayo with 1/4 cup of pesto together and you'll have a burger spread that's so yummy you'll wonder why you didn't think of it sooner. Our burgers will never be the same, and we're totally fine with that. If you need us, we'll be out buying all the basil leaves we can possibly find in order to make it for the next few months.