Flaky Biscuit Pizza Recipe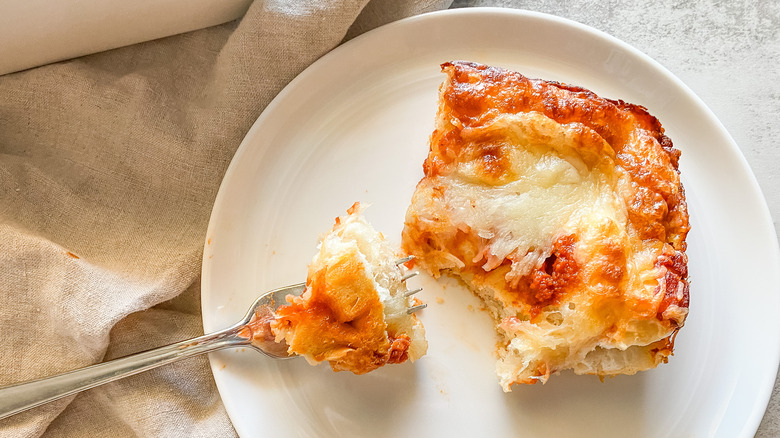 Kristen Carli/Mashed
Whenever the urge for pizza strikes, the first thing most pizza fans do is pick up the phone, open up an app, and place an order. Pizza, after all, is one of those things that you have to order, because it's just too much work to make at home ... or is it?
Yes, we admit than a truly authentic, pizzeria-style pizza can be a pretty time-consuming process, with waiting for the yeast-based dough to rise, simmering the homemade sauce, and hand-grating the mozzarella cheese. Still, when it comes to pizza, even a quickie version is bound to taste pretty good. So we're here to say that taking a few shortcuts is permissible. 
For those times when you want pizza in a hurry without paying for delivery, recipe developer Kristen Carli suggests this super simple version with a flaky biscuit crust. Sounds pretty delicious, right? You only need four ingredients to make it, and the finished pizza can be on the table in less time than it takes for Domino's to deliver. But does it stack up in the taste department? Well, Carli thinks so. She says, "It's so good ... very fluffy and doughy ... much more doughy than a standard pizza." She compares this flaky biscuit pizza it to a kind of pizza casserole. She tells us that when she was a kid, her mom used to make this very same dish and her family called it "Bubble Up Pizza." So listen up, and let's make pizza!
Here's what you need to make this flaky biscuit pizza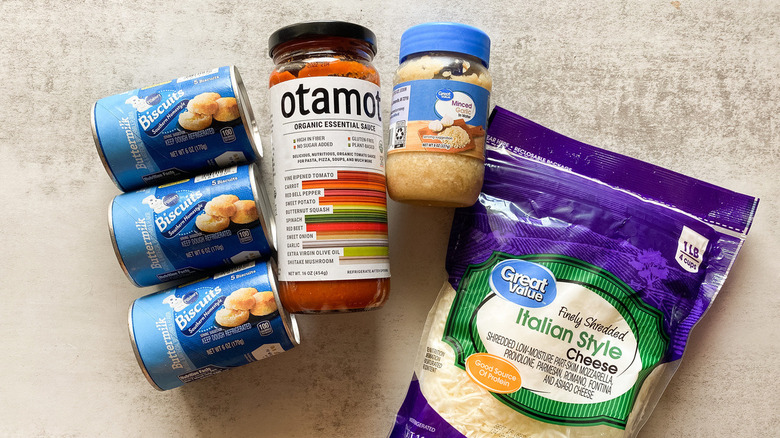 Kristen Carli/Mashed
Even if you have nothing — quite literally, nothing — in your house besides takeout menus, you can still make this pizza in a jiffy. Well, unless you live an hour or more away from the nearest grocery store. In that case, you probably can't even get takeout anyway, so you may as well get started with the ingredients. After all, flaky and biscuit sounds too good to resist.
Assuming you do need to make a grocery run, you can probably be in and out in 10 minutes, tops. Here's your grocery list for making this pizza: a few tubes of buttermilk biscuits, a jar of marinara sauce, a bag of shredded mozzarella, and a head of garlic. (You won't be needing the entire head, though, unless you've got a serious vampire infestation.) That's it, so once you have everything ready to go, you can get started with the next step.
It takes just a few minutes to get this pizza oven-ready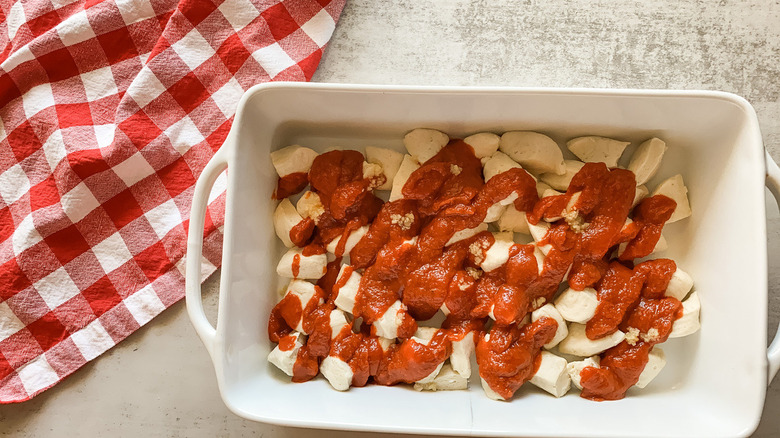 Kristen Carli/Mashed
As this pizza goes together in just a few minutes, begin your pizza prep by preheating the oven to 375 F. While the oven is heating up, you can finely mince enough garlic to give you approximately 1 tablespoon for the recipe. Wash your hands, clean up the papery bits of garlic skin, and get ready for the fun part — now's the time to bang the biscuit tubes against the counter to pop them open! Who wouldn't love this part of the process?
Once the biscuits are out, peel them apart, and cut each biscuit into quarters. Now, get out a 9x13-inch baking sheet, and distribute the biscuit bits evenly over the bottom of the pan. Pour the marinara sauce over the biscuits, then cover the whole thing with a scrumptious layer of shredded mozzarella. As a final touch, sprinkle the minced garlic over the cheese. The oven should be hot by now, so pop the pizza in, and bake it for 30 minutes. Let it cool for a few minutes before chowing down, though, since pizza burns are one of life's little agonies that are so easily avoided with a small amount of patience.
You can add any toppings you'd like to this flaky biscuit pizza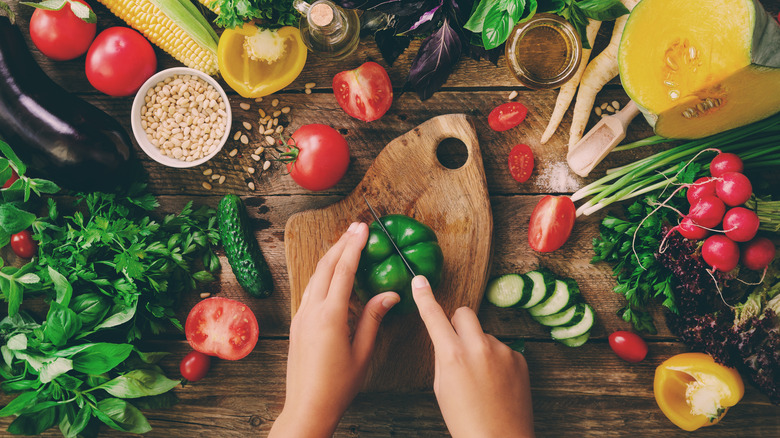 Shutterstock
While the fresh garlic elevates this pizza a step above the category of just plain cheese (not that there's anything wrong with that, either), you can, of course, feel free to embellish it any way you like. "You can have a lot of fun with toppings here," Carli notes, adding, "I always recommend mushrooms and olives or any veggie!" As a matter of fact, if you swap out the cheese for a plant-based version, you could even make a vegan pizza.
Of course, you could also go the other way and layer on the meats. As Carli says, "Pepperoni is a classic," but you could also do sausage, ground beef, pulled pork, leftover rotisserie chicken, chopped-up Slim Jims, or whatever other meat products you happen to have on hand. As Carli puts it, "Anything goes."
You can also make this pizza entirely (or just partly) from scratch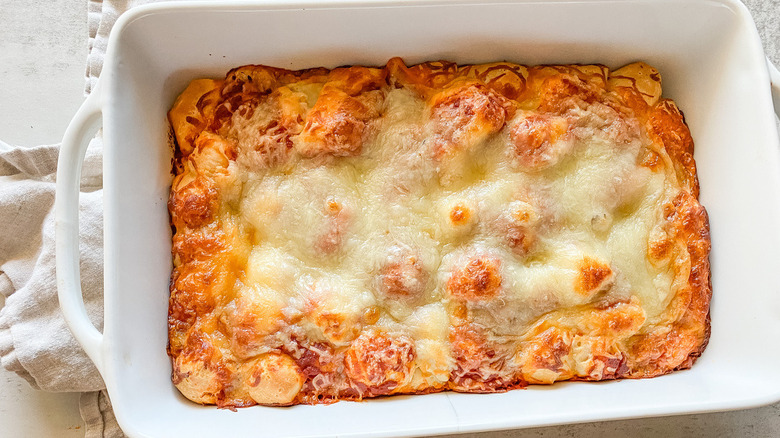 Kristen Carli/Mashed
If you're looking at that ingredients list and thinking, "Nope, too easy," you're welcome to go ahead and make things just a little harder on yourself. Not a fan of biscuits in a can? How about making your own buttermilk biscuit dough? Homemade pizza sauce is even easier since, as Bon Appetit reported, you really don't even need to cook it. To make the amount you'll need for this recipe, just put together one 15-ounce can of crushed tomatoes in the blender with a clove of garlic, 1 tablespoon of olive oil, and ¾ teaspoon of salt, and you're good to go.
If you're the plan-ahead type, let the pizza sauce chill in the fridge for a bit so the flavors can blend. During this time, you can always busy yourself grating the cheese and prepping any other desired pizza toppings. If you're throwing together this biscuit-crust pizza at the last minute, though, that's no problem. The garlic, tomatoes, and oil in the sauce will have plenty of time to get acquainted in the oven while the pizza's baking.
This recipe makes a really fun casual Friday night dinner, together with a tossed salad and bottle of wine. It also works well to prepare for a light appetizer when you're just serving cocktails. It's a great choice to make and is sure to be a new family favorite!
Flaky Biscuit Pizza Recipe
For times when you want pizza in a hurry without paying for delivery, this super simple flaky biscuit pizza recipe will come in handy.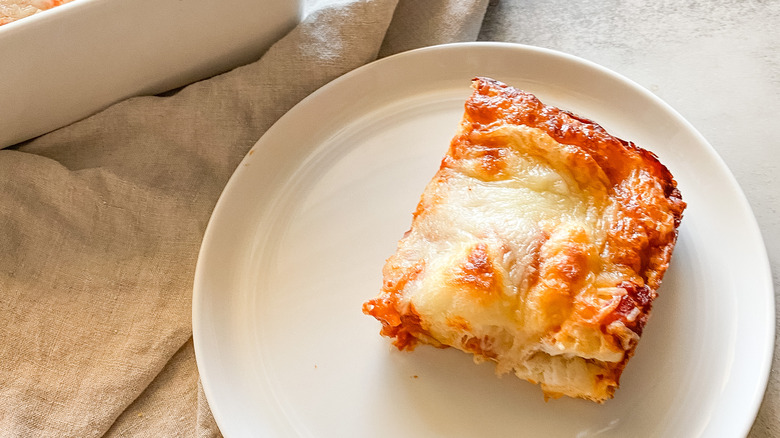 Ingredients
3 (6-ounce) tubes buttermilk biscuits
1 ½ cups marinara sauce
3 cups shredded mozzarella cheese
1 tablespoon minced garlic
Directions
Preheat the oven to 375 F.
Cut the biscuits into quarters.
Distribute the biscuit pieces evenly over the bottom of a 9x13-inch baking pan.
Pour the marinara sauce over the cut-up biscuits.
Top the pizza with the cheese, and sprinkle the minced garlic over the top.
Bake the pizza for 30 minutes.
Nutrition
| | |
| --- | --- |
| Calories per Serving | 561 |
| Total Fat | 35.1 g |
| Saturated Fat | 18.0 g |
| Trans Fat | 0.0 g |
| Cholesterol | 89.6 mg |
| | |
| --- | --- |
| Total Carbohydrates | 34.9 g |
| Dietary Fiber | 1.9 g |
| Total Sugars | 5.1 g |
| Sodium | 1,269.5 mg |
| Protein | 26.3 g |