Fast Marinara Sauce Recipe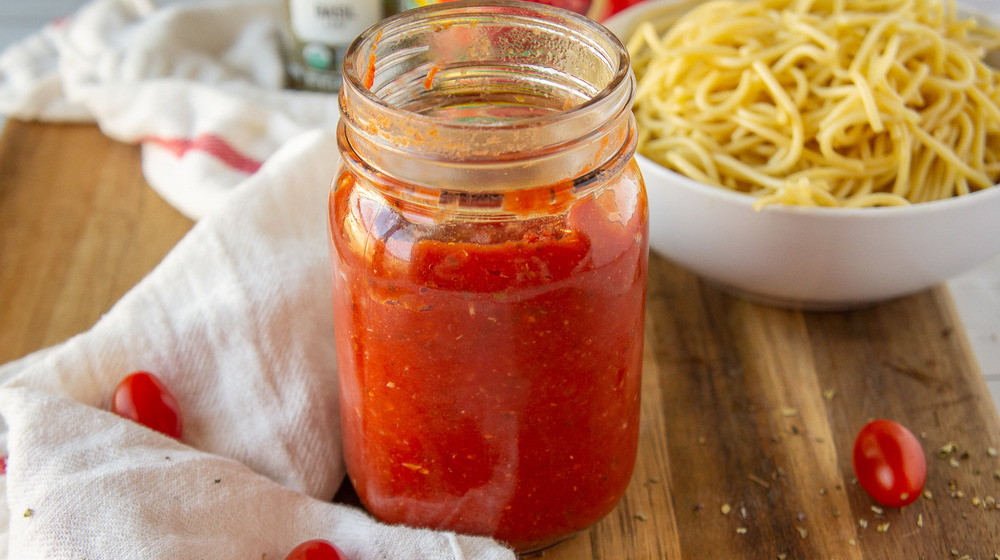 Mikayla Marin/Mashed
A simple but versatile marinara sauce is a recipe every home cook should have in their back pocket. Not only can you spread, dollop, and toss it with all sorts of foods to create fantastic meals, it's also incredibly easy to make!
Today, we're bringing you a simplified, no fuss, all-purpose marinara sauce. It utilizes a few key tips and tricks to build bigger flavor in less time. In a quick 15 minutes on the stove, you can easily cook up doubles if not triples of this roasted garlic marinara sauce. If there's one thing we've learned, it's to always keep a versatile marinara in the freezer!
So go ahead and get that pot of water boiling — you'll definitely want to have a fresh bowl of pasta to ladle your new favorite marinara sauce over.

Find more recipes from Mikayla Marin at The Flour Handprint.
What ingredients are used in this marinara sauce?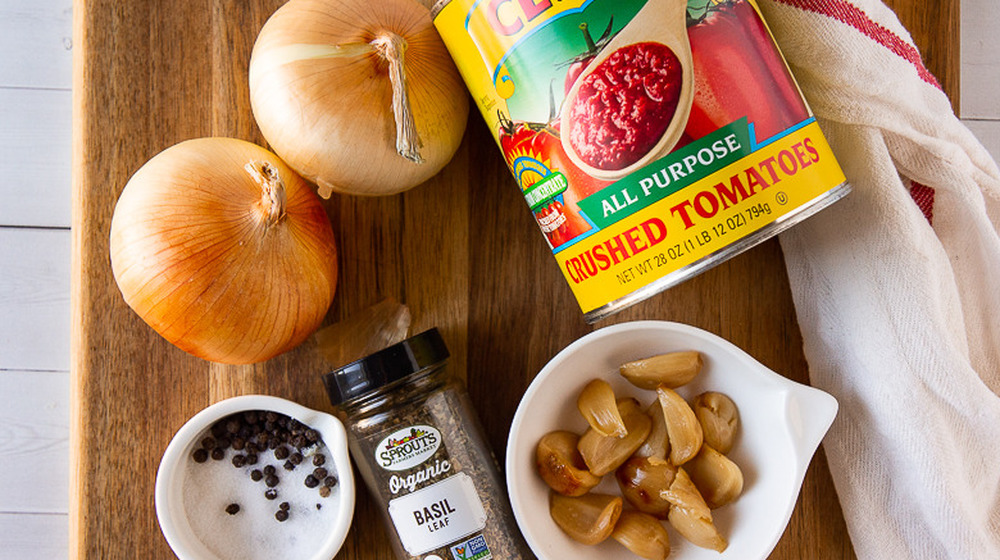 Mikayla Marin/Mashed
We're tempted to call this a four-ingredient recipe because aside from salt, pepper, and oil (which are total gimmies), you only need a handful of super-easy ingredients. All you'll need to get started is a can of tomatoes, onions, garlic, and dried basil. That's it.
The main essential here is obviously the tomatoes. Without it, marinara is probably off the table for dinner tonight. Good news is, you can pretty much use whatever cans you have lurking about. Our preferred canned tomato for a quick and easy marinara sauce is crushed tomatoes. They have some texture but not so much that a quick few pulses from an immersion blender won't create an ideal marinara sauce.
You can also use tomato puree, diced tomatoes, and even whole tomatoes to make a stovetop tomato sauce. Make sure you smash and break down the whole tomatoes with a sturdy spoon as you cook, but otherwise, the process is the same.
Adding dried basil to your marinara sauce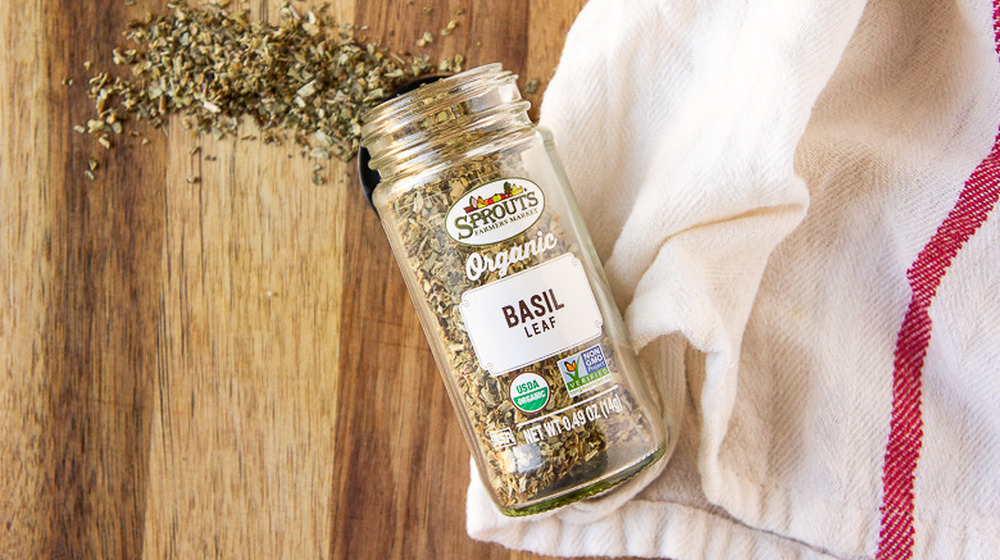 Mikayla Marin/Mashed
Dried basil is a quick way to add that familiar Italian tomato sauce flavor. Don't fall into the trap of adding it too early, though. Dried basil is actually best added at the end of the recipe, so you can add it right before you're planning on taking your marinara sauce off the stove. Cooking it too long can deaden the flavor or even release bitterness into your sauce.
Want to add your basil like a pro? Rub it between your fingers as you add it to the marinara sauce to release oils and flavor.
How onions and garlic sweeten canned tomatoes in your marinara sauce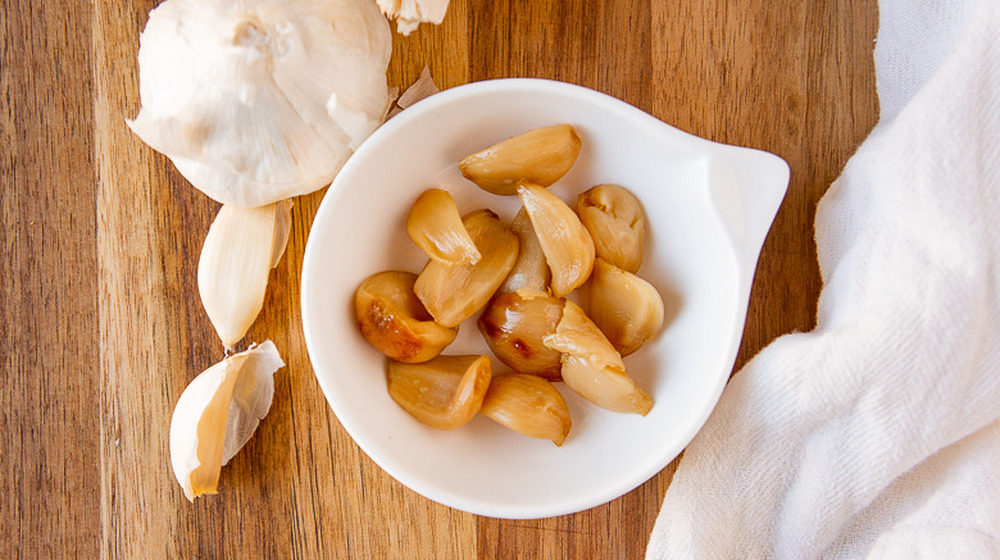 Mikayla Marin/Mashed
Since this marinara sauce recipe aims for big flavor with fewer ingredients, the onions and garlic you choose are important. Canned tomatoes have an unfortunate tendency to take on a tinny or bitter flavor from the can, and we have to combat that.
Without adding sugar, an easy way to do this is intensifying the natural sweetness in the ingredients you are adding. First, choose a sweet onion variety if at all possible. You can use whatever onions you have on hand, of course, but you may find that you need a pinch of sugar.
Another type of natural sweetness you can tease out is from the garlic. In this recipe, it's a good idea to roast your garlic beforehand. This is a simple, if somewhat lengthy, process you can easily do before you make your marinara sauce. By slow roasting whole heads of garlic in the oven, the cloves tenderize and become buttery, sweet, and packed with delicious roasted garlic flavor.
If you'd rather just get to the point, you can totally use the pre-made squeeze tube of roasted garlic that hangs out in the herb section at your grocery store too.
Prepping a garlic head for roasting for your marinara sauce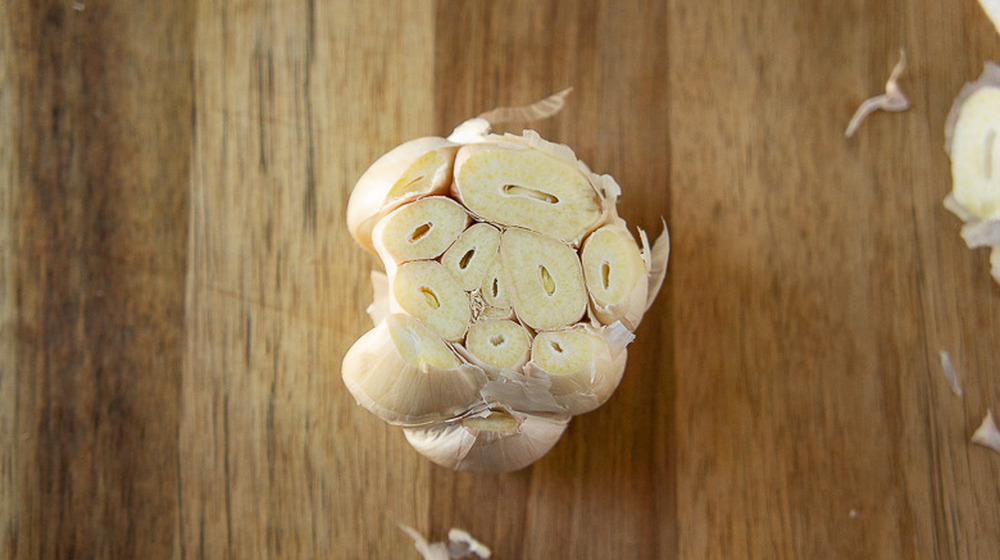 Mikayla Marin/Mashed
Once we discovered how easy this was and how well it holds up in the freezer, we were roasted garlic converts for life. You can roast a few heads of garlic every month and store the roasted cloves in the freezer to pop in recipes whenever your heart desires. (You don't even need to thaw it!)
The roasting takes an hour, but it's completely hands-off and so easy. To start, you just need some foil, your oven preheating to 325 degrees Fahrenheit, and at least one full head of garlic. Peel away all the paper on the garlic, getting as much removed from the outside of the head as possible without breaking off cloves. Flip it on its side and find the point where most of the cloves meet at the top. Cut it off.
How to make the roasted garlic for this marinara sauce recipe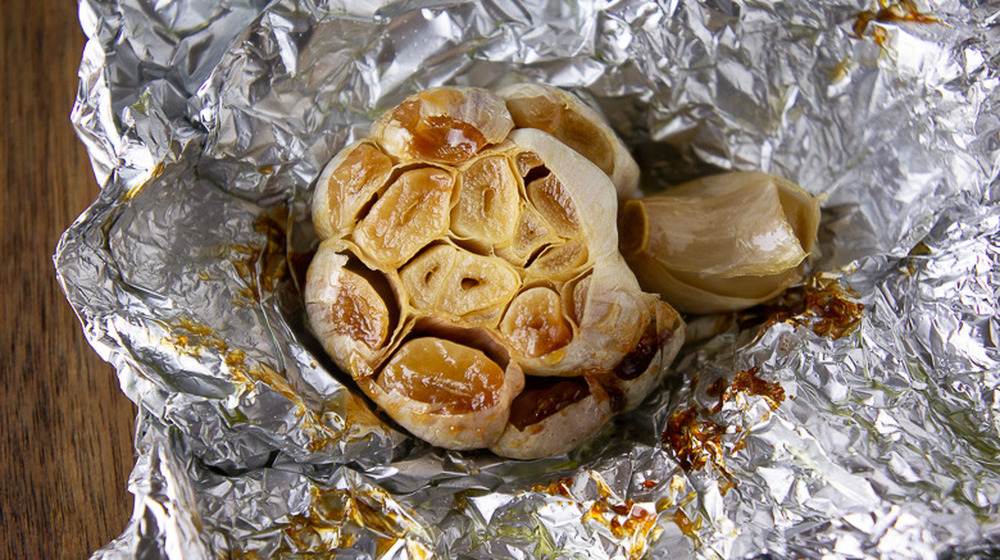 Mikayla Marin/Mashed
Next, use a small knife to carefully trim the tip off of any cloves that weren't exposed with the first chop. Place it on a sheet of foil, generously coat with oil, and wrap it up. Place it in a muffin tin, ramekin, or any other baking vessel that will keep the head of garlic cut-side up while it bakes.
Let it cook for an hour and let it cool. Once it's cool enough to handle, gently squeeze the bottom of the cloves to squeeze the roasted garlic from the skin. You'll need a whole head for this marinara sauce recipe, so be sure to roast extra, if possible, and freeze it for other delicious things like roasted garlic butter on your next steak!
How to make your marinara sauce sweeter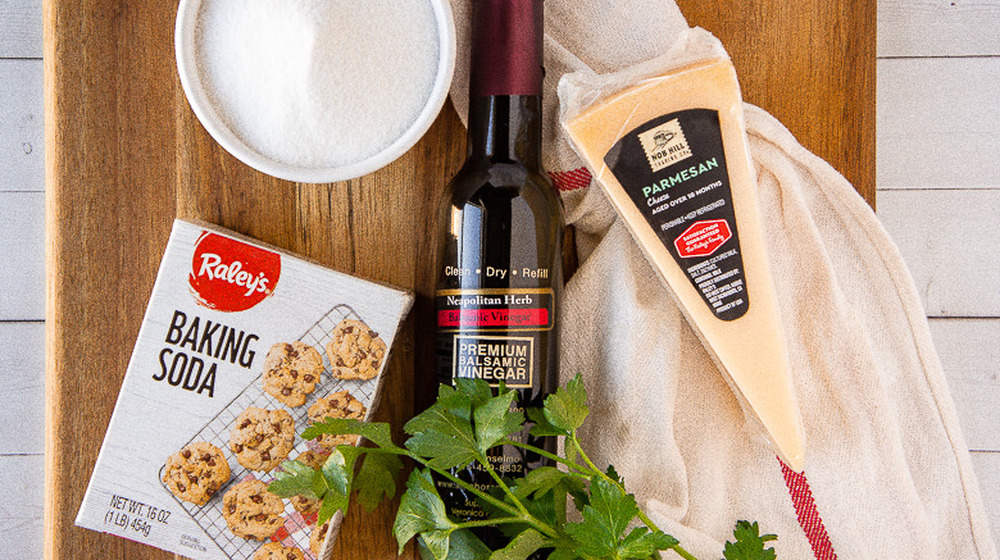 Mikayla Marin/Mashed
Most of the time, it's the bitterness in the tomato sauce that has your taste buds crying for sugar. You can, of course, add a half teaspoon of sugar at a time, tasting and adjusting until you reach your ideal sweetness.
But actually, there are many ways to balance the bitterness that also create interesting and delicious variations to your marinara sauce. One of our favorite kitchen hacks is baking soda. Just adding in a pinch with the onions helps them soften much faster, and it counters the bitterness of canned tomatoes without adding flavor.
Other options include a sweet vinegar like balsamic, white wine, or apple cider. Just a splash would do. Cheese, or even a dab of butter, can add a creaminess that mellows out the overall intensity of the sauce. And finally, herbs! Add more basil and even experiment with parsley or oregano to find a herb level that works for you.
Making your marinara sauce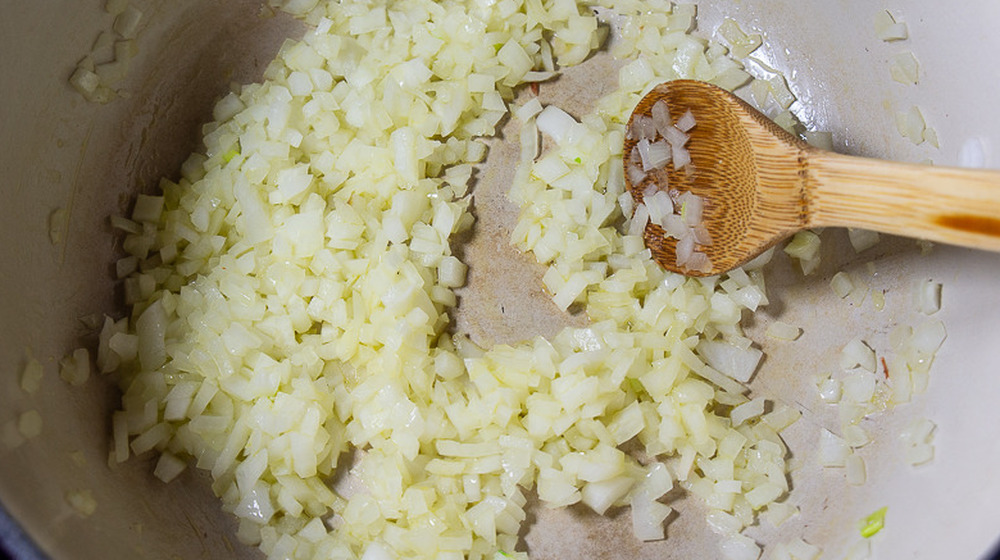 Mikayla Marin/Mashed
Get a medium to large saucepan on the stove over medium high heat. We prefer to blend right in the pot with a stick blender, so we recommend a Dutch oven or other deep pot to make this recipe. Tomato products tend to splash a while cooking, so this avoids that problem as well. Once that's heating, start prepping.
All you have to do is chop your onion, and you're ready to cook. You'll want to choose the right size dice on your onions according to preference. If you don't want to blend your sauce at all, we suggest a very fine dice on your onions so they melt into your sauce. Or, leave them chunky if you like a rustic sauce.
Drop those into your hot pan with a few tablespoons of oil and add a pinch of salt. Stir occasionally to prevent any burning, but let them caramelize. If you're adding a pinch of baking soda, do it now (seriously, a tiny pinch). Once the onions are nice and soft, add your roasted garlic cloves and stir. You may find it easier to mash them into a paste first, or you can do this with the back of your spoon as you stir them into the onions.
Add tomatoes to your marinara sauce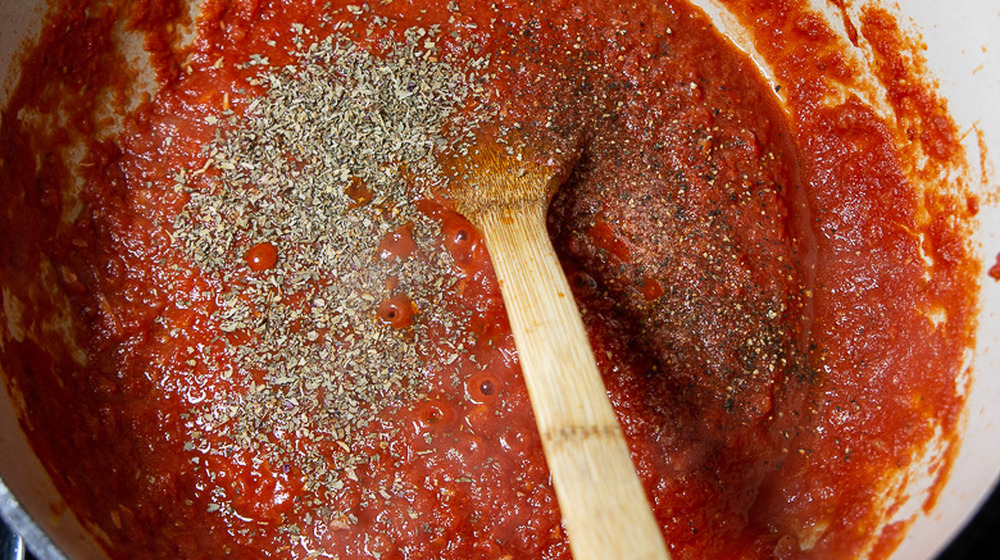 Mikayla Marin/Mashed
When everything is very fragrant and tender, your tomatoes will go into the marinara sauce pot. If you're going to add vinegar, do it just before the tomatoes, and let it simmer for a few seconds. One of our favorite tips to get your marinara to have a bit of sweetness and roasted flavor is to really let the tomatoes caramelize on the pan. You'll have to be using a large pan and keep that heat up, then simply don't stir for a few minutes.
Next time you stir, scrape the spoon along the bottom to get any caramelized tomato into the sauce. Let your sauce come to a bubble for five minutes or so, then add the herbs, pepper, and remaining salt. Let it cook for another minute or so. If you're blending your sauce, do it now, then put it back in the pot to taste it again and adjust final seasonings before it comes off the stove again.
Serve your marinara sauce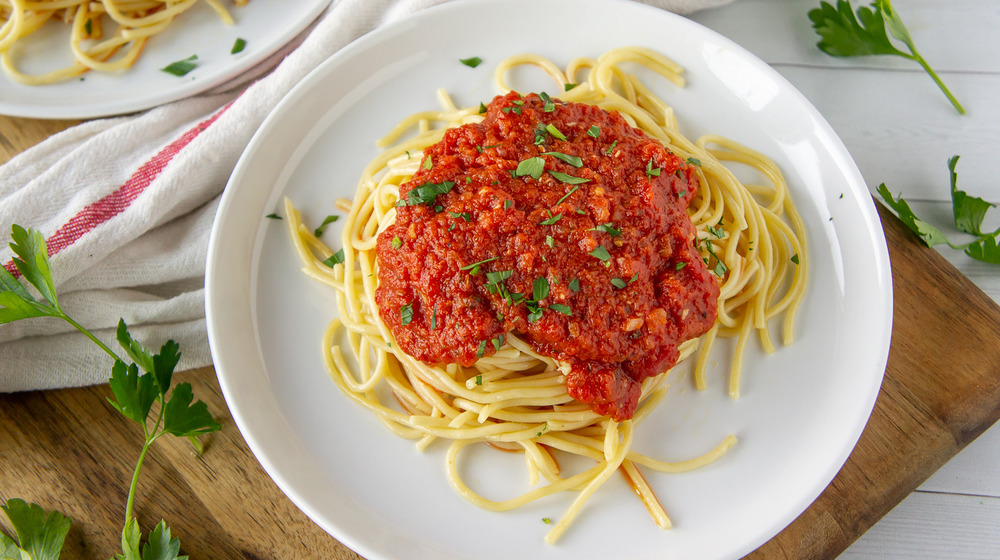 Mikayla Marin/Mashed
Once your marinara sauce is blended (or not blended) to the texture you like, it's ready to serve over any number of delicious things. Top pizza dough with a healthy smear, toss with hot pasta for a fantastic light meal, bake chicken or fish in it, or use your marinara as the base of your next lasagna. There are so many ways to use this! You'll want to make extra, let it cool, and store it in your fridge for up to four days. Or, if you're thinking ahead, make a lot extra and freeze it for up four months so you can have it for dinner any time.
Fast Marinara Sauce Recipe
A simple but versatile marinara sauce is a recipe every home cook should have in their back pocket. Learn how to make this super-tasty sauce for your pasta.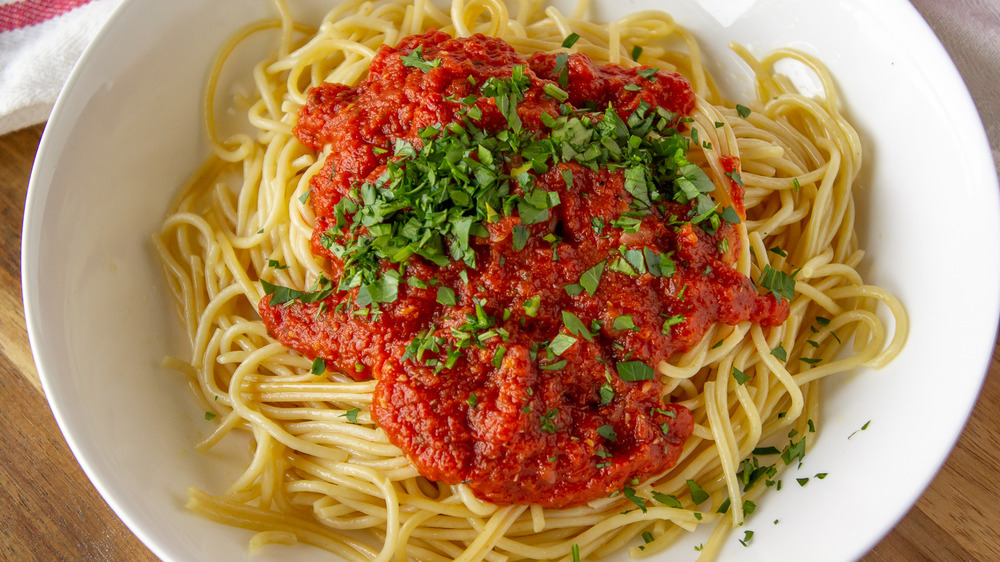 Ingredients
2 tablespoons roasted garlic (1 whole head, roasted)
2 small sweet onions, diced
2 tablespoons olive oil
28-ounce can crushed tomatoes
½ tablespoon dried basil
1 teaspoon kosher salt
½ teaspoon black pepper
Optional Ingredients
pinch baking soda
½ teaspoon of sugar
1 teaspoon vinegar
1 tablespoon parmesan cheese, grated
Directions
If you need to roast garlic for this recipe, do that first. Preheat your oven to 325 degrees Fahrenheit and peel as much paper from the head of garlic as possible.
Find the place near the top of the head of garlic that most of the cloves join and chop it off, exposing the tip of each clove. Trim any cloves that get missed to open them too.
Place on a square of foil and coat liberally with oil. Wrap and place in a ramekin, muffin tin, or small dish cut-side up and roast for 1 hour. Remove and let it cool while you prep the rest of the ingredients.
Heat olive oil in a pan over medium high heat. When hot, add diced onion with ¼ teaspoon of salt, and stir to coat.
Saute the onions, stirring frequently, until softened and translucent. Add in garlic and stir, breaking any large pieces of garlic into paste with your spoon. Saute another minute, or until garlic is really fragrant.
Add in tomatoes and stir to combine, then let simmer over medium high heat for 5 minutes, stirring only if bubbling grows too rapid. (If your canned tomatoes are bitter, add a pinch of baking soda in with the onions and garlic, OR choose either the sugar, vinegar, or parmesan and add it at the end of the cooking to balance the flavor.)
Add the remaining salt, pepper, and the dried basil to the pot. Rub the basil between your fingers as you add it in to release the oils.
Let simmer, stirring occasionally for another 5 minutes. If desired, use a stick blender to puree the marinara to the preferred texture. You can also transfer to a blender or food processor.
Taste and adjust seasoning as needed. Serve immediately.
Nutrition
| | |
| --- | --- |
| Calories per Serving | 114 |
| Total Fat | 5.0 g |
| Saturated Fat | 0.7 g |
| Trans Fat | 0.0 g |
| Cholesterol | 0.0 mg |
| | |
| --- | --- |
| Total Carbohydrates | 17.1 g |
| Dietary Fiber | 3.4 g |
| Total Sugars | 10.0 g |
| Sodium | 518.1 mg |
| Protein | 3.1 g |