Costco Fans Are Obsessed With Its Chocolate Covered Almonds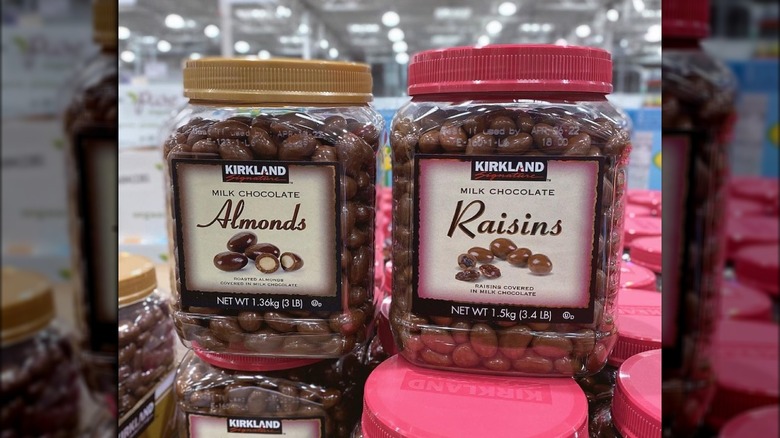 As a huge brand that's wildly popular among its loyalists, Costco has plenty of healthy snacks to keep its customers coming back for more. There are scores of options available for those who want to pick up something wholesome and delicious at the same time such as protein bars, dried fruit, nuts, keto-friendly granola, and crackers made with almond flour, just to name a few. 
Plus, according to Spoon University, the options really are endless in terms of affordable healthy treats that can keep you going through the day and ensure that you're never hungry. Things are more convenient than you realize: there are even "pre-portioned" packets of nuts available at the store so you won't have to fret over eating too many cashews or walnuts in one sitting, proving that buying in bulk doesn't mean buying huge portions. Need more good news? Well, as Instagram users have found, the chocolate-covered almonds at Costco are to die for!
Customers love this simple healthy snack
The popular Instagram account Costco Buys recently posted a photo of tempting jars of delicious-looking nuts from Costco. The caption read, "I'm a huge fan of Costco's chocolate covered raisins and chocolate covered almonds! Between the two, which do you prefer?" Fans were super enthusiastic and responded happily to the question.
One Costco shopper playfully admitted that they're such huge fans of the chocolate-covered almonds from the store's in-house brand, Kirkland, that they had to refrain from buying more because the whole jar was being polished off in just a week. Whoa! Many others vouched for the chocolate almonds. A shopper went a step ahead and wished that they could get a dark chocolate version, too.
Another foodie demonstrated their love for these almonds as well as Kirkland's similar offering, chocolate-covered raisins. They wrote, "Both fabulous, love both at different times, after dinner chocolate covered almonds, between meals chocolate covered raisins." Sounds like this snacker has things all figured out.