Costco Shoppers Can't Get Enough Of These Garlicky Seasoned Almonds
Almonds are a healthy snack, full of healthy fats, antioxidants and essential nutrients like vitamin E and manganese (via Healthline). While they are not a low calorie food, they are high in both protein and fiber, which has been shown to help aid in weight loss and control blood sugar. And now, Costco is making healthy snacking easier and tastier than ever, with its release of Blue Diamond's Gourmet Garlic, Herb, and Olive Oil Almonds. These savory almonds are seasoned with garlic and other herbs like oregano, basil and rosemary, then drizzled with extra virgin olive oil. 
Not only are these additional spices a treat for your taste buds, they also add some additional nutritional benefits to this healthy snack. Garlic has been shown to help boost immunity, lower blood pressure and even reduce the risk of heart disease, per Healthline. Another perk of these almonds is the price — Costco shoppers can purchase a large 20-ounce bag of these delicious gourmet almonds at their local warehouse for around $10, per Costco.
Costco's gourmet almonds were a hit on social media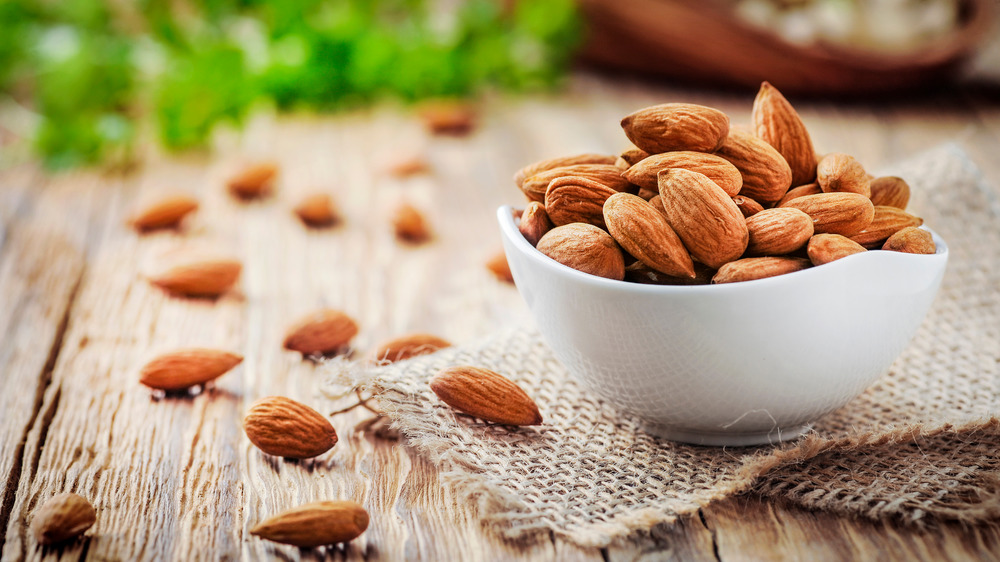 Shutterstock
The popular Instagram account @costcobuys announced, "Gourmet garlic, herb & olive oil almonds by @bluediamond are one of my favorite new snacks!" Many of their followers agreed, saying they couldn't get enough of the flavorful, satisfying snack. "I was so happy to find these. It was so good I didn't share," one commenter joked. However, these almonds were not a hit with everyone. 
One Instagram user wrote, "Wayyyyyy too salty in my opinion," while another said, "We were excited for them but was disappointed. Way too garlicky." A different user joked, "If you're trying to protect yourself from vampires go for it. Really potent." While many people loved the strong flavor of the snack, shoppers should be warned — if you only like garlic in small doses, then these healthy, gourmet almonds are probably not for you. However, we love garlic, so we plan on eating a lot of these!