Bad News For Fans Of Coors Seltzer
When you want to relax on a beautiful summer afternoon, what better drink is there than hard seltzer? It comes in so many refreshing and fruity flavors, and breaking open a pack of boozy seltzers is a great way to enjoy the outdoors with friends while staying cool. Unfortunately, if your go-to drink is Coors Seltzer, you'll have to start switching it up because the Molson Coors Beverage Company won't be making any more.
According to Eat This, Not That!, Coors Seltzer was released in September 2020, and it came in four flavors: black cherry, grapefruit, lemon lime, and mango. However, Eat This also reported that Coors Seltzer will be slowly going off shelves once wholesale retailers sell off the last of what's in stock. Unfortunately, sales haven't been that great in the U.S. Thankfully, the hard seltzer market has other brands and similar flavors to Coors Seltzer, but the brand also had a unique environmental mission.
What other hard seltzer options are out there?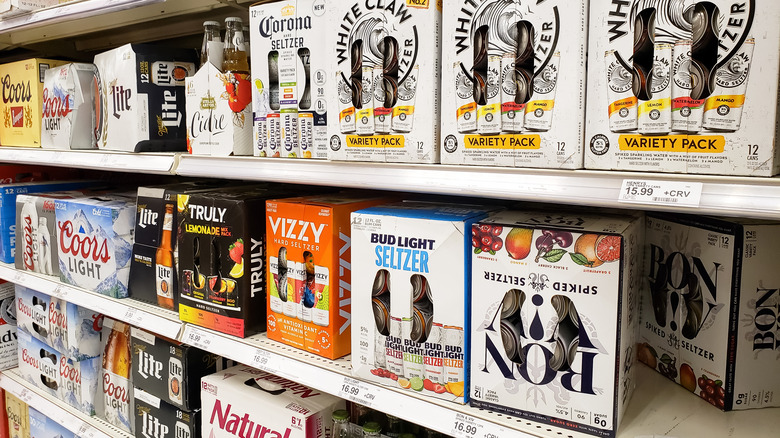 Shutterstock
If you're still craving Coors Seltzer, you'll be able to get it in stores that sell the product while supplies last, but don't expect more shipments to be delivered in the future. According to BeverageDaily, Coors Seltzer will still be available in Canada, so it's not completely gone. However, you might want to start looking for other hard seltzer brands and options.
For those who are fans of the Molson Coors company, there are other hard seltzers available, like Topo Chico Hard Seltzer and Vizzy. In fact, VinePair said that Molson Coors issued a statement that said, "That's why we've made the decision to discontinue Coors Seltzer in the U.S. and commit our energy, resources, material supply, and shelf space to Vizzy and Topo Chico Hard Seltzer."
But of course, there are other popular brands of hard seltzer, like White Claw and Truly, which both have been top seltzer brands. You can also find fantastic boozy seltzer at Aldi that might even be better than White Claw. With so many options to choose from, you're sure to find a new seltzer you'll love.