Barefoot Contessa: Cook Like A Pro Season 19: Info We Know So Far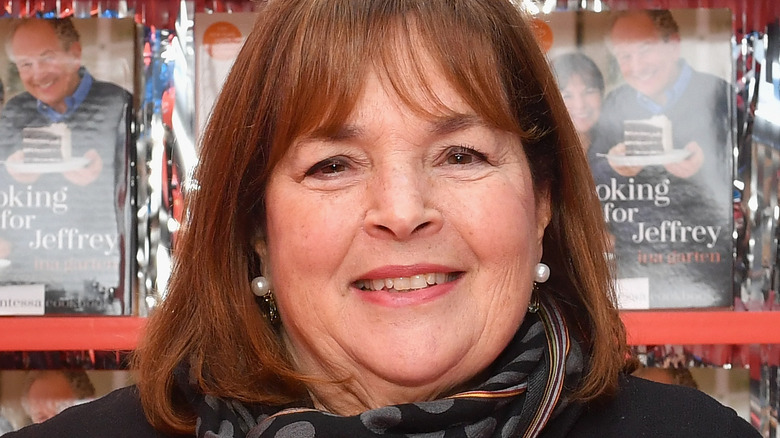 Noam Galai/Getty Images
Ina Garten of "Barefoot Contessa" fame embodies the upper-crust luxury of the Hamptons while somehow maintaining mass appeal. She may have a house worth a couple million dollars (the median price of homes for sale in East Hampton is $1.8 million, per Realtor.com), and she might have a "barn" that in fact is a TV studio kitchen that puts most people's kitchens to shame (via The New York Times). Her lifestyle may not be approachable for everyone, but her personality most definitely is. She's not an elite chef with a skill level the ordinary TV viewer could never attain. She just likes to cook in her home kitchen, like a lot of us. She told the Times something that explains her broad appeal — something you'll never hear coming out of the mouths of Bobby Flay or Gordon Ramsay: "I'm not a trained chef. I love cooking, but it is not easy."
Garten's immense popularity only grew during the COVID-19 pandemic, when Garten became even more approachable through Instagram. Between the start of the pandemic and Thanksgiving, she gained 1 million Instagram followers. Because Garten's star only continues to rise, we're confident we will see another season of Food Network's "Barefoot Contessa: Cook Like a Pro." The only question is, "When?"
When will Season 19 of 'Barefoot Contessa: Cook Like a Pro' premiere?
The most recent season of "Barefoot Contessa: Cook Like a Pro" debuted on May 16, 2020, according to a statement Discovery released a few weeks before that date. Then, Ina Garten announced a new season of "Barefoot Contessa" on Instagram in October. The most recent season of "Barefoot Contessa" was especially challenging for Garten, who filmed the episodes in quarantine, without a crew. "I get to add hair, makeup, food stylist, prop stylist, cameraperson, audio tech, AND director to my resume!" she wrote on Instagram.
She also said she never missed her crew more, so Garten will probably wait until she feels safe bringing all her helping hands back for the next season of "Barefoot Contessa: Cook Like a Pro." In recent Instagram posts, Garten has said how excited she is that life is returning to normal. She made a celebratory sangria in an Instagram video July 1 to recognize Independence Day. "It's the Fourth of July, and it feels like everyone is crawling out of their caves," she said. If her hair stylist and cameraperson are among those emerging from their lockdown caves, maybe Garten will start filming later this summer. Food Network hasn't announced anything, but if we're lucky we'll get a new season of "Cook Like a Pro" before the end of 2021. Garten didn't make her fans wait long between the May 2020 season and the previous season, which premiered in October 2019 (via Apple TV).
What will Ina Garten feature in new episodes of 'Barefoot Contessa: Cook Like a Pro?'
Over the years, little has changed on Ina Garten's show "Barefoot Contessa." The format is simple: Garten shows us how to cook in her kitchen. Guests are only occasional, mainly her husband or a friend (via The New York Times). The only real variable, season after season, is what foods Garten chooses to spotlight. Episode summaries from the most recent season, from Apple TV, indicate that she featured a favorite ingredient of hers (tomatoes), the magic of oranges, a classy take on vegetables, and her husband Jeffrey's favorite dishes. In the previous season, she tackled holiday cooking, Italian dishes, and spicy food. So Garten is all over the map when it comes to her topics for each episode.
As excited as Garten is to see people crawling out of their pandemic caves, it's a good bet that she'll have at least one episode in Season 19 of "Barefoot Contessa: Cook Like a Pro" that offers tips for hosting large parties (or groups larger than 10, anyhow). Garten released a new cookbook in October (via Food & Wine), so we're sure she'll want to show off a few recipes from "Modern Comfort Food" on the next season of "Cook Like a Pro." Here's what you probably won't see: an episode about sourdough. Woman's Day reported back in October that Garten had declared that pandemic food trend dead.