Blackberry Cobbler Recipe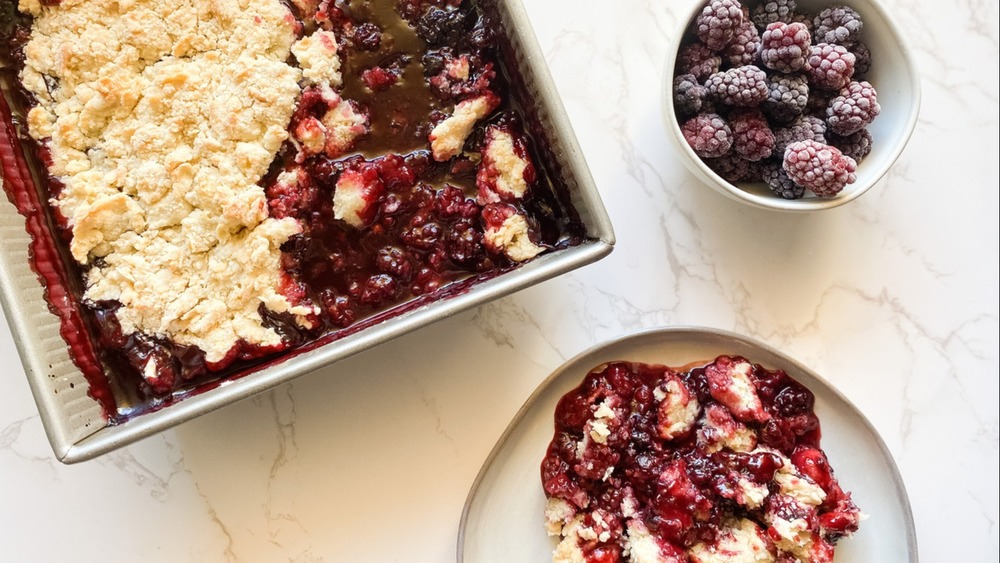 Kristen Carli/Mashed
Having a weeknight, family-friendly dessert in your recipe rotation is never a bad thing, especially when the treat in question combines healthy, seasonal fruit and a sweet and savory topping that looks pretty and rustic when plated. Sound like a winning combo? Then meet registered dietician Kristen Carli of Mostly Green's blackberry cobbler. Her accessible recipe will make you look like a star to your family or friends, yet it only requires a few simple ingredients, many of which we guarantee are stocked in your kitchen right now. The best part about this dessert is that you can make it in the summer, spring, winter, or fall, with Carli telling Mashed, "Because I use frozen blackberries, you can make this cobbler year-round, not just in peak berry season." 
Carli also told us, "I love to make it for our weekly family dinners." She added that if you aren't a fan of blackberries, the recipe works with any kind of berry.
Pull blackberry cobbler ingredients together from around the kitchen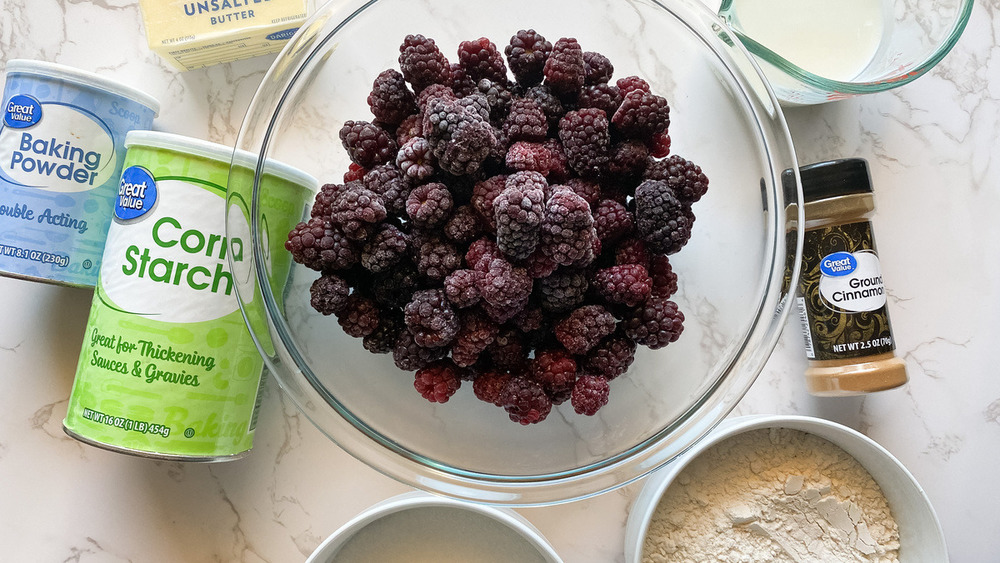 Kristen Carli/Mashed
If you are hoping to pull together a delicious dessert ASAP but are not in the mood, or don't have time, for a trip to the market, this blackberry cobbler recipe is for you. You will simply need frozen blackberries as well as some kitchen staples you are sure to have on hand, like cinnamon, granulated sugar, cornstarch, all-purpose flour, baking powder, salt, butter — it should be cold, and we will explain why in a moment — as well as buttermilk. 
Water is also used in this recipe, and the tools you'll require to create the cobbler are a saucepan, a few small mixing bowls, a baking pan, and nonstick cooking spray. Oh, and don't forget to have a camera or your phone nearby. You are going to want to take a photo of this impressive dessert to post to social media. Because look what you made!
Bring your berries to a boil for your blackberry cobbler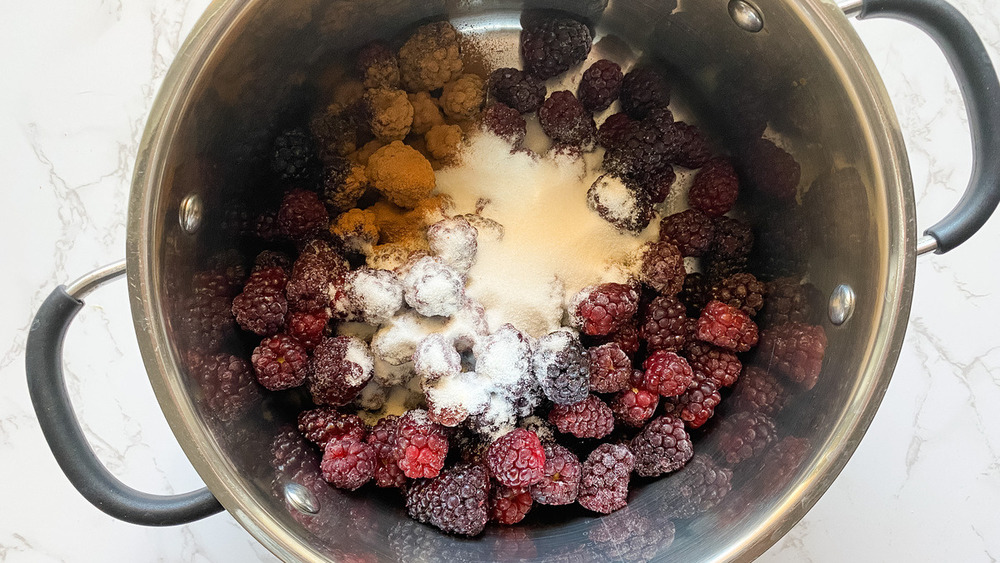 Kristen Carli/Mashed
Step one of this blackberry cobbler recipe is to preheat your oven to 350 degrees Fahrenheit. Then, prepare a baking dish — Carli recommends one that is 8x8 inches in size for best results — with nonstick cooking spray. Set it aside. 
Now, grab a large saucepan, and you will combine your frozen blackberries or berries of choice with the cinnamon and a cup of granulated sugar. Bring the mixture to a boil while stirring. Wait, what? How can you bring solids to a boil? Well, as Carli explained to Mashed, "It will take about five minutes for the berries to come to a boil before adding the cornstarch." We still don't get it! It's okay, Carli told us. "It will not look like it will come to a boil, and you will want to add liquid, but don't!" she cautions home cooks, adding, "Be patient, and it will come to a boil." 
Add your cornstarch to the berries for this blackberry cobbler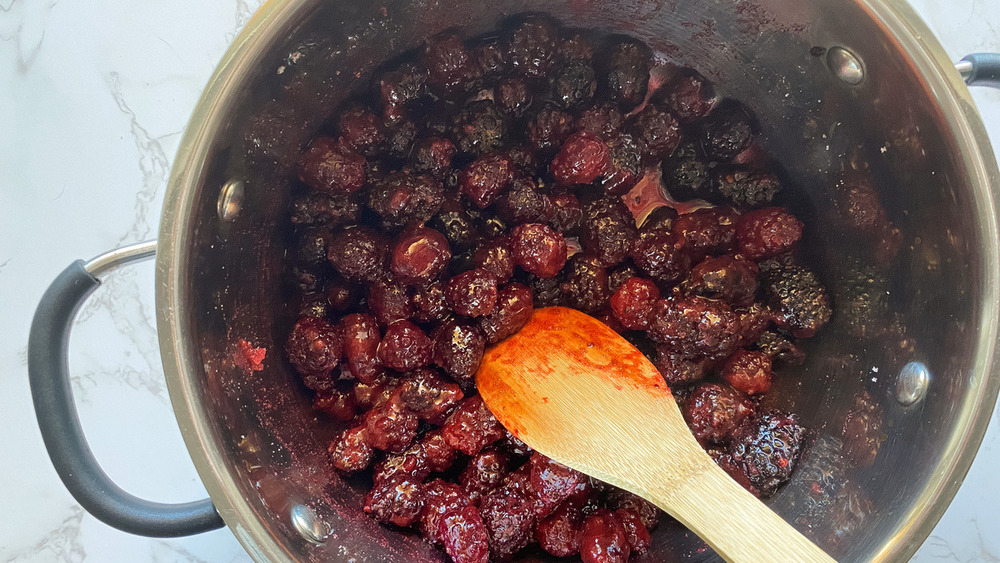 Kristen Carli/Mashed
Next, take a small bowl and stir the cornstarch and water until the mixture is well-combined. Go ahead and pour the mixture over the berries in the saucepan and give the ingredients a good stir. You will bring the berries and cornstarch mixture to a boil once again, with Carli noting this time, the process will take less time — about three minutes should do the trick. The goal is to allow the mixture to cook and thicken.
At this stage, you will begin to assemble your cobbler, with the berry mixture looking glossy and smelling delish! Simply pour the berry mixture into the prepared baking dish and set it aside for a hot minute. Next, we turn our attention to creating the topping. Don't worry — you got this! Carli is going to walk us through the process, and you will be thrilled with the results.
Make your blackberry cobbler topping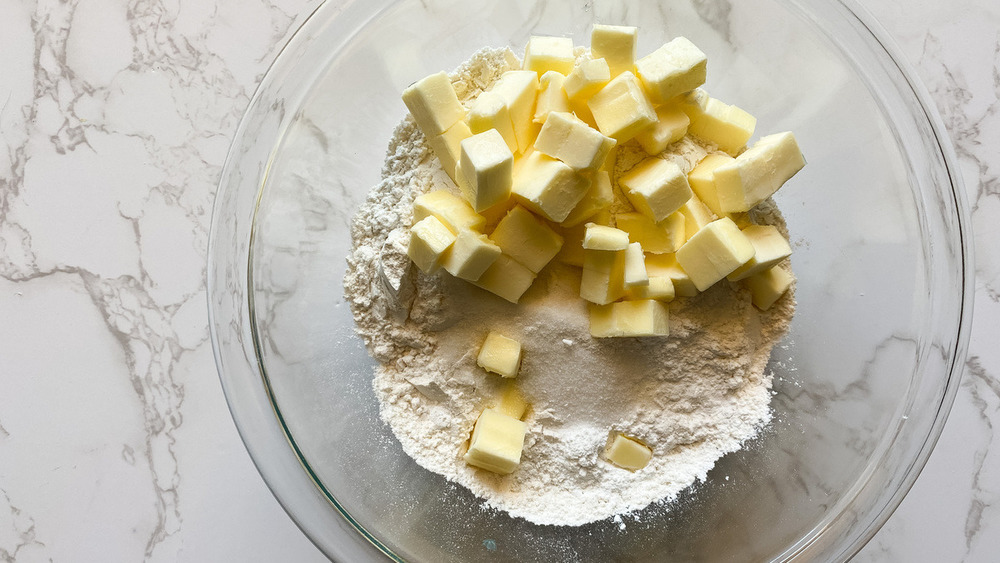 Kristen Carli/Mashed
Start out by taking another small bowl and combining your flour, a tablespoon of the sugar, baking powder, and salt. You will then add the butter cubes, with Carli telling Mashed, "The butter needs to be cold to help make the classic biscuit topping." She adds, "We want the butter to melt during cooking."
Next, go ahead and use a sharp knife or a pastry cutter if you have one to cut the butter into your flour. The goal is to create a coarse crumble, or as Carli explained, crumbles that are "about the size of a dime, to the size of a nickel." Once you have achieved this effect, you will add your buttermilk over the top of the topping mixture and stir all of the ingredients to combine them.
Finally, pour the topping mixture right over the top of the berries that are patiently waiting in the prepared pan.
Bake and serve your blackberry cobbler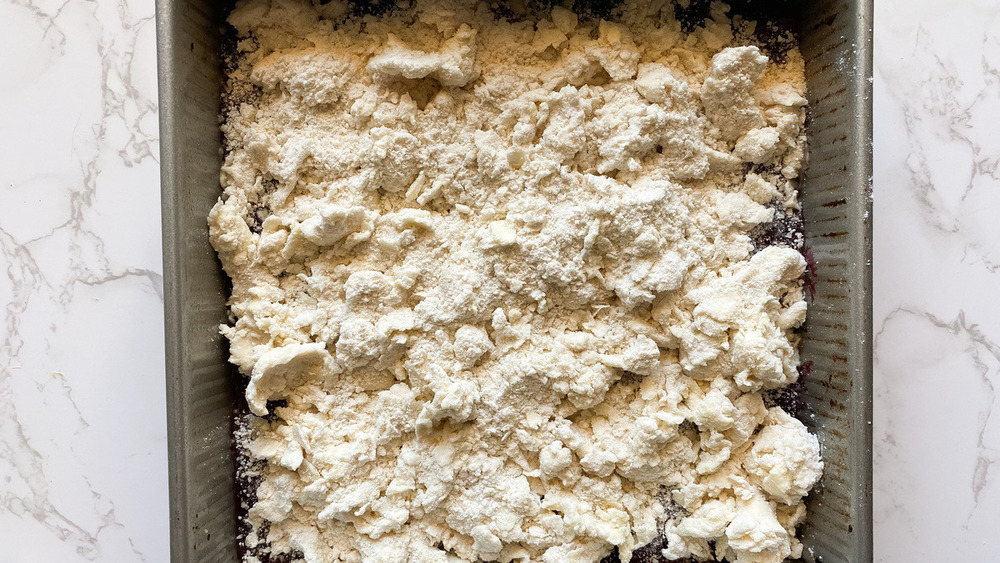 Kristen Carli/Mashed
Once your blackberry cobbler is fully assembled with the topping spread out evenly on top of the berries, bake the treat for 40 minutes. How do you make sure not to under- or over-cook this delightful dessert? Because after your diligent work, you would hate to wind up with a burnt berry disaster. Luckily, Carli has some good advice for home cooks. She told us, "You'll know your cobbler is ready by the golden brown topping." Is your mouth watering too?
Meanwhile, of course you will want to serve up your sweet creation right away or as soon as the last bite of dinner is consumed, and we are betting you may not have any leftovers. However, should you be serving a smaller crowd — or just yourself, because we sure aren't judging — Carli notes you can "store this in an airtight container in the fridge for up to four days." 
Happy baking! 
Blackberry Cobbler Recipe
This blackberry recipe will make you look like a star to your family or friends, yet it only requires a few simple ingredients.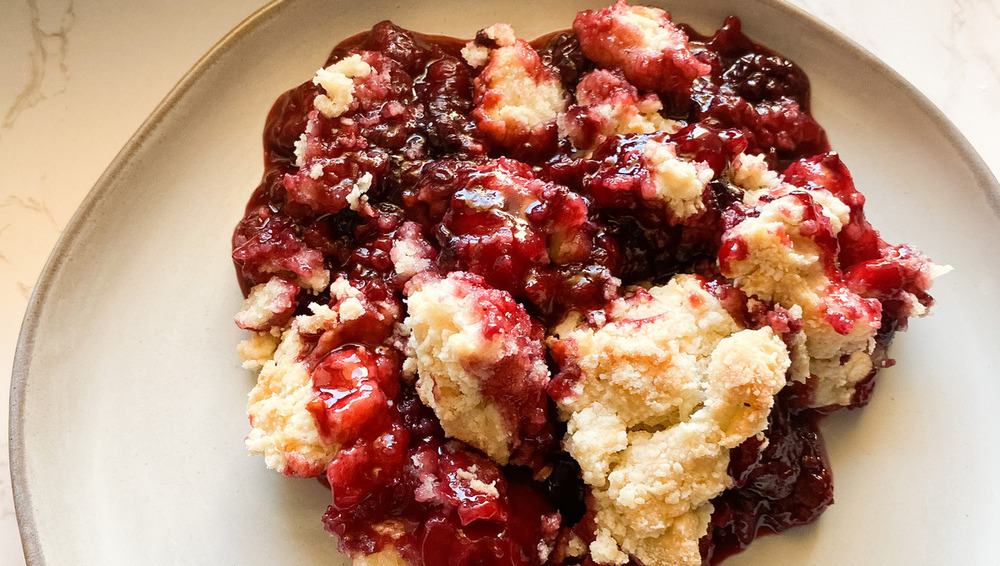 Ingredients
24 ounces frozen blackberries
¼ teaspoon ground cinnamon
1 cup + 1 tablespoon granulated sugar, divided
3 tablespoons cornstarch
¾ cup water
1 ½ cups all-purpose flour
1 ½ teaspoons baking powder
½ teaspoon salt
½ cup cold butter, finely cubed
½ cup buttermilk
Directions
Preheat the oven to 350 degrees Fahrenheit and spray an 8x8-inch baking dish with nonstick cooking spray.
In a large pan, combine blackberries, cinnamon, and one cup of sugar. Bring to a boil and stir.
In a small bowl, stir cornstarch and water until combined. Pour over berries. Stir. Bring to a boil. Allow to cook and thicken, about 3 minutes.
Pour berry mixture into prepared dish.
In a small bowl, assemble the topping by combining flour, 1 tablespoon sugar, baking powder, and salt. Add butter cubes and using a sharp knife or pastry cutter, and cut butter into flour until a coarse crumble results.
Add buttermilk to topping mixture. Stir to combine. Pour overtop of berries.
Bake for 40 minutes.
Nutrition
| | |
| --- | --- |
| Calories per Serving | 345 |
| Total Fat | 12.3 g |
| Saturated Fat | 7.4 g |
| Trans Fat | 0.5 g |
| Cholesterol | 31.1 mg |
| | |
| --- | --- |
| Total Carbohydrates | 56.4 g |
| Dietary Fiber | 5.2 g |
| Total Sugars | 31.5 g |
| Sodium | 246.8 mg |
| Protein | 4.2 g |