Sweet And Spicy Bacon-Wrapped Chicken Tenders Recipe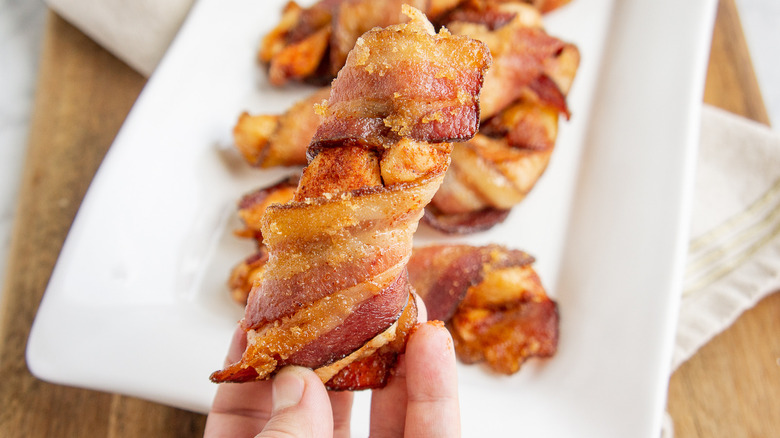 Mikayla Marin/Mashed
Ah bacon, the versatile and delicious pork product that we all love. It goes with everything these days. Whether it's in a pasta, an appetizer, or even dessert, we all love a good bite of bacon. We especially love it when it's been wrapped around tender, juicy chicken tenders and dunked in a brown sugar coating that caramelizes into sugary, salty perfection.
That's right, sweet and spicy bacon-wrapped chicken tenders are as delicious as they sound. We've got a fantastic recipe for them from recipe developer and food writer Mikayla of The Flour Handprint.
She's sharing how she transforms a few simple ingredients into a delicious entrée that everyone in the family will be happy to devour. The result is a perfectly cooked chicken tender infused with bacon, spices, and a tasty coating of brown sugar. The best part? They only take about 10 minutes of hands-on time, then the oven does the rest of the work for you.
Gather the ingredients for these bacon-wrapped chicken tenders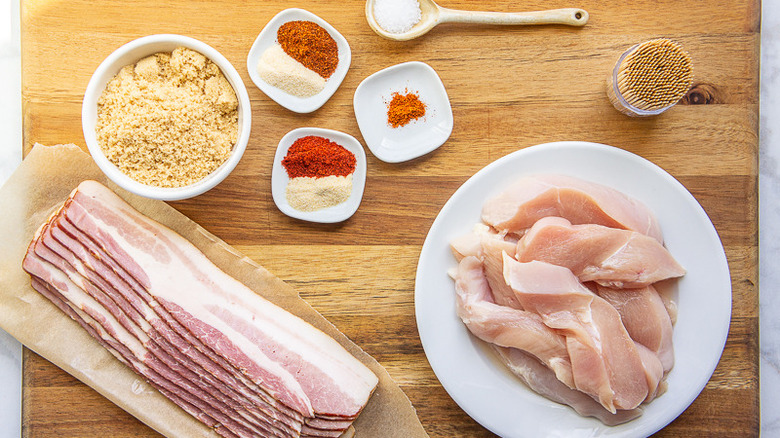 Mikayla Marin/Mashed
Mikayla wanted to capture the balance of sweet and spicy in this bacon-wrapped chicken recipe, which meant creating a balanced spice blend to go along with the chicken, bacon, and sugar. That perfect combination turned out to be equal parts of garlic powder, onion powder, smoked paprika, and chili powder spiked with just enough salt and cayenne to keep it balanced.
That gets mixed up and tossed over eight skinless chicken tenders just before each is wrapped with a thick slice of good-quality bacon. The final touch is just half a cup of brown sugar.
The proteins that make the magic happen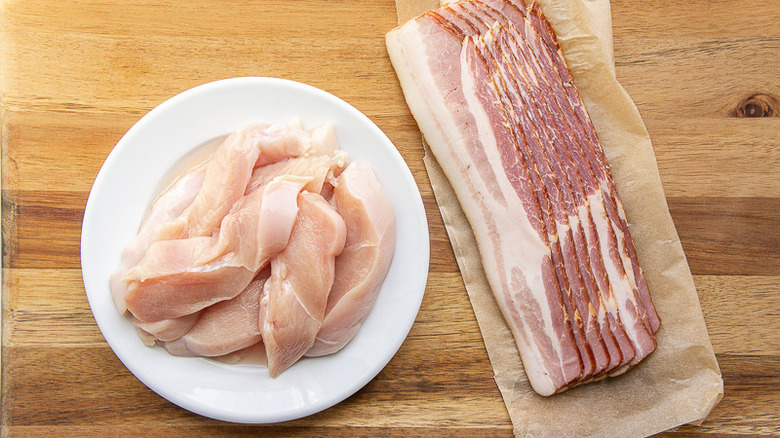 Mikayla Marin/Mashed
When it comes to picking chicken for this recipe, you have options. You can either use whole chicken breasts, especially if you already have them, and cut them into strips yourself. Or, you can purchase pre-sliced ones. If you're cutting the tenders by hand, just do your best to make sure they're similar in thickness. Uneven cuts can cause some pieces to cook faster than others, and nobody wants raw or overcooked chicken.
For the bacon, you can really choose whatever type you like. Hickory, applewood, or even maple bacon would all be perfect here. Try to choose good-quality bacon cut into thick, evenly marbled strips.
The spices and sugar that make this recipe sweet and spicy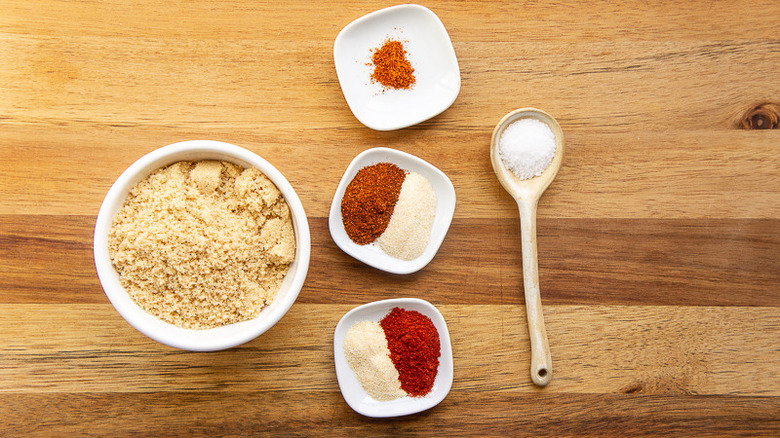 Mikayla Marin/Mashed
Beyond the proteins, this recipe really only uses a handful of pantry staples. Mikayla's suggested blend goes like this: half a teaspoon of kosher salt, a quarter teaspoon of cayenne pepper, and three-quarter teaspoons each of garlic powder, onion powder, smoked paprika, and chili powder.
To substitute for the chili powder, you can increase the garlic, onion, and paprika by a quarter of a teaspoon and add a pinch of cumin.
The sweet element in this recipe is just that half a cup of brown sugar. Either light or dark brown sugar will work just fine, as will granulated or coconut sugar. Mikayla simply suggests avoiding large crystal sugars, as they don't adhere to the wrapped chicken as well as finer sugars do.
First par-bake the bacon to render out fat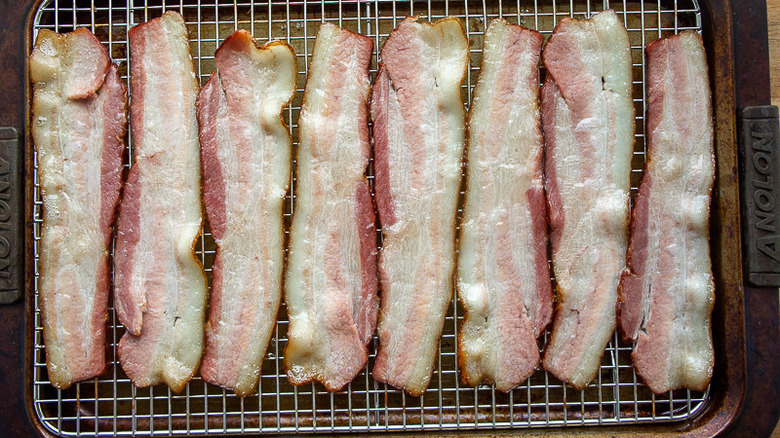 Mikayla Marin/Mashed
This is a super simple recipe to make, and it begins with a baking sheet with an oven-safe cooling rack set on top. Preheat your oven to 425 degrees Fahrenheit, and line the cooling rack with the bacon strips. It's okay if they touch, but try to avoid overlapping them. Pop them in the oven for 15 minutes to render some of the fat out while you prep the rest of the recipe.
This is a pretty important step that Mikayla highly recommends. She tells us that "bacon and chicken tenders don't cook at the same rate in the oven. Wrapping the chicken with raw bacon will lead to overcooked chicken by the time the bacon is fully cooked."
Pull the bacon from the oven when it has shrunk slightly but is still flexible enough to wrap around the tenders. If you prefer, Mikayla notes that you can microwave the bacon to this point, but be cautious, as that can cause uneven cooking and make it hard to wrap.
Season the chicken tenders with the spice blend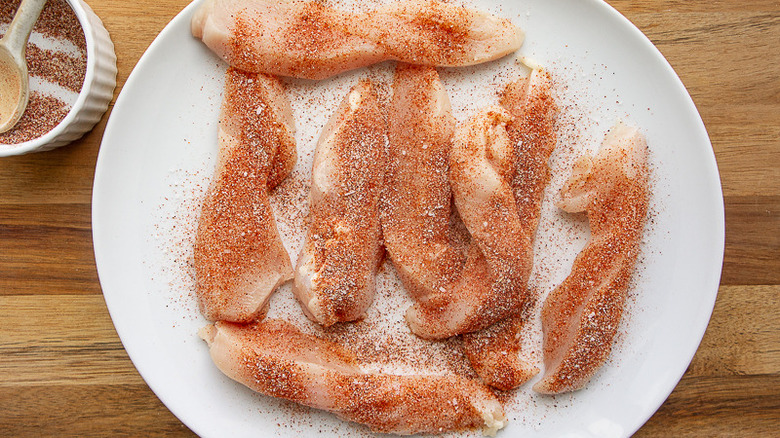 Mikayla Marin/Mashed
While your bacon is rendering, mix all the spices together and sprinkle the mixture over the chicken strips. Dust both sides of the tenders with the mixed spices to make sure they're well coated.
Go ahead and place your brown sugar in a wide, shallow bowl for dipping the wrapped chicken in as well. Then prep a second baking sheet with parchment paper or a silicone mat to make clean-up easier after baking. Then, gather some toothpicks so you're ready when the bacon is.
Wrap with bacon and coat the tenders with sugar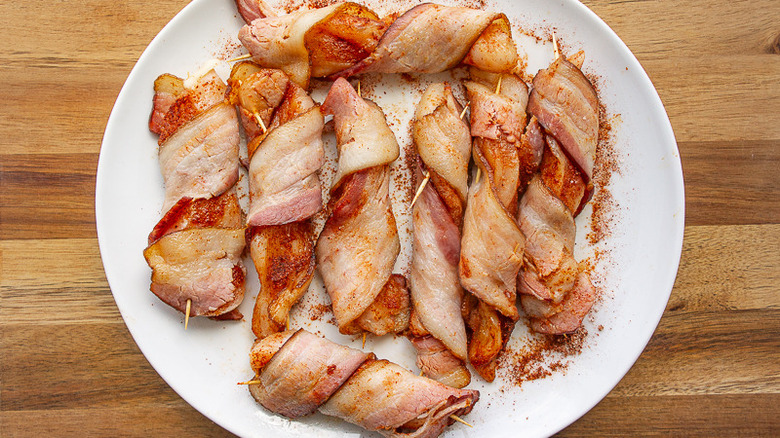 Mikayla Marin/Mashed
When your bacon is out of the oven, reduce the temperature to 350 degrees Fahrenheit and transfer the bacon to a paper towel to cool and drain off any excess fat.
Next, start wrapping chicken tenders with the strips of bacon. Start at one end and wrap it as tightly as you can. Secure the bacon on either end with a toothpick, and repeat until each tender is wrapped in bacon. This gets a little messy for your fingers, so a towel nearby is helpful.
Then simply roll and press the tenders into the bowl of sugar so each is well coated. 
Bake for 20 minutes until the chicken is cooked through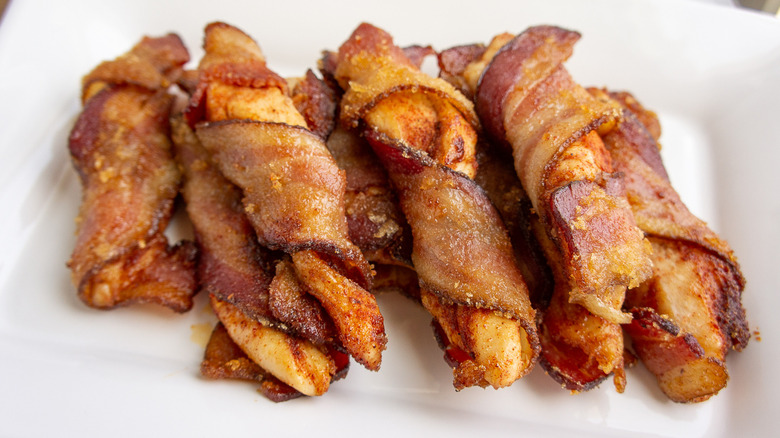 Mikayla Marin/Mashed
Your sweet and spicy bacon-wrapped chicken tenders should only take about 20 to 25 minutes to bake. That leaves just enough time to whip up a nice vegetable side dish or quick dinner salad to serve alongside them.
After 20 minutes, if the chicken is cooked to the internal temperature of 165 degrees Fahrenheit, remove the baking sheet from the oven. Serve your chicken tenders right away, and you've got a tasty dinner ready to go that both kids and adults will happily eat.
Simply store any leftovers in a sealed container in the fridge for up to three days. Reheat in the microwave or in a pan on the stovetop.
Sweet And Spicy Bacon-Wrapped Chicken Tenders Recipe
Wweet and spicy bacon-wrapped chicken tenders are as delicious as they sound. We've got a fantastic recipe for them that you have to try.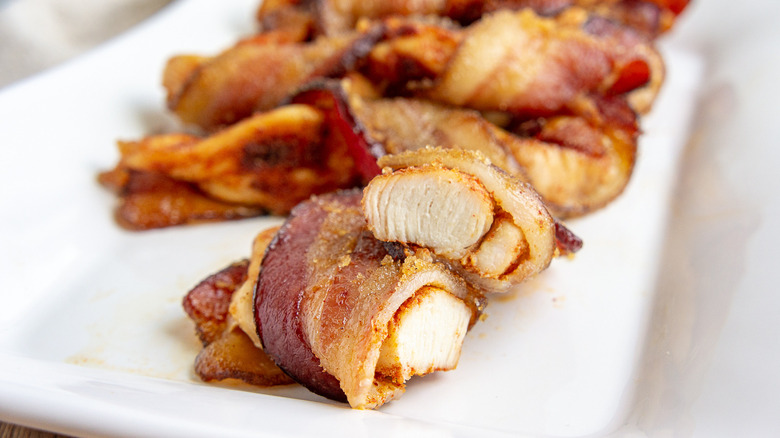 Ingredients
8 slices bacon
¾ teaspoons garlic powder
¾ teaspoons onion powder
¾ teaspoons smoked paprika
¾ teaspoons chili powder
¼ teaspoon cayenne powder
½ teaspoon salt
8 chicken tenders, raw
½ cup brown sugar
Directions
Heat the oven to 350 degrees F and arrange the bacon on an oven-safe cooling rack set on top of a baking sheet.
Par-cook the bacon for 15 minutes or until the fat has rendered out slightly but the bacon is still flexible enough to wrap.
Mix the garlic powder, onion powder, chili powder, smoked paprika, cayenne, and salt together in a bowl and liberally season each chicken tender.
Wrap each chicken tender with bacon and secure the ends with toothpicks.
Coat each bacon-wrapped tender in brown sugar thoroughly.
Place on a baking sheet and cook until chicken is cooked through, 20 minutes.
Serve immediately.
Nutrition
| | |
| --- | --- |
| Calories per Serving | 1,111 |
| Total Fat | 70.7 g |
| Saturated Fat | 17.6 g |
| Trans Fat | 0.1 g |
| Cholesterol | 162.1 mg |
| | |
| --- | --- |
| Total Carbohydrates | 65.2 g |
| Dietary Fiber | 3.8 g |
| Total Sugars | 19.4 g |
| Sodium | 1,766.6 mg |
| Protein | 52.1 g |