Here's How Much Kim Kardashian And Kanye West's Wedding Cake Really Cost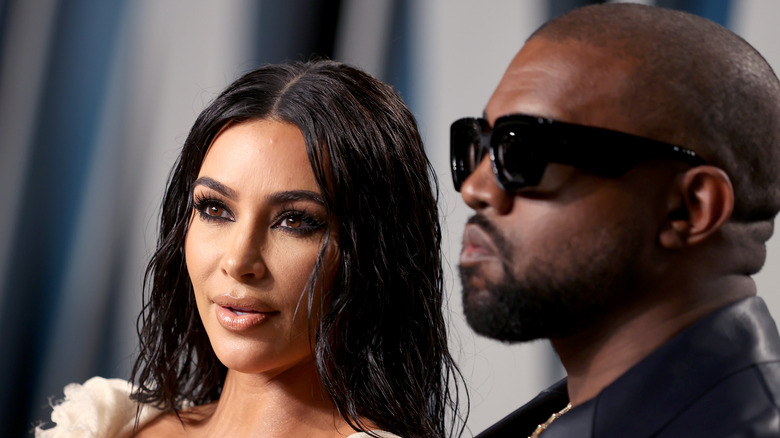 Rich Fury/vf20/Getty Images
Celebrities are known for living by the philosophy of "go big or go home," especially when it comes to big moments like birthdays, anniversaries, and weddings. From over-the-top kids' parties, like those Kylie Jenner hosts for her daughter Stormi, to extra-lavish weddings, like Sir Paul McCartney's 2002 wedding to now ex-wife Heather Mills (it reportedly cost a cool $3 million, per Reuters), A-listers want their special moments to be perfect in every way. 
That's probably why so many stars dish out large quantities of dough for their weddings. From the dresses and tuxes to the decor to the food, there is no detail or expense too minor for celebs. This philosophy was something that reality TV star and beauty mogul Kim Kardashian understood for her third wedding to rapper and fashion designer Kanye West. 
The Daily Mail reports that for their wedding, the two splurged on a seven-foot vanilla and berry cake. So, how much money did KimYe dish out for their magnificent, skyscraping cake? Keep reading to find out.
Kim Kardashian and Kanye West's seven-foot cake cost a cool $6,800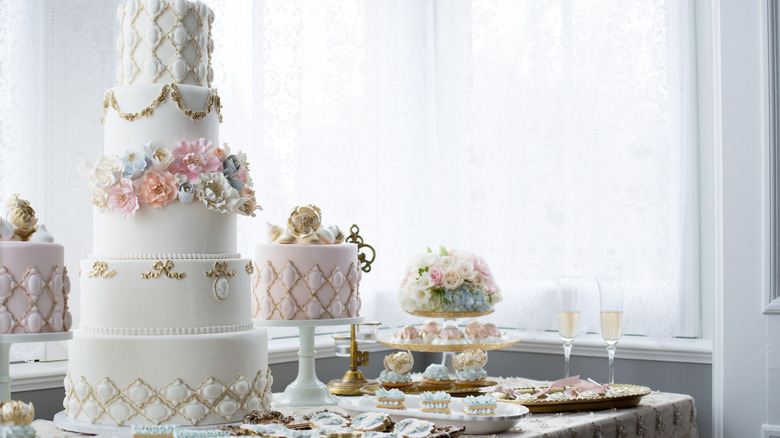 Shutterstock
Just how much cake is there when the cake is seven feet tall? For perspective, Cafe Mom notes that Kim Kardashian's ex-husband and basketball player, Kris Humphries, is shorter than Kardashian and Kanye West's wedding cake. (Humphries, who once played for the Boston Celtics, tops out at about 6'9".)
The Daily Mail details that the former couple and their closest 200 friends and family members also feasted a top-notch menu prepared by Italian chefs and married couple Annie Féolde and Giorgio Pinchiorri, who own and operate the exclusive Enoteca Pinchiorri restaurant in Florence. So, what exactly was served at the Kardashian-West reception? Chefs Féolde and Pinchiorri specially curated a four-course menu. Guests dined on foods including mezzaluna pasta stuffed with ricotta cheese, herb-crusted monkfish with pureed celeriac, and a tender beef filet with a potato tart. 
And for dessert? Everyone got to enjoy some of the delicious vanilla and berry cake with freshly made strawberry sorbet. While no set amount has been reported on the total cost of the meal, the Daily Meal cites that it could have cost them in the tens of thousands.