Twitter Roasted Kanye West For Serving $40 Hot Dogs At Donda Listening Party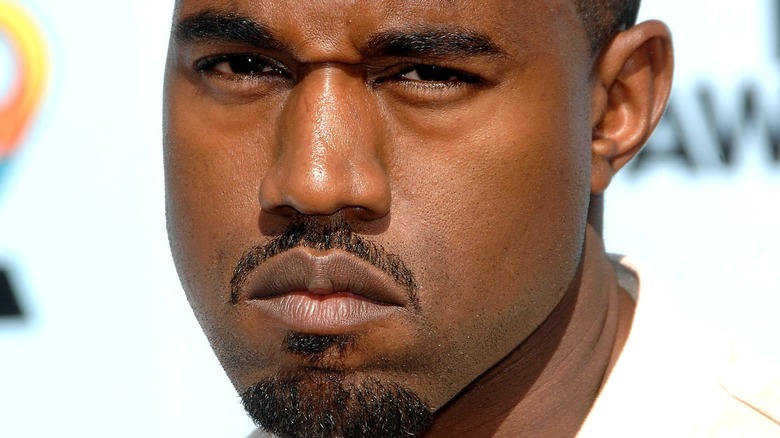 Shutterstock
Kanye West's hotly-anticipated 10th studio album, "Donda," is apparently slated for an August 6 release after a recent delay (via Complex). While fans of West's music are excited about "Donda," many people on Twitter were less excited about one aspect of its upcoming launch. On Thursday, July 22, West hosted a listening party for his new album at the Mercedes-Benz Stadium in Atlanta, Georgia. But many social media users were surprised to see that the menu for the event included basic, all-beef hot dogs, which were being sold for a hefty $40. In addition, there were many other items that quite a few fans thought were overpriced, like a $45 cookie, $50 chicken tenders, a snack basket for $65, and $35 packages of kettle corn, according to Page Six.
This appears to be a pattern. In 2019, West also received negative publicity for a similar stunt at the "Brunchella" he served before a performance outside Bethany Church in Baton Rouge, Louisiana, following the release of his ninth studio album "Jesus is King." Although the event itself was free, guests had to pay $55 for a paltry brunch plate, which disappointed attendees. Based on photo evidence and descriptions, it included bland-looking pancakes, two thin slices of bacon, one unappetizing-looking meat patty, and, according to one attendee, "a small scoop of cold grits," per Page Six.
Twitter users were surprised by the high prices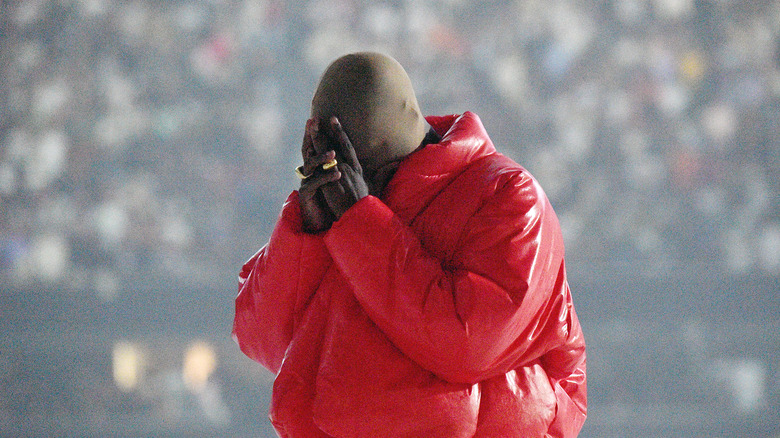 Kevin Mazur/Getty Images
One shocked fan posted a picture of the party's expensive menu to Twitter, where many other followers chimed in to express their disbelief at the expensive hot dogs and other pricy items. "It better be made with Waygu, Hand picked truffles and gold flakes," user @EmpressD88 remarked. "I hope those are calories and not prices....." @RodWalkerNola quipped. "Hot dog pack of 8 beef $6. Bag of legit legit kettle corn at a fair $5-$7. Mannnnnn how much a tee shirt $250," @EStrutner wondered. However, some fans did come to West's defense, saying that the prices posted were for the stadium's suites, which likely included a larger spread.
The "Donda" listening party was attended by big stars, including Big Boi, Shaquille O'Neal, CeeLo Green, West's spouse Kim Kardashian, who filed for divorce earlier this year, and the former couple's four children. Although the celebrities in attendance may not have had trouble paying sky-high prices for basic fare, the $40 hot dogs certainly left a bad taste in the mouths of many Kanye fans.