Arby's Just Released A Bathing Suit Line Only A True Fan Could Love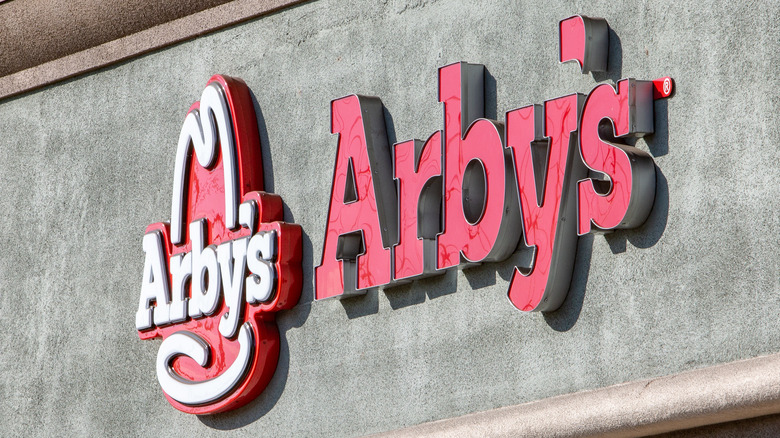 Shutterstock
Diehard fans of a certain iconic Beef n' Cheddar sandwich have more reason to celebrate this summer, thanks to a new clothing line with a carnivorous twist. Arby's, which is best known for their beloved — and undeniably delicious – roast beef sandwiches, is getting into the fashion game, following a trend of cheeky branded merchandise by companies like Pizza Hut, Cinnabon, and Stouffer's.
The restaurant, which was founded in 1964 by brothers Leroy and Forrest Raffel, got their start serving their trademark roast beef sandwiches, and it took off in a major way (per the official website). Today, the Arby's franchise is now the second largest sandwich chain in the U.S., after Subway, according to Restaurant Business.
While Arby's isn't exactly known for their sartorial offerings, this isn't the sandwich chain's first foray into humorous seasonal merchandise. During the last holiday season, the company released a line of winter-friendly merch including loungewear like "meatjama pants" and an ugly Christmas sweater-inspired sweatshirt (per Inspire Foods).
Now, the restaurant with the slogan "We Have the Meats" is aptly featuring their motto front and center on their new line of pool party-ready garments and accessories.  
Arby's new merch comes with a tropical twist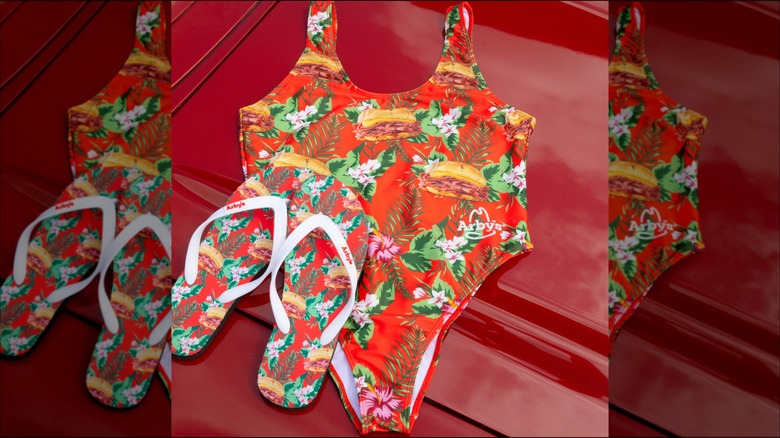 Arby's
As seen on the shop website, the majority of the sandwich chain's new merch items feature a bold red Hawaiian print accentuated by tropical flowers, palm fronds, and — of course — Arby's Beef n' Cheddar sandwiches. These tropical-themed items include men's swim trunks (priced at $55), a one-piece swimsuit ($20), bucket hat ($20), men's and women's flip flops ($40), and a "Beefy Aloha" Hawaiian shirt ($35).
For those who prefer a slightly more minimalist look, the merchandise release also features some solid red swim trunks festooned with the words "Body By Bacon" ($45) and a sunny yellow tank top bearing a photo of an Arby's sandwich overlaid with the phrase "Sun's Out Buns Out" ($15). Also available are a "Body By Bacon" beach towel, complete with a large bacon print (for $30), and some mirrored wraparound "party shades" adorned with the saying "All I See Is Meats" ($12).
"Whether you're lounging by the pool or putting on your 'fancy clothes' for an important event, the 'Beefy Aloha' line will let the world know that you love to party," the brand said in a statement sent to Mashed. All of Arby's meaty Summer Swag is available to purchase for a limited time, while supplies last.