The Internet Is Loving Nadiya Hussain's Sweet Birthday Post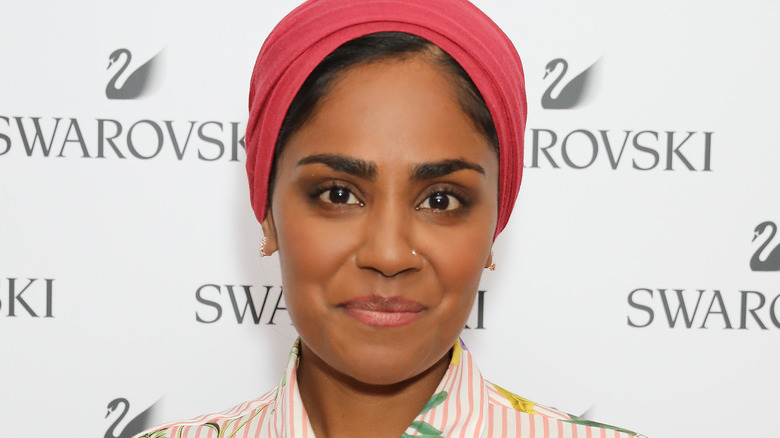 Dave Benett/Getty Images
Nadiya Hussain launched her now-booming culinary career when she won the sixth season of BBC's hit "The Great British Baking Show" in 2015. Since then, she has found success in multiple facets of the culinary world. The 36-year-old British baker has hosted two Netflix cooking shows ("Nadiya's Time to Eat" and "Nadiya Bakes") and authored six cookbooks, even writing a children's book called "My Monster & Me" (via Nadiya Hussain). However, one of the biggest testaments to Hussain's talent was when she was commissioned to bake a cake for Her Majesty the Queen's 90th birthday. The work of art that Hussain "hand-delivered to the queen" was an "orange drizzle birthday cake with orange curd and orange buttercream," per NPR.
Although this sugary sweet baker might be known for her signature twists on traditional recipes, before the "GBBO" victor hit the big screen, she lived a quiet life at home with her husband and three children. Hussain credits her longtime husband as providing major encouragement and support during her time on the BBC baking show. "He's definitely been my biggest support throughout all of this, and he's had to take on a very different role at home," she shares in an interview with The Sun.
Hussain and her husband truly have a fairytale kind of love
Hussain met her husband, Abdal Hussain, in 2005 when she was just 20 years old. "I don't know why at 20 I thought I was ready to get married, but I had met my prince charming and that's what fairy tales were all about. You meet your prince and you figure the rest out," Hussain shares on her official website. The charming couple had an arranged marriage several months later, according to The Sun, but recently celebrated a second wedding in December 2018 following their original Islamic ceremony.
Hussain recently shared a touching Instagram post celebrating her beloved husband's 40th birthday. The passionate baker begins the post by thanking her husband's parents for "bringing this human into the world and raising him to be the kindest most thoughtful person I have ever met." She goes on to say, "very few people are selfless with their love like he is. Forty years on earth, may you be blessed with many more happy healthy years so we can all be a part of your light. We love you." Can it get more romantic than that? Sounds like fairytale love to us.