The Real Reason Nadiya Hussain Almost Said 'No' To Baking Queen Elizabeth A Birthday Cake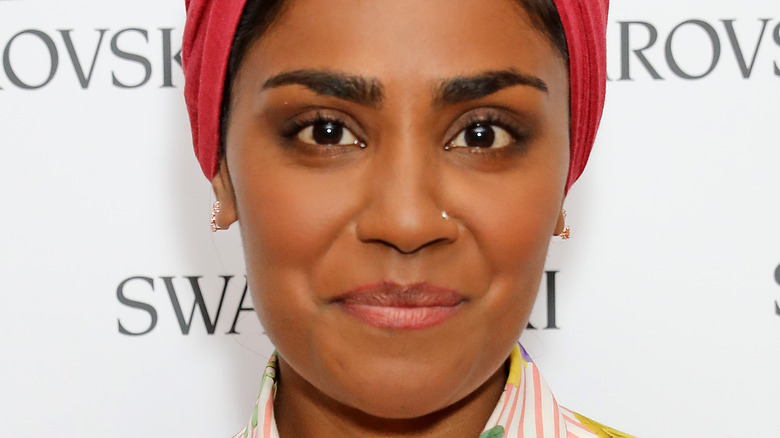 David M. Benett/Getty Images
Unlike the extensive royal protocol involved in meeting Queen Elizabeth, none will be given to you, if and when you are asked to make her a birthday cake. At least, no guidance was given to Nadiya Hussain in 2016. "It was literally a free for all. I had complete creative control," the celebrity baker told BBC, a bit bewildered. To make things more complicated, Hussain was in Bangladesh filming a documentary while designing' Queen Elizabeth's 90th birthday cake. She would have just four days, after getting back, to bake a birthday cake fit for a royal (via The Sun). As you might imagine, and like Hussain described to British media personality, Jonathon Ross, "it was mayhem." 
She almost said no. But on April 21, 2016, Nadiya Hussain went to Windsor Castle, cake in hand, to meet the queen. Queen Elizabeth, as per her reputation, was impeccably polite. "It went really, really well...I did say, 'good morning, Your Majesty,' then I said, 'happy birthday, Your Majesty, it's afternoon!'" Hussain recalled afterward (via Evening Standard). Queen Elizabeth even thought to ask Hussain whether or not her cake "cut:" an inquiry, Hussain thought, no doubt meant to avoid an otherwise embarrassing situation (via BBC). Hussain's cake did, indeed, cut.
If the queen was reliably well-mannered, her late husband, Prince Philip was predictably cheeky. When Queen Elizabeth presented the Duke of Edinburgh to Hussain, he said (as per The Sun): "Yes dear, I know who she is, but what flavor's the cake?"  
Why Nadiya Hussain almost didn't make Queen Elizabeth a cake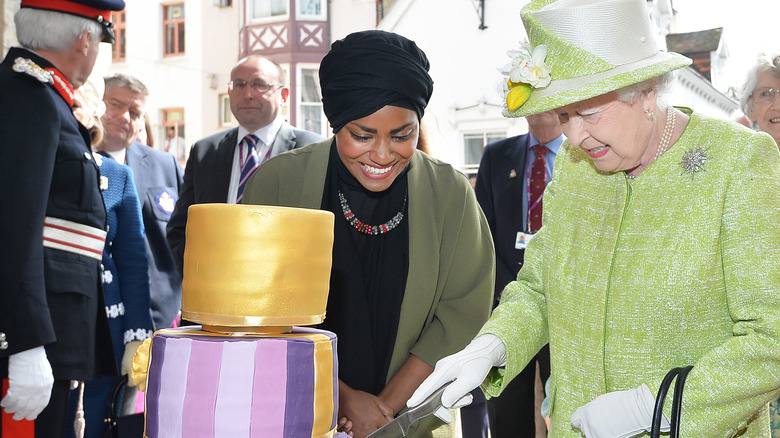 Wpa Pool/Getty Images
Maybe because Nadiya Hussain has the magical quality of never managing to do exactly what you think she will, she didn't give the queen what she might have been expecting, either. Instead, Hussain made Queen Elizabeth a drizzle cake. But while most drizzle cakes are flavored with lemon, Hussain went for an orange drizzle cake. She filled the queen's birthday cake with vanilla buttercream and orange marmalade, covered it with bright purple and gold fondant, and decorated it with roses (via Love Food). Think about a cake you might see in Willy Wonka's chocolate factory, and you won't be far off.
Today, Hussain remembers the experience as "probably one of my proudest moments" (via Love Food). She nearly turned it down. "My initial reaction was 'no,' because I was so afraid of getting it horribly wrong. And then it dawned on me that I can't say no to the queen," Hussain admitted to NPR. As for the Twitter critics who lambasted Hussain's design as "wonky"? "If I cared about what people said, I would never leave my house," Hussain shrugged them off to the British chat show, Loose Women (via Evening Standard).