Chocolate Meltdown: Hershey's After Dark: Release Dates, Episodes, And More - What We Know So Far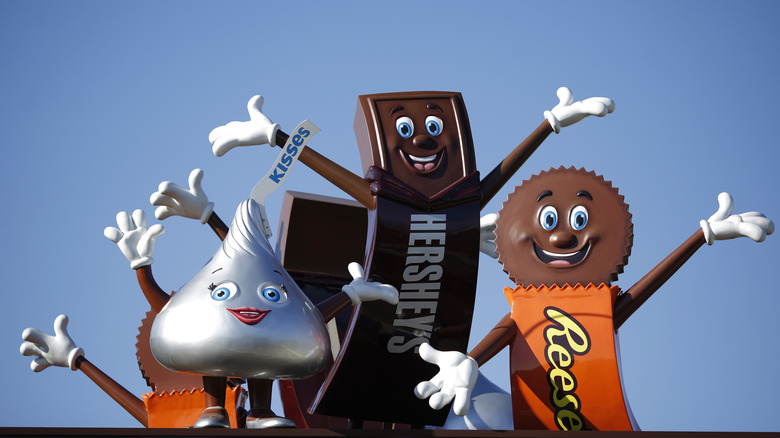 Bloomberg/Getty Images
It's August, which means there are only about 10 more shopping weeks before Halloween. You might not be putting your costume together or stockpiling candy quite yet, but Food Network has been getting ready for months already, developing Halloween-themed shows that will air soon. The network told Mashed that this year brings its biggest Halloween lineup yet, with more than 36 hours of programming suitable for the scariest and sweetest of holidays.
One new show in that vein will be called "Chocolate Meltdown: Hershey's After Dark," a competition show for fearless pastry chefs. Not only is Hershey's a major sponsor of the new series, obviously, but the candy company has given the show's crew unlimited access to Hersheypark after it closes to patrons for the night. Those people who don't think it would be scary to be locked in an amusement park after hours haven't seen Tobe Hooper's "The Funhouse" or the climactic scene of "Zombieland."
Contestants on "Chocolate Meltdown" won't confront zombies or psychopaths, thank goodness. A deserted theme park is simply another way for Food Network to present the tried-and-true food competition concept. Think of it as "Guy's Grocery Games," but in an amusement park and with no Guy Fieri. Never fear, however. Food Network has tapped another of its well-known stars to host "Chocolate Meltdown: Hershey's After Dark."
What is the release date for Chocolate Meltdown: Hershey's After Dark?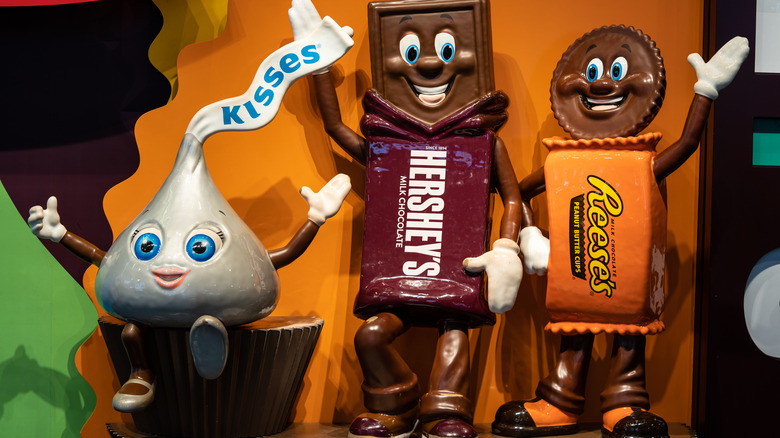 George Sheldon/Shutterstock
"Chocolate Meltdown: Hershey's After Dark," one of the newest additions to Food Network's Halloween lineup, will finish its four-episode run by the time October 31 rolls around. "After Dark" gets an appropriately late-evening time slot, premiering at 10 p.m. ET/PT on Monday, September 27, according to a statement sent to Mashed. The Food Network's statement didn't spell this out in so much detail, but the typical series on the network airs once a week. "Chocolate Meltdown" has four episodes, so expect to see it on your Food Network provider every Monday night through October 18.
The timing couldn't be better for Hershey's, which is basically getting four hourlong commercials on Food Network just as people are stocking up for what HuffPost said is the biggest candy holiday of the year. Episodes of "Chocolate Meltdown" will feature not only Hershey's iconic chocolate but also several of its other candy brands, including Reese's Pieces, Almond Joy, Twizzlers, and York Peppermint Patties.
What will different episodes of Chocolate Meltdown feature?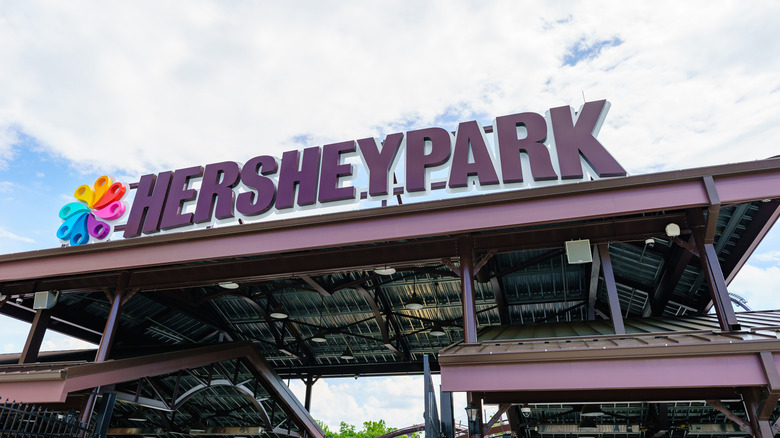 George Sheldon/Shutterstock
"Chocolate Meltdown: Hershey's After Dark" will work like this, according to the statement sent to Mashed: Competing pastry chefs locked in Hersheypark overnight must solve clues and ride the park's rides in order to create chocolate and candy artworks before dawn.
In Episode 1, the theme will be "creepy crawly carnival," and Food Network has teased us with some of the drama you can expect on the season premiere. A cake artist whose works defy gravity will need to change their design in the middle of the competition, and another pastry chef has some sort of mishap involving a 33-pound slab of dark chocolate. In other episodes, contestants will build sweet creations to fit "scary sci-fi" and "frightful forest" themes.
"This brand-new series, the first ever to film overnight inside Hersheypark and Hershey's Chocolate World, is a viewer's ultimate Halloween fantasy brought to life," Food Network President Courtney White said.
Who will be the host and judges on Chocolate Meltdown: Hershey's After Dark?
Willy Wonka wasn't available, but Food Network is still bringing some well-known talent and flair to the roles of host and judges for "Chocolate Meltdown." The outdoor setting of a 121-acre theme park suits host Sunny Anderson just fine. After all, Anderson has been filming her segments for the popular Food Network series "The Kitchen" outside in order to be COVID-19 safe, as she told fans in an Instagram post. In a much more recent Instagram post, from August 18, Anderson announced her role as host of "Chocolate Meltdown." 
"We did it all overnight," Anderson said on Instagram. "No crowds, so much safer." In a statement sent to Mashed, Anderson said the new show "combines two of my all-time passions, going to amusement parks and creating art with food. I cannot wait to share these amazing chocolate displays with viewers, featuring some of the most talented pastry chefs on the planet."
Serving as judges on "Chocolate Meltdown" are Ralph Attanasia and Maneet Chauhan. You might remember Chauhan from her win earlier this year on Guy Fieri's Tournament of Champions II (via Discovery) and her earlier appearances as a competitor on "Iron Chef" and a judge on "Chopped" (via FN Dish). Attanasia works for Buddy Valastro and has appeared on "Cake Boss" and "Buddy vs. Duff," according to his Instagram page.