Here's How Mississippi Mud Pie Got Its Name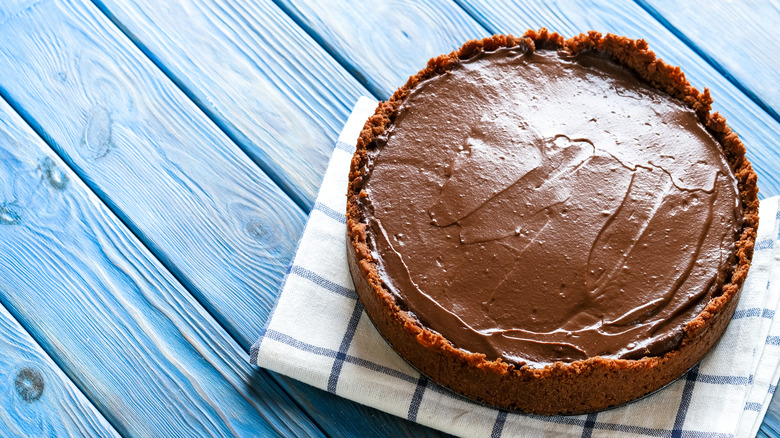 alexzrv/Shutterstock
If it has crust, it's a must! When it comes to pie, the options are endless. You can bake a pie with juicy fruits like apples and blueberries, savory veggies like asparagus and sweet potatoes, hearty nuts, meats, cheeses, and of course, sinfully sweet ingredients like chocolate and cream. No matter the region or occasion, there exists a crusty pastry for everyone to enjoy. One of the most celebrated pies in America is the Mississippi mud pie. The chocolaty dessert is jam-packed with delectable ingredients that will have you reaching for seconds every single time.
But wait... why exactly is this dish called mud pie? Upon first hearing the name, some dessert lovers may be taken aback by the whole "mud" aspect. Or perhaps it's a bit nostalgic, reminding them of their childhoods and splashing around in muddy rain puddles after a storm. In any case, the answer is yes, the name actually is a reference to wet earth. However, it's infinitely more delicious than eating literal dirt. Even Dolly Parton is a fan! Let's explore the meaning behind the legendary Mississippi mud pie.
How and when did Mississippi mud pie get its name?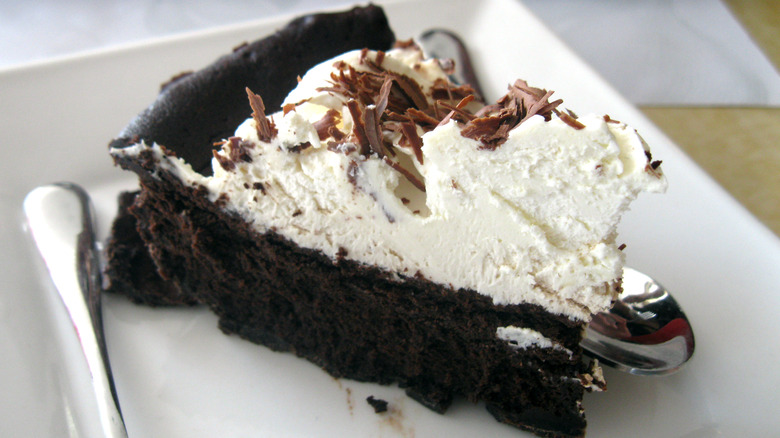 excursionista.net/Shutterstock
The origins of the Mississippi mud pie are as clear as, well... mud. According to some fans of the fudgy dessert, the mud pie is simply just a variation of the Mississippi mud cake, a popular treat in the American south during World War II. Mud cake is essentially a hodgepodge of indulgent ingredients like gooey marshmallows, warm chocolate, crunchy nuts, and plenty of butter. But we all know that cake does not have a crust like pie does, a huge difference between the two.
Another established theory of the origin of the Mississippi mud pie and its rather murky name perhaps makes a bit more sense. As the story goes, Mississippi mud pie came to be in a small town near Jackson back in the late 1920s. There once lived a woman named Jenny Meyer, who tragically lost her home when the Mississippi River flooded in the spring of 1927. To make ends meet after the disaster, she worked as a waitress in Vicksburg. During one of her shifts, she noticed a melting frozen chocolate pie and joked that it resembled the river's excessively muddy banks. Those around her agreed, and the name stuck (via Eater).
Recipes for Mississippi mud pie greatly vary depending on who's baking it. Like its cake cousin, Mississippi mud pie generally contains a plethora of ingredients, including pudding, ice cream, whipped cream, marshmallows, and sometimes even liqueur — all baked within a crumbly cookie-based crust. It's then usually garnished with hot fudge or chocolate syrup, whipped cream, marshmallows, candies, and lovely chocolate shavings. Dive in!