What Is Mud Cake And What Does It Taste Like?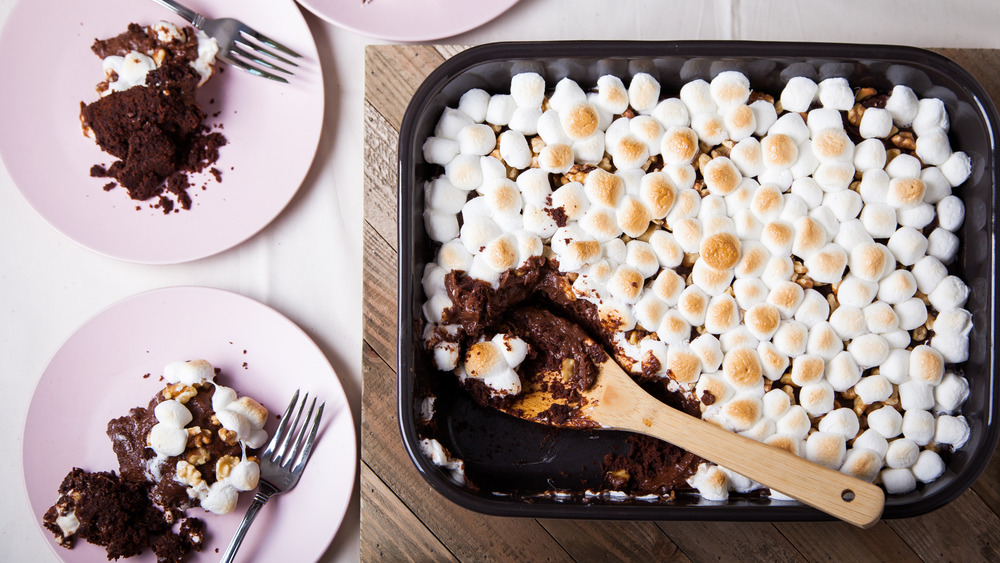 Shutterstock
Using the term "mud" to describe a cake might seem unappealing, but this fudgy concoction is far from unpleasant. Mud cake is actually a rich chocolate cake that's often festooned with melted marshmallows and then smothered in warm chocolate frosting (via Tastes Better From Scratch). Sometimes, it's topped with crunchy nuts. Let's not muddy the obvious — this is a cake worth celebrating.
Mud cake, also known as Mississippi mud cake, is thought to have originated in the Southern United States. It's said that the dense chocolate cake, swirled with marshmallows and covered in chocolate fudge, resembled the color of the mud along the Mississippi River banks, and consequently, the name was coined (via ifood.tv). However, as Dima Sharif notes, cuisine experts can't pinpoint the cake's exact place of origin. Eater adds that Mississippi mud cake first appeared during World War II, when thrifty women on the homefront sought out desserts they could create with readily available, inexpensive ingredients.
Note that the Mississippi mud cake is unlike Mississippi mud pie, which is a sugary-sweet chocolate custard pie with a chocolate cookie crumb crust.
Secrets to making a perfect mud cake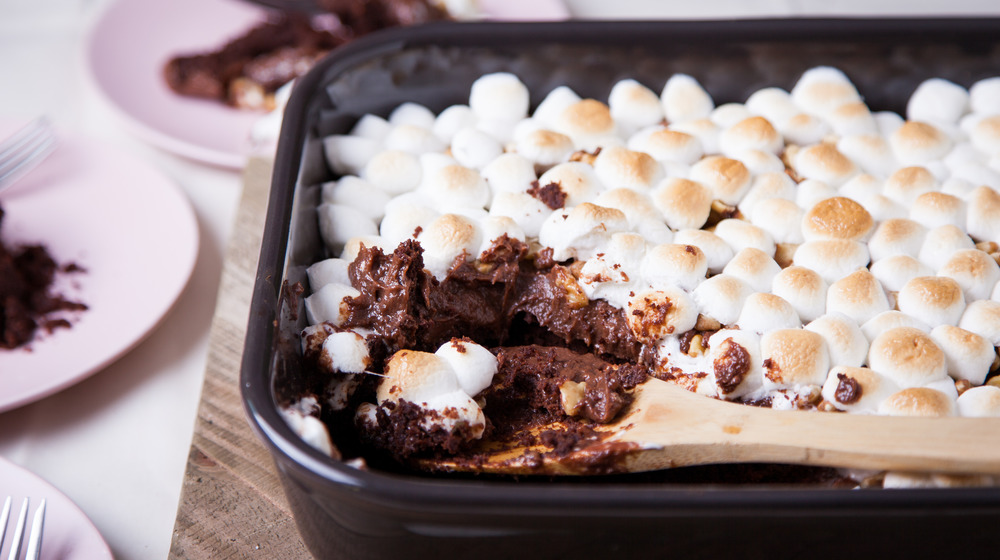 Shutterstock
If you suddenly have a craving for a slice of chocolate cake heaven, mud cake is your cure. The First Year blog says that the ideal mud cake tastes like a cross between a brownie and flourless chocolate cake. The good news is, according to Land O'Lakes, Mississippi mud cake calls for ingredients you probably already have in your pantry, including sugar, butter, eggs, flour, cocoa, baking powder, vanilla, nuts, and marshmallows. Even the warm frosting is kitchen-staple-friendly, consisting of butter, powdered sugar, half-and-half, and cocoa.
Joe Pastry asserts that the technique for making mud cake is simple, and just like making muffins: Wet and dry ingredients are mixed in separate bowls and then gently combined before transferring to a pan and baking.
For an authentic Mississippi mud cake recipe, The Old Foodie suggests a throwback recipe from a 1972 American newspaper cooking column. Food.com features a Mississippi mud cake recipe that involves just one bowl, and the warm, fudge-like treat is ready in less than one hour.
The Spicy Southern Kitchen shares a mud cake recipe with a few tweaks, such as swapping oil in for butter and adding milk, sour cream, and boiling water to the cake batter. Ree Drummond offers a mud cake recipe that features buttermilk in the batter and, thanks to a quick visit under the broiler, boasts toasty marshmallows that are perfectly golden.