Maneet Chauhan Reveals Her Favorite Late-Night Snack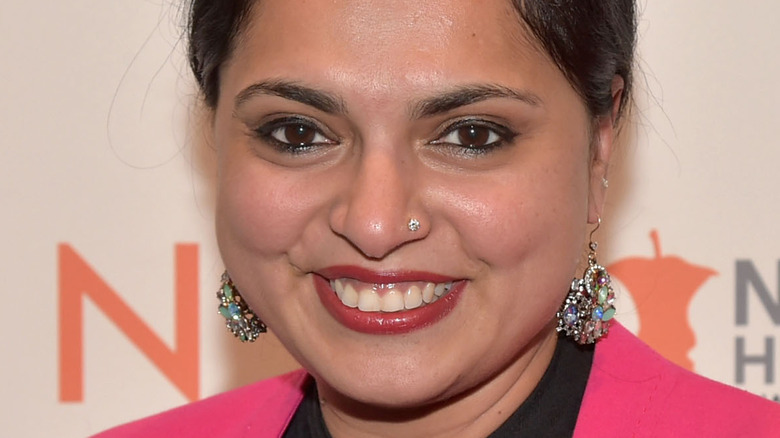 Theo Wargo/Getty Images
Celebrity chefs really are just like us. Sure, they can cook way better than the average person. And yes, they all want to hangout with Bobby Flay – mostly to figure out how to beat him. But they also suffer from the ultra-common midnight munchies. According to ABC 13 out of Houston, Texas, the 2021 International Food Information Council Survey recently discovered that approximately 60% of American adults, ages 18 to 80, snack after 8 p.m. That's a lot of people noshing on pretzels, ice cream, chips, and other favorite snacks in the late-night hours.
One chef who is all too happy to share her go-to late-night snack is Maneet Chauhan, a judge on Food Network's reality food competition show, "Chopped," who hails from a small town in India called Ranchi. However, as Parade noted, you'll want to keep your hand out of the bowl of this chef's favorite late-night snack if she's wearing large earrings, as the jewelry indicates that it is best to "get out of her way."
Maneet Chauhan loves this Indian dish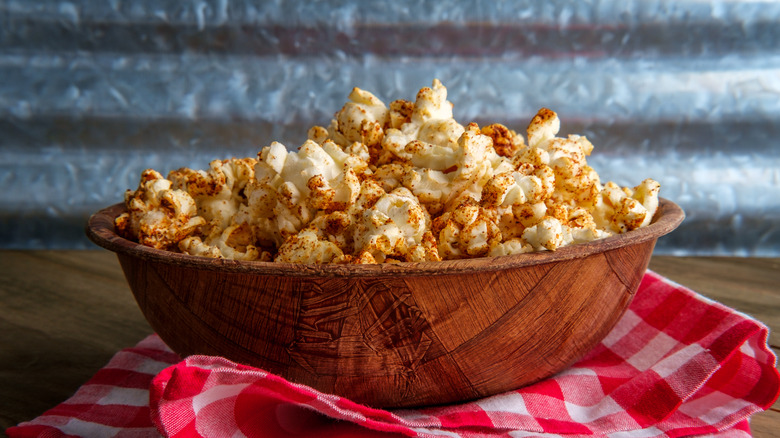 Ezume Images/Shutterstock
The cookbook author shared with Food Network that she craves a bit of a sweet and savory treat when she is snacking late at night, and that's so relatable. Chauhan revealed her favorite late-night snack is masala popcorn, which is popcorn with Indian spices. If you are not familiar with masala, which also goes by garam masala, it is a blend of Indian spices that The Pioneer Woman describes as both "warm" and "fragrant." What does masala taste like? Well, per Feasting at Home, it can be made with a number of spices, including cumin, coriander, cardamom, cinnamon, nutmeg, cloves, bay leaves, peppercorns, fennel, and mace. So the taste can be a little savory and a little sweet. The best of both worlds!
According to Times of India, masala popcorn is easy to make and the taste has a huge payoff for your taste buds. The outlet shares this popcorn snack can be made in 15 minutes or less and is a real crowd pleaser. They also note the flavor is "zesty." And, what is equally exciting about this snack is that it is low in calories. A single serving of masala popcorn has 208 calories, which makes eating late at night a little less regrettable when you are counting calories.