The Ice Cream Brands Andrew Zimmern Swears By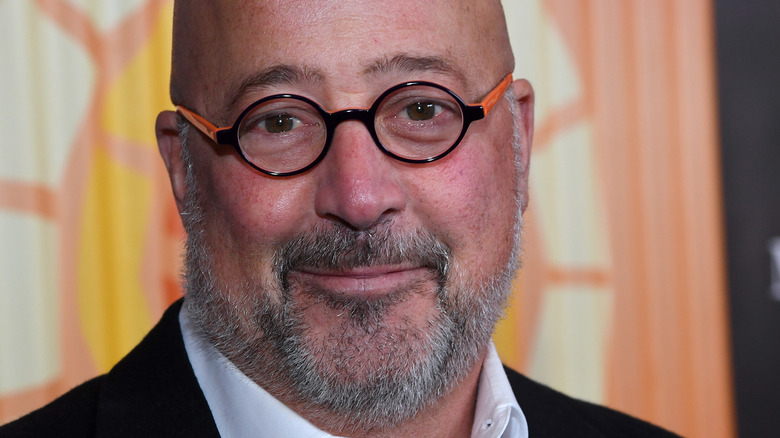 Kevin Mazur/Getty Images
As the host of "Bizarre Foods," Andrew Zimmern is known for trying things you don't typically see on the kitchen table in the United States. Some of his favorite dishes from the show, which ended in 2018, include grilled cow udders and tuna spines, he shared on the Travel Channel. The culinary personality also makes a point to teach his son to be an open-minded eater, feeding him cultural treats like guinea pig and all kinds of seafood (via Today). While you might be used to watching Zimmern eat things you've never heard of, some of his most beloved foods are more common than you would think.
The chef is "obsessive" about ice cream, he told Lifehacker, revealing some of his favorite brands to be Jeni's, Graeter's, and Salt & Straw. Did he mention your top choice of ice cream? While he didn't reveal too much about what flavors he most enjoys, we love how relatable this is. Stocking your freezer with ice cream is the perfect way to cool down and enjoy a treat during the sweltering summer months.
What to know about Zimmern's favorite ice cream brands
Jeni's Splendid Ice Creams started as a standalone store in Ohio and has since expanded throughout the country, making its mark with some incredible flavors. Zimmern himself called the brand's Dolly Parton ice cream, a cream cheese flavor with strawberry jam and pretzel streusel, underhyped and "amazing." His favorite, he mentioned on Twitter, is Goat Cheese with Red Cherries.
Zimmern gives another seal of approval to Ohio-based Graeter's, which is also the store-bought ice cream Bobby Flay swears by. The brand is known for its small-batch method: The ice cream base is poured into a vessel called a French pot that's submerged in cold salt water and spun until creamy and frozen (via Cincinnati Magazine). Fans also seem to like the brand's large, sheet-like chocolate chips, which are made by pouring melted chocolate into the spinning ice cream and breaking up the hardened pieces with a stick.
Finally, Salt & Straw pushes creative ice cream flavors to the next level. Its flavors depend on location, and you can always check the company website to see what you can buy each month. For example, August's Mushroom Muddy Buddies contains peanut-butter-and-chocolate-coated Chex with porcini, candy cap, and chanterelle mushrooms. Don't live near any of these scoop shops? Zimmern did tell Lifehacker that he shops for these ice creams online; they all ship nationwide, so you can eat just like him.