The Fast Food Restaurant With The Worst Fish According To 27% Of People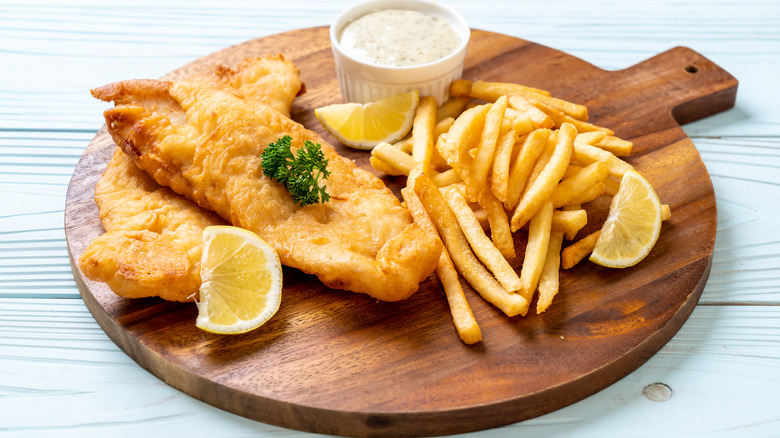 gowithstock/Shutterstock
The thought of ordering fish from the drive-thru might make some people cringe, but at least it's not the unhealthiest thing you can order from your favorite fast food restaurant. Fish dishes are especially popular during the Lenten season, when Catholics abstain from most meat on Fridays. Fish sandwiches and fish-n-chips are also favorites for year-round pescatarians, as well as those who enjoy an occasional break from the same old hamburger.
It's not too hard to find a fast food eatery with fish on the menu, though there are definitely some chains that you may want to avoid. A recent survey conducted by Mashed asked 606 U.S.-based participants which fast food restaurant had the worst fish. We gave our respondents these options: Arby's, Burger King, Carl's Jr./Hardee's, Jack In The Box, Long John Silver's, McDonald's, and White Castle. It may be surprising to learn which spot earned the most votes for the worst fish, but the survey also tells us there are a few places you can visit for a quality, fish-based meal.
Long John Silver's ranked the lowest in the poll for the worst fish, with only 7.59% of the total vote. That's a good thing for Long John Silver's, considering that the chain specializes in food from the ocean. Carl's Jr./Hardee's, Arby's, and Jack In The Box also proved to be decent options, with 8.42%, 11.55%, and 11.72% of the vote, respectively.
White Castle and Burger King didn't get a lot of love in our fish survey
White Castle may seem like a great place to hit up if you're exceptionally hungry, as the chain offers their famous slider-sized sandwiches in packs of up to 100 (via White Castle). However, the idea of eating dozens of their panko-breaded fish sliders in one sitting didn't seem to appeal to too many of the Mashed survey respondents. In fact, 16.17% said the chain served up the worst fish among the several fast food options. Burger King's fish fared even worse, with 17% of participants calling it the worst for seafood.
The YouTube channel All You Can Vegas reviewed the White Castle fish slider, and it reminded them of "a smaller version of the Filet-O-Fish." (Based on our survey results, that wouldn't count as high praise for a lot of people.) With its Big Fish sandwich, Burger King appears to be making a conscious effort to outdo its rival McDonald's. BK's fish sandwich comes on a toasted brioche bun and gets pickle slices – two things you won't find with the Filet-O-Fish. Burger King might have been trying hard, but it failed to impress the blogger at Wichita By E.B. "It was just a flat piece of fish that didn't do much of anything," the reviewer from Kansas said. "All I could taste was the tartar sauce and pickles." Maybe it's no surprise, then, that Burger King got the second most votes in our survey of worst fast food fish.
More than a quarter of respondents said McDonald's had the worst fish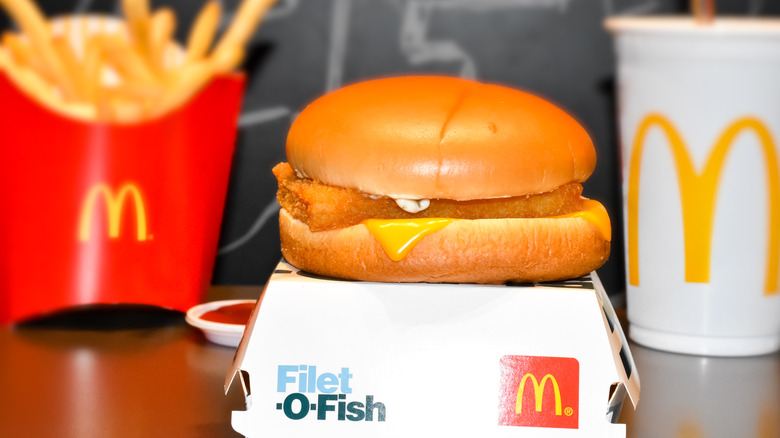 Patcharaporn Puttipon 636/Shutterstock
Maybe White Castle and Burger King were at a disadvantage in our survey because when people think of these places, they think of hamburgers. The same might be said for McDonald's, which turned out to be the chain that earned the dubious honor of top spot in the poll.
Mickey D's actually paved the way for fast food fish, introducing its iconic Filet-O-Fish sandwich at a Cincinnati location in 1962 before its nationwide rollout in 1965 (via Smithsonian Magazine). The Filet-O-Fish is a success story, having endured on the McDonald's menu for more than 50 years with 300 million sandwiches sold every year. Longevity doesn't guarantee a fast food sandwich will win a popularity contest, however. In fact, McDonald's was the outright loser in our survey, with 27.56% of respondents choosing McDonald's as the fast food restaurant with the worst fish. Perhaps that explains why the Fish McBites, bite-size nuggets that were the chain's follow-up to the Filet-O-Fish, were such a fail (via Cosmopolitan). 
Food Network chef and Guy Fieri's good friend Carl Ruiz was unashamed of his love of fast food, and he gave the Filet-O-Fish a chance to win him over in his YouTube review of McDonald's. Ruiz was not impressed. "I'm not sure what kind of fish this is," he said (McDonald's FAQ page says it's Alaskan pollock), "but I'm sure this fish volunteered to be caught. It probably jumped on the boat and killed itself." If it's any consolation to McDonald's, Ruiz did like the tartar sauce.