Pumpkin Spice Ramen Recipe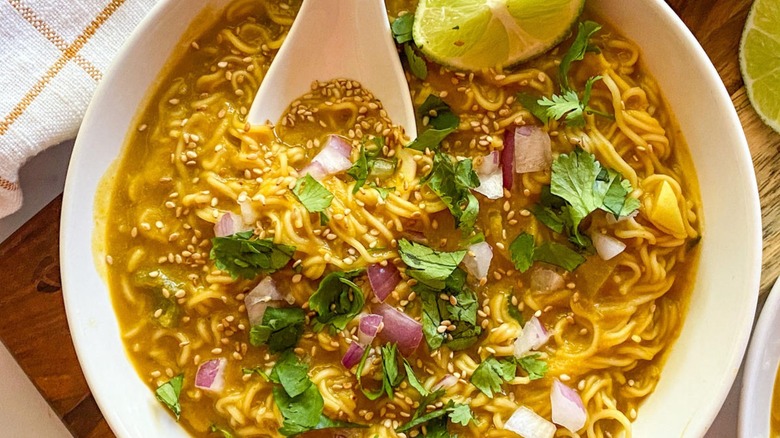 Miriam Hahn/Mashed
Fall (or even late summer) means one thing, flavor-wise: It's pumpkin spice season! There is all manner of pumpkin spice products out there, ranging from the near-ubiquitous pumpkin spice latte (so familiar it's even got its own acronym) to cookie dough to breadsticks. The one thing that nearly all of these products — with the notable exception of pumpkin spice Spam — have in common is that most of them tend to be on the sweet side. Recipe developer Miriam Hahn, however, had a different take on this flavoring when she created this pumpkin spice ramen.
As Hahn tells us, "I guess most people think sweet when they hear pumpkin spice, but the combination of the savory spices along with the sweet spices create a really great flavor." She went on to explain that she tends to use a wide variety of spices in her cooking, so says that she felt the particular spice combo she came up with here would make for a perfect fall dish. "It is a little bit on the spicy side," she allows but says it also has "a hint of sweet." We can't help but agree with her assessment of this ramen dish: "Different but delicious!"
Shop for the necessary ingredients for this pumpkin spice ramen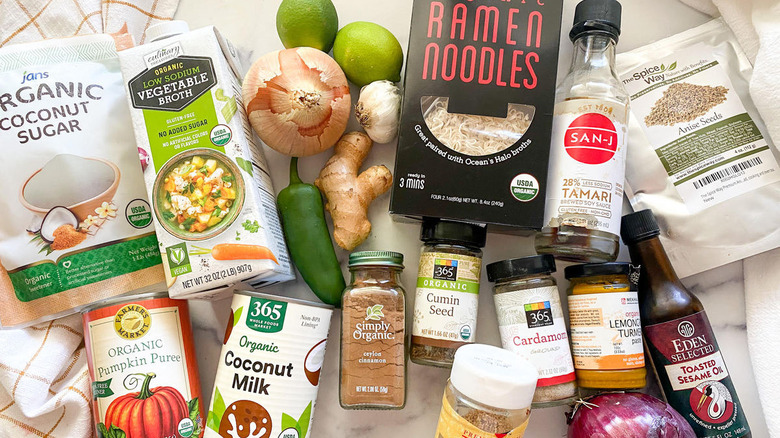 Miriam Hahn/Mashed
There's a somewhat lengthy list of ingredients needed for this PSR (pumpkin spice ramen, of course!), some of which you may have on hand, others you'll probably need to pick up at the store. You'll need sesame oil for cooking, along with some fresh veggies: a yellow onion, a piece of ginger root, a few cloves of garlic, a jalapeno pepper, and a fresh lime or two (Hahn says you'll only need one lime if it's large and juicy). While you're in the produce aisle, look for lemongrass paste. Hahn says you can use either the plain kind or the kind made with turmeric.
Now move on to the spice aisle, unless you, like Hahn, have a super well-stocked spice cabinet at home. If not, you'll need cumin seeds, anise seeds, ground cardamom, ground cinnamon, and ground cloves. Coconut sugar is something you'll probably pick up in the baking aisle, while you'll move on to the soup aisle to get the necessary vegetable broth (unless you've got some homemade stuff stored in the freezer). You'll also need pumpkin puree, canned coconut milk, soy sauce, and ramen. Optional ingredients you may also want to pick up to use as ramen toppers include a red onion, some sesame seeds, and a bunch of cilantro.
You'll need to do a little prep work before you start cooking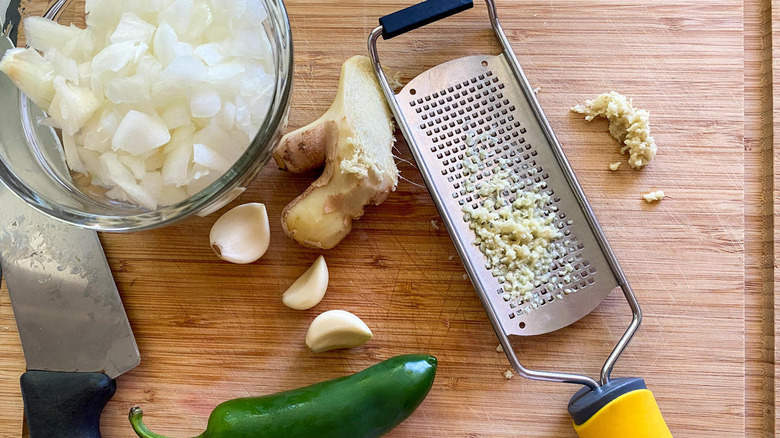 Miriam Hahn/Mashed
You'll start the soup-making process by peeling and chopping the yellow onion (ouch), and the red one, as well, if you will be using it as a garnish later in the process. You'll also grate the ginger, peel and mince the garlic, and dice the jalapeno. You should remove the jalapeno's seeds if you want your ramen to be only medium-spicy, although you can leave the seeds in if you want your soup on the hotter side or omit the pepper altogether if you prefer a milder version.
Sauté the veggies and spices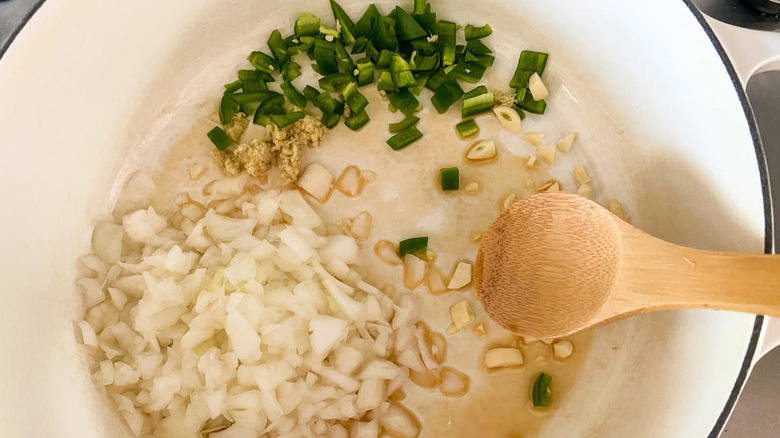 Miriam Hahn/Mashed
Measure out the sesame oil into a large pot, and heat it over medium-high. Once the oil is hot enough, add the yellow onion, ginger, garlic, and jalapeno and cook, stirring, for two minutes. Now stir in the lemongrass paste and the spices and cook the mixture for another two minutes.
This blend of spices won't just be adding flavor to your ramen, but they also help to make it, as Hahn tells us, " super healthy." She explains that "ginger is a huge anti-inflammatory herb, and both garlic and onion have anti-cancer compounds. "
Simmer the soup until done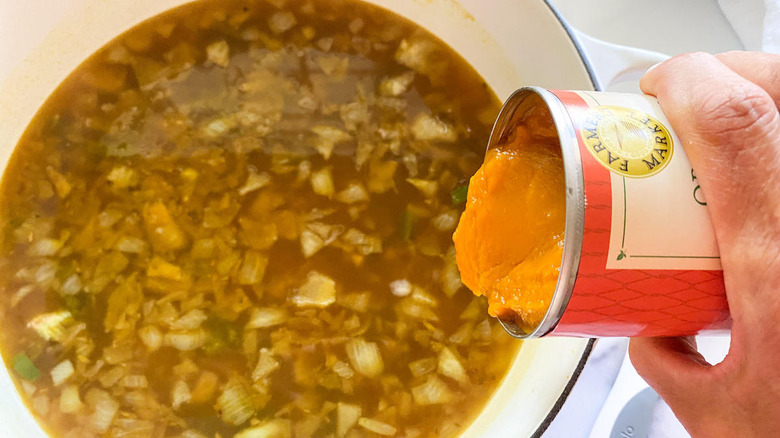 Miriam Hahn/Mashed
After the veggies and spices are sufficiently sautéed, add the sugar, broth, coconut milk, soy sauce, and lime juice into the pot — and don't forget the pumpkin puree! Pumpkin is another nutritional powerhouse, which Hahn describes as being "full of fiber, antioxidants, vitamins, and minerals."
Cover the soup with a lid and let it simmer for 30 minutes, turning the heat down as necessary so it just gently bubbles instead of boiling over. Once the soup is cooked, you may use a blender or an immersion blender to puree it until it's smooth, or you can just leave it chunky if that's your preference.
The ramen goes in at the end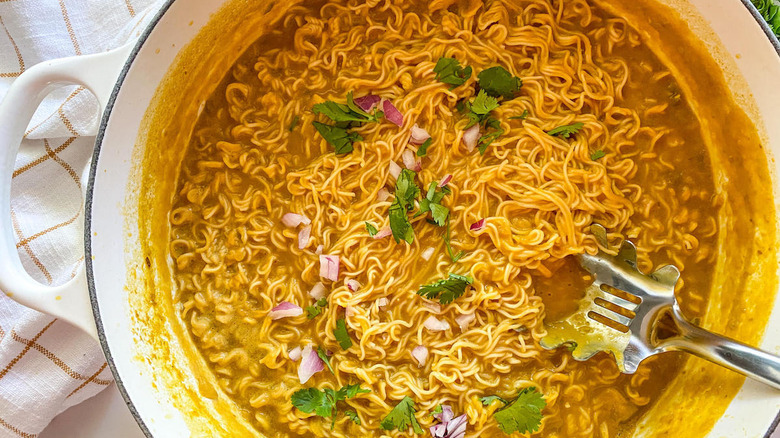 Miriam Hahn/Mashed
As a last step, add the ramen to the broth, cover the pot, and turn the heat off. Let the ramen sit and soften up in the residual heat of the broth for five minutes, then remove the lid and stir it to break up the noodles. If your ramen does not come packaged in bundles or you're using a different type of noodle such as soba or rice noodles (Hahn says this is okay), you might like to know that Hahn used about 10 ounces of ramen in her soup. She does say, though, that you can vary the amount. She used more noodles to make her ramen because, as she tells us, "I like it heavy on the noodle side." If you prefer yours more "brothy," though, you can use a smaller amount of noodles.
One thing Hahn really loves about this pumpkin spice ramen, she tells us, is that it's a one-pot meal. "No need to cook the ramen separately — you just pop them in," she says, adding, "This makes this a great weeknight dinner." She feels that the PSR is hearty enough to stand on its own as a main course but suggests that if you wish to add some protein and bulk, you can top it with cooked shrimp or chicken.
Pumpkin Spice Ramen Recipe
Fall (or even late summer) means one thing, flavor-wise: It's pumpkin spice season! Who would've thought that a pumpkin spice ramen could be so delicious?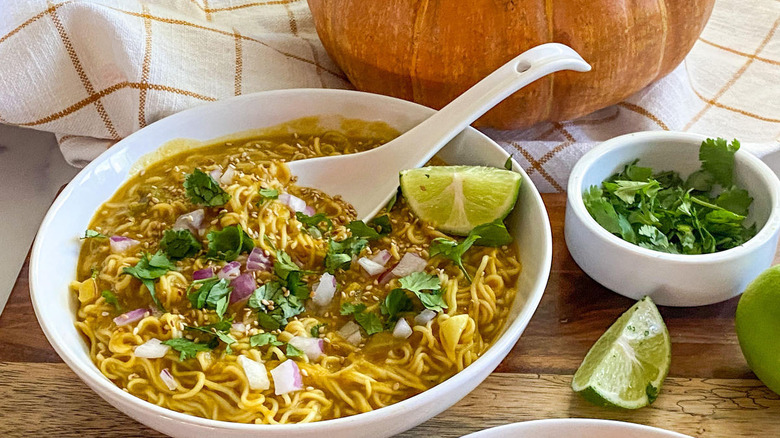 Ingredients
2 tablespoons sesame oil
1 yellow onion, diced
1 tablespoon fresh ginger, grated
3 garlic cloves, minced
1 jalapeno, diced and seeded
1 tablespoon lemongrass paste
1 teaspoon cumin seeds
1 teaspoon anise seeds
¼ teaspoon ground cardamom
¼ teaspoon ground cinnamon
¼ teaspoon ground cloves
1 tablespoon coconut sugar
4 cups vegetable broth
1 (15-ounce) can pumpkin puree
1 (15-ounce) can coconut milk
2 tablespoons soy sauce
Juice of 1 to 2 limes
3 to 4 bundles ramen
Optional Ingredients
Red onion, chopped
Sesame seeds
Cilantro, chopped
Directions
Add sesame oil to a large pot and bring to medium-high heat.
Add the onion, ginger, garlic, and jalapeno to the pot. Cook for 2 minutes, then add the lemongrass paste, cumin seeds, anise seeds, cardamom, cinnamon, and cloves, and cook for 2 more minutes.
Add the sugar, broth, pumpkin puree, coconut milk, soy sauce, and lime juice to the pot, and reduce the heat to a simmer. Cook the soup base for 30 minutes with the lid on.
Blend the soup into a smooth puree if you wish, or skip this step for a chunkier broth.
Add the ramen to the broth and turn off the heat. Cover the pot and let it sit for 5 minutes, then stir the ramen and break the noodles apart if needed.
Add any desired toppings and serve hot.
Nutrition
| | |
| --- | --- |
| Calories per Serving | 377 |
| Total Fat | 31.1 g |
| Saturated Fat | 21.7 g |
| Trans Fat | 0.0 g |
| Cholesterol | 0.0 mg |
| | |
| --- | --- |
| Total Carbohydrates | 26.3 g |
| Dietary Fiber | 5.1 g |
| Total Sugars | 8.7 g |
| Sodium | 594.0 mg |
| Protein | 5.5 g |