Hungry Howie's Has Jumped Aboard The Pumpkin Spice Bandwagon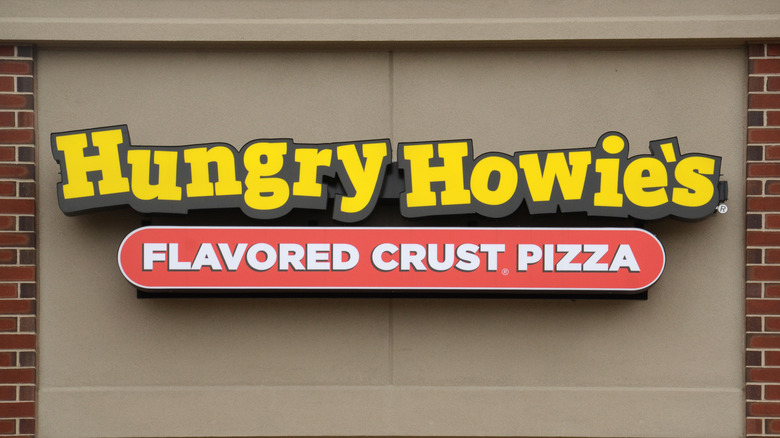 Susan Montgomery/Shutterstock
Can any brand escape jumping into PS season?  PS or pumpkin spice season happens every time the fall-ish season rolls around. Generally, the likes of Starbucks and Dunkin' start serving up their coveted pumpkin spice lattes, aka PSL, in late August to get a jump on the season. Because this flavor is so beloved, plenty of other companies have gotten in on the game, and for good reason. In 2020, a Starbucks spokesperson told Well+Good, "The PSL remains Starbucks's most popular seasonal beverage of all time, with more than 424 million beverages sold in the U.S. since its debut in 2003." Cha-ching! 
Pumpkin spice has permeated products, from candles to cereals to ice cream and even dog food, which makes sense. Why wouldn't a company want to get in on that action? Well, one of the latest brands to grab their piece of the PS pie is none other than a pizza chain. Hungry Howie's, a Michigan-based restaurant with stores in 20 states, per its website, has thrown its hat into the PS ring. And what it has in store might excite you. 
Hungry Howie's is introducing pumpkin spice bread
Per a press release distributed by Restaurant News, Howie's Pizza will be serving up Pumpkin Spice Howie Bread, beginning September 1st at participating locations. If you love bread and pumpkin spice, this one might be for you. The release goes on to share that PS fans can expect to enjoy "16 pieces of hot, buttered oven-baked breadsticks with a warm pumpkin spice and served with a side of sweet white icing."  Are your taste buds going into overdrive? Ours too!  You can get your slice of the non-pizza pie by ordering online, by mobile app, or in the restaurant.
Why did the pizza joint that has built a reputation on its flavored crust decide to create an autumnal offering? Jeff Rinke, the Vice President of Research & Development at Hungry Howie's Pizza, explained, "Hungry Howie's has been known as the originator of flavored pizza, and after years of watching America's love affair with pumpkin spice, we're excited to take part in the seasonal flavor craze with our Howie Bread. Our Pumpkin Spice Howie Bread is sugar, pumpkin spice, and everything nice." But as with all pumpkin spice products, this bread won't be around for long, and it's only available until supplies run out, so mark your calendar and enjoy!