Giada De Laurentiis Posts Instagram Photos Of The 'Best Pizza'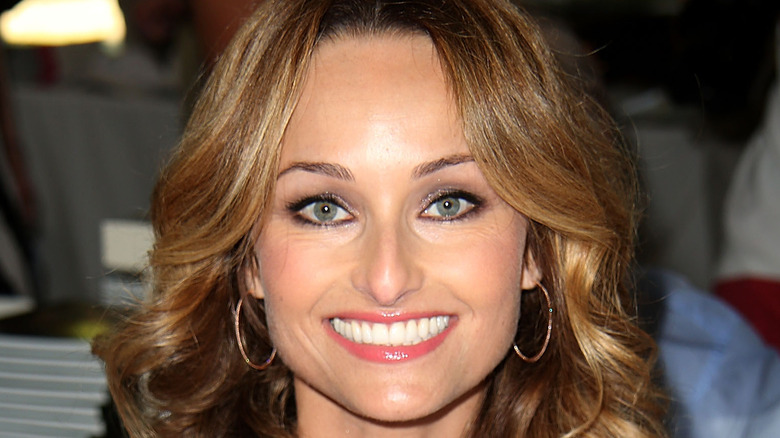 Sonia Moskowitz/Getty Images
It takes a good chef to make a great pizza. And it takes an even better chef to know when someone else has achieved the best pizza. Such a chef is Giada De Laurentiis, whose name alone sparks hunger pangs and inspires dreams of creamy mozzarella, sweet tomato sauces, and crispy-chewy pizza crusts that go dancing through your head. De Laurentiis has made a career of her Italian culinary expertise, elevating the humble pie to elite status among home cooks, showing us where to buy dough, encouraging us to get creative with toppings (via YouTube), and inspiring us to dream deeper, specifically deep dish, when it comes to pizza (via Giadzy).
But even De Laurentiis ostensibly had to lay down the sword (pizza cutter?) recently after Razza Pizza Artigianale in Jersey City yielded what De Laurentiis herself described in an Instagram post as the "Best pizza!" The two photographs posted show no faces, just hungry hands reaching for slices of what looks like two white pizzas and two classic reds: possibly a funghi pizza, a corn pie, a burrata pizza, and a pepperoni respectively, if a little detective work and cross-referencing of the current online menu at Razza are any indication. Tagged in the photo is @foxyfleet, a make-up artist who, if their own Instagram post on the same day is any indication, is a pal of De Laurentiis and a co-conspirator in the chef's mission to find the best pizza.
When you're hanging with Giada, pizza is never far away
De Laurentiis' Instagram post inspired many drooly-face and pizza emojis from her fans, who commented things like "Delicious," "Yummmmm," and even one bold user's "Can I have some." De Laurentiis thoughtfully tagged the restaurant, @razzanj, in her caption, and one can't help but wonder if there will be an uptick in visitors to the Jersey City pizzeria after the social media shout-out. According to the restaurant's website, its "ultimate goal is to serve the best pizza possible," so if De Laurentiis' post is to be believed, Razza may have hit its mark.
But if you don't live in Jersey, fear not; after all, is De Laurentiis an Italian chef, or isn't she? On her Giadzy website, De Laurentiis states, "When it comes to types of pizza, we really don't discriminate. Give us Neapolitan, Rome-style, Detroit-style, New York, Deep Dish ... we'll take any slice, please and thank you." And true to her word, her website is rife with recipes and suggestions to suit any pizza-seeker, from rustic and "grandmother pizza," to the one type of pizza you have to try should you find yourself in Naples, Italy (hint: it's fried). You might not be able to join De Laurentiis for a pie in Jersey City anytime soon, but you can snag a recipe from her site and find yourself raising a slice to the pizzaiola herself as early as dinnertime!