The Summery Twist Giada De Laurentiis Adds To Her Spicy Sausage Pizza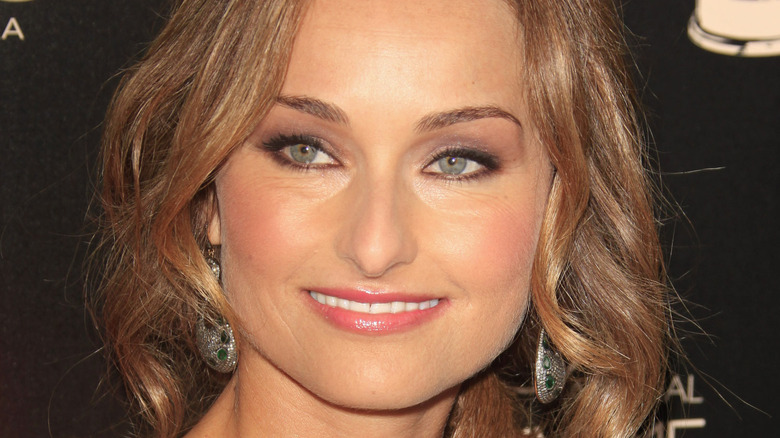 Shutterstock
Pizza toppings involving meat and something sweet can be controversial. For example, the late chef Carl Ruiz would tell anyone willing to listen how terrible ham and pineapple pizza was (via Twitter). Giada De Laurentiis brings a variation on this theme that more people might agree on. De Laurentiis' team recently posted a recipe on the Giadzy website for pizza topped with spicy sausage and summer corn, calling it "a perfect marriage of sweet-and-heat."
In the corn-growing regions of the northern Great Plains, the stalks still aren't done growing in July, so harvest time is still several weeks away in many places (via MPR). Nonetheless, De Laurentiis' recipe calls for corn cut straight off the cob, if you can find it. Frozen corn works, too. Just let it thaw before cooking your pizza.
De Laurentiis' pizza recipe also calls for mozzarella cheese. Add arugula and fresh basil after the pizza comes out of the oven. These greens add more than summery brightness. Along with the spicy Italian sausage, the basil and arugula will give this pizza a classic Italian flavor.
Giada De Laurentiis' summery pizza is a hit with her fans
Giada De Laurentiis' summer pizza has more going for it than good flavor. It's convenient, too. From start to finish, it takes less than a half hour to put the pizza on the table, according to the recipe on Giadzy. Such a quick prep time assumes you use store-bought dough. However, Giadzy recommends using De Laurentiis' recipe for homemade pizza dough. If you go with that option, you'll need to allow two hours for the yeast to do its thing and get the dough to rise sufficiently, according to Giadzy's pizza dough recipe.
When this summer pizza recipe hit Instagram, De Laurentiis' fans approved. Some even tried the recipe right away. "Made this on Saturday and it is DELICIOUS!" Instagram user @sueraefinnerty commented. "Not that I'm surprised, you never disappoint Giada. My husband already wants to know when I'm making it again!"
Some Instagrammers suggested recipe variations. One preferred an olive oil base to the pizza sauce, and another recommended fresh dill. Instagram user @theresadelgado suggested pairing De Laurentiis' pizza with a rosé and eating it "al fresco." Indeed, summertime is the perfect time to enjoy a chilled rosé and a sweet-and-spicy pizza outdoors.