Instagram Is Freaking Out About This Throwback Photo Of Valerie Bertinelli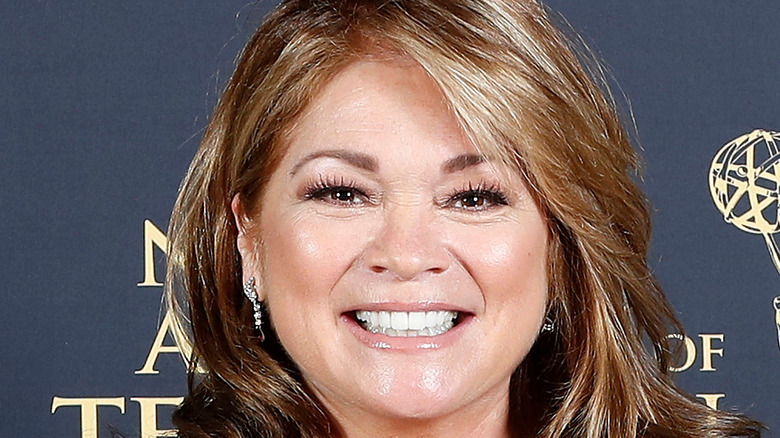 Joe Seer/Shutterstock
Valerie Bertinelli has been an influencer since before influencers were cool. Since her 1970s series "One Day At A Time," she's been a known television personality, and her marriage to the late Eddie Van Halen only intensified the limelight (via Groovy History). Add to that her time on Food Network influencing the food decisions of culinary hopefuls and fans with her show, "Valerie's Home Cooking," where Bertinelli makes stellar meals for friends and family and hosts them at her table (via the Food Network website). That's a lot for fans to follow.
Bertinelli's Instagram similarly has a lot to offer: photographic flashbacks, drool-worthy chocolate chip cookie recipes, posts sharing her son Wolfgang's musical exploits, and emotional updates about her upcoming book. But the Instagram community apparently can't get enough of one throwback photo, in particular, that brings people back to a much earlier time in Bertinelli's career and their own lives. Here's what's causing so much buzz.
The photo that wowed Instagram
Valerie Bertinelli certainly has her choice of possible throwbacks to thrill fans with. Perhaps she could have shown a picture from her "Hot in Cleveland" days, or if she really wanted to throw it back, she could have posted a reminder of her role in "One Day at a Time." Not to mention referencing any other scenes from her acting past, including parts in "Murder of Innocence," "Cafe Americain," and "Touched by an Angel," among others (via IMDb). Instead, Bertinelli chose to feature an incredibly flattering black and white photo on Instagram which had fans' jaws dropping.
In the photo, Bertinelli is wearing a mini dress and what seems like boots, donning with a Farrah Fawcett hairdo and posing a la model, facial expression and all, with the caption "Oh my!! Throwwwbackk!!" Fans evidently agreed with the "oh my!!" part, with one commenting, "Gorgeous then, gorgeous now," and another similarly noting, "I've always been a big fan we are about the same age you were beautiful then and you are beautiful now." One commenter seemed to channel their inner Fountains of Wayne, writing, "Wolfie's mom has got it goin on." Enjoying the nostalgia, a fan exclaimed, "Great throwback ! I [love] looking at my old pictures." Clearly, this is a case where the more things change, the more timeless they seem.