Valerie Bertinelli Has 'So Many Emotions' As She Gives An Update On Her New Book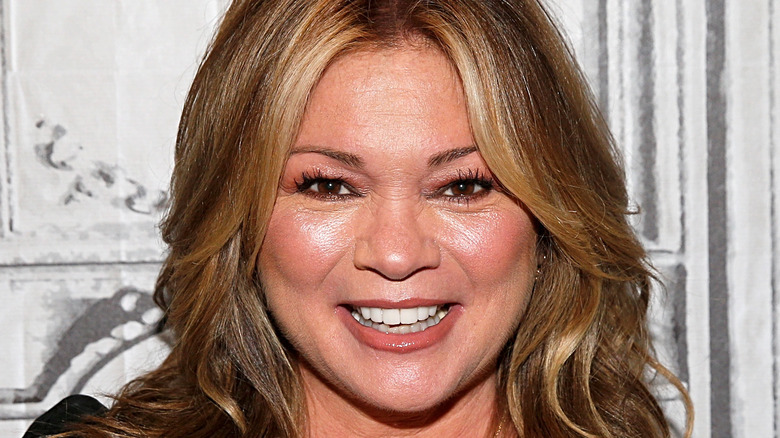 Dominik Bindl/Getty Images
You could say that Valerie Bertinelli has been in the public eye for pretty much all her life. Since her acting career launched with "One Day At A Time" when she was only a teen (via The Philadelphia Inquirer), Bertinelli has had an outstanding run on television with two Golden Globes under her belt. In addition to her acting, Bertinelli also has a fanbase that loves her skills in the kitchen. 
The multitalented star has her own show on the Food Network — "Valerie's Home Cooking" — for which she was awarded two Daytime Emmys for Outstanding Culinary Program and Outstanding Culinary Host (via Food Network). As if that wasn't enough, she is also an author of two bestselling cookbooks, "One Dish At A Time" and "Valerie's Home Cooking," as well as two other books about her life (via Thriftbooks).
At present, Bertinelli is set to launch a third autobiographical book that documents different ups and downs on her journey to loving herself. On Instagram, she announced that she was nearly halfway done with the final stages of editing the work, titled "Enough Already: Learning to Love the Way I Am Today." She posted the book's cover and a video of herself with the caption, "(exhales) With so many emotions and some tears, I'm almost done with the last edit of my book!! Woohoo!" In the video, she voiced her hopes that her book can help people "not feel so alone with the struggles [they're] going through."
Valerie Bertinelli's new book will release in 2022
"Enough Already" documents the changes and challenges of Valerie Bertinelli's life as she transitioned from her '50s to her '60s (via HMH Books). It addresses her changing relationships with food, family, work, and, most importantly, herself. According to the book's summary, a turning point in Bertinelli's life came when she found an old recipe box after her mother's death. With the box, she found "notes of the strong women that came before." "Saying, 'enough already!' Bertinelli set out on a journey to love herself and see that perfection is not the goal; it's the joy we can find every day in our lives, our loved ones, and the food we share," says the book description.
That's how "Enough Already" be, and it seems that fans on Instagram couldn't be more excited about Bertinelli's progress update. Heart emojis flooded the comments section as did ample gratitude. As one user wrote, "So excited to read your book. Struggles are real and hard enough so I can't even imagine going through them in the public eye. Much love and respect to you for sharing that with us"
If the success of her previous autobiography and New York Times #1 bestseller "Losing It" is any indication (via Simon & Schuster), "Enough Already" might just be a hit among her eagerly awaiting fans. The book releases on January 18, 2022, but fans can pre-order hardcover copies as well as audiobook and e-book versions.