Valerie Bertinelli's Tasty Spin On Chocolate Chip Cookies Has Fans Drooling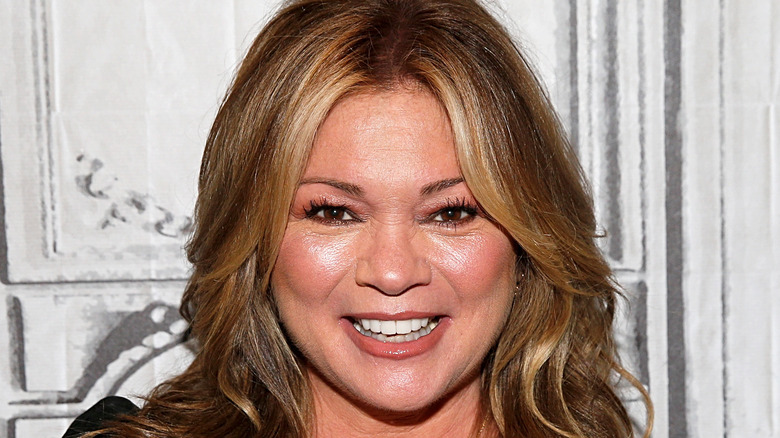 Dominik Bindl/Getty Images
You can find cookies flavored with just about anything these days from peanut butter to pumpkin spice, and while they're all certainly worth a taste, none can really compare to the classic chocolate chip cookie. Created in the 1930s by Ruth Wakefield (via The Sugar Association), the combination of chewy cookie with succulent chunks of semi-sweet chocolate provides a delightful mixture of flavors and textures that is so satisfying and delicious, it's even been given its own holiday: National Chocolate Chip Cookie Day, which National Day Calendar says is celebrated every year on August 4.
Yes, the humble chocolate chip cookie is a truly timeless treat that you might think is only made better when accompanied by a glass of cold milk, though you might re-evaluate that opinion once you hear about Valerie Bertinelli's unique spin on the age-old snack. Taking to her Instagram account on August 26, the actress and Food Network star had fans drooling over a photo of her Salted Caramel Chocolate Chip Cookies, which she promised would be appealing to cookie lovers young and old. "The trick to these warm treats are the chopped caramel bits melting into the semi-sweet chocolate chips topped by flakey sea salt," she explained of her version of the classic sweet that her followers appeared to be more than eager to try.
Fans had nothing but praise for Valerie Bertinelli's cookie recipe
As Bertinelli explains on her website, chocolate and salted caramel are the "Astaire and Rogers of dessert ingredients" that work so well together because they enhance the flavors of one another. "To me, the marriage of these two in a cookie was inevitable," she said, and her fans certainly seem happy she made the union happen in her Salted Caramel Chocolate Chip Cookie recipe. Along with more than 14,000 likes, the Golden Globe Award-winner's drool-worthy Instagram post has been flooded with praise from followers in the comments section as well. "Now you did it, you made my mouth water. Those look so incredible!" Instagram user @mary.rogers.904 wrote. "OMG. Heaven on a dish!" user @candace.elena exclaimed.
Others expressed how excited they were to get in the kitchen and give Bertinelli's version of the classic chocolate chip cookie a try, though one fan had another idea. fan@maryannp223 had another idea. "Can you ship this plate (and any extras) to me in Florida???" user @maryannp223 requested. "Melted chocolate or not, I'm sure they'd be total comfort food. I could use some of that!" While you're at it, Val, you can ship a plate to us as well!