Savory Eggless Crepes Recipe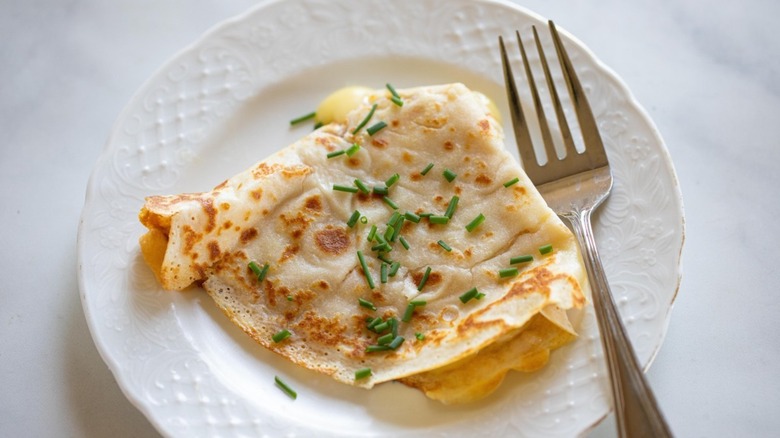 Kit Hondrum/Mashed
You might assume that crepes are crepes are only for ordering at a French cafe while you sip a latte. After all, they seem like they would be difficult to make: How are you supposed to concoct something so light and airy in the comfort of your own home? However, you may be surprised to find out that they're actually a lot easier to make than you may be assuming — and a lot easier to enjoy, even if you have specific food allergies.
In fact, you can even enjoy Kit Hondrum's savory cheese-stuffed crepes if you're allergic to eggs, as this recipe is egg-free. Hondrum, who blogs at Kit's Kitchen, explains  "Eggs in traditional crepes add just a tiny bit of rise, if any, so they aren't really necessary." She admits that, "The texture of these is not quite as soft and delicate as traditional crepes," but says, "if you can't have egg, these are a great option!"
Let's take a look at how to make these delicious crepes and get started!
Choose your ingredients for these savory crepes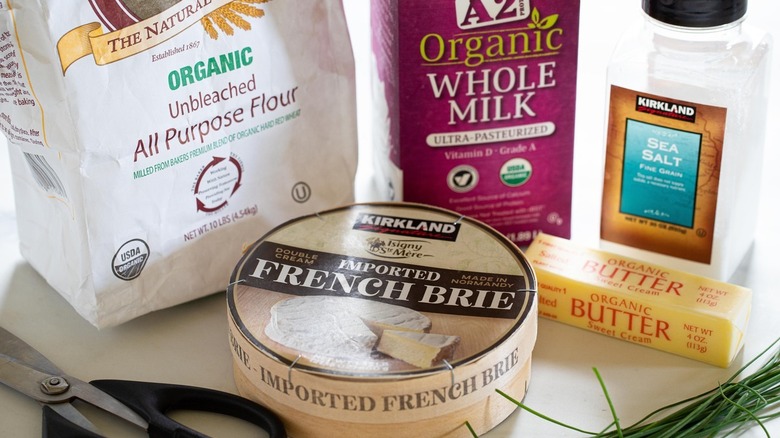 Kit Hondrum/Mashed
Having established what you won't need to make these crepes — eggs — we'll now go over what you will need to get started with this recipe. One of the main ingredients is milk, but while Hondrum uses whole milk to make her crepes, using two percent or even skim milk certainly isn't a deal-breaker if that's what you have on hand. You're also going to need butter, all-purpose flour, and Brie cheese.
If you don't care for Brie or simply find it too expensive, other types of cheese will also work well in this crepe recipe. Hondrum herself says, "Gruyere is another option for the cheese," as is cheddar or Swiss or any other type of semi-soft, melty cheese. Hondrum says you can add a little meat to the filling, too. As she tells us, "Ham is also a great addition!" She also suggests, "You could also do a Caprese-style [crepe] with fresh mozzarella, tomatoes, and basil."
Make the eggless crepe batter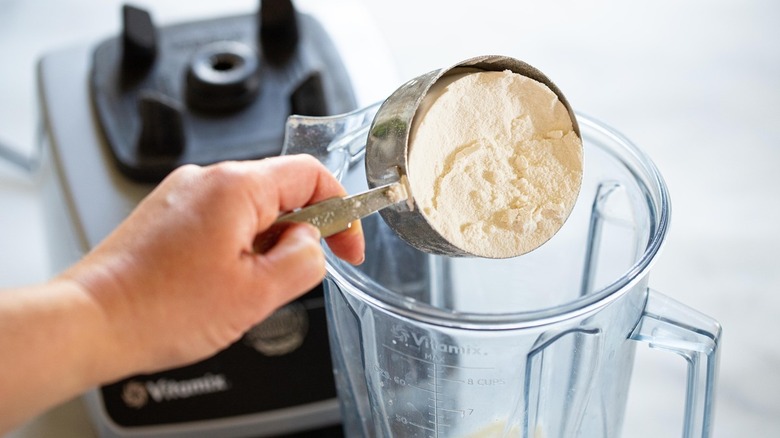 Kit Hondrum/Mashed
Before you start the batter, you'll need to measure out the milk and then let it sit until it reaches room temperature. You'll also need to melt the butter. When the milk is finally warm enough, put the milk, butter, and flour in a blender along with a quarter of a teaspoon of salt. Hondrum used fine sea salt here, although table salt would be okay too.
Whizz the ingredients in the blender for 10 seconds. If your blender has different speeds, choose medium. If it doesn't, don't worry about it. Your batter will be blended — that's all that matters. Once the batter is mixed, let it sit for a half-hour at room temperature. "The resting time," Hondrum explains, "allows all the bubbles to rise to the top." If you like, you can even let the crepe batter rest overnight, as suggested by Joanna Gaines, although in that case, you should keep it in the fridge.
Cook the crepes in a non-stick pan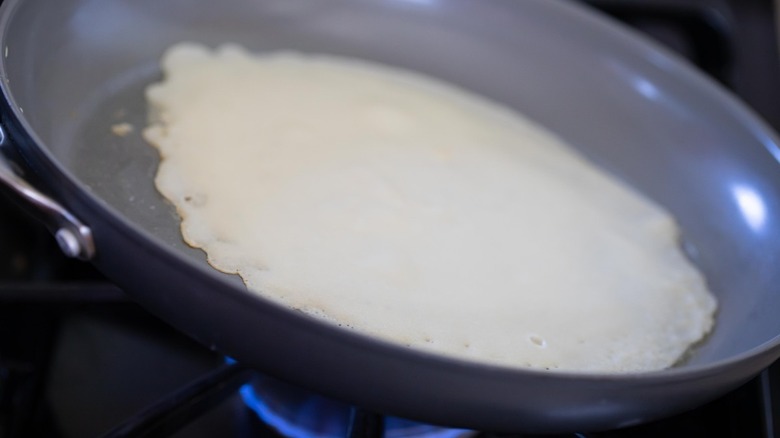 Kit Hondrum/Mashed
After that half-hour or more of batter resting time has elapsed, heat up a 10-inch nonstick skillet, or should you happen to possess such a thing, a crepe pan. (Finally, a chance to use this piece of kitchen equipment for its intended purpose!)
Turn the stove burner to medium, and grease the pan with a light coating of butter. When the pan is hot, pour in a quarter-cup of batter and swirl the pan until you have an even layer of batter covering the bottom. Cook the crepe for one minute, then flip it and cook it for one minute more.
Fill the crepes with cheese and finish cooking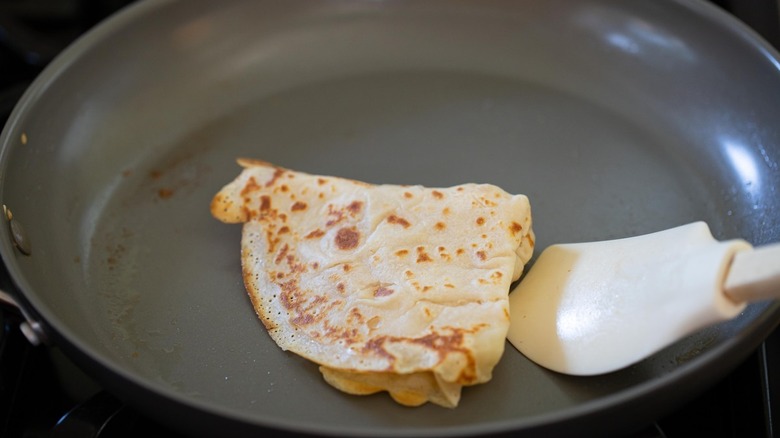 Kit Hondrum/Mashed
Cover the crepe with a few slices of Brie, then fold it over once, then once again. Cook your twice-folded cheese-filled crepe for one minute or until the cheese is melted. Flip the crepe onto a plate, then repeat the whole crepe-cooking process for the next crepes until all of the batter and cheese are gone. While Hondrum advises that "prepared crepes should be served right away," she allows that you can keep them in a warm oven until you'd like to eat them. If you'd like to make your crepes extra pretty, and/or add just a smidgen more flavor, she says you can also snip some fresh chives to use as a garnish.
As to when you'd serve these savory crepes, Hondrum suggests they'll work for breakfast or brunch and says that for the latter meal, "a side of sliced cucumbers, fresh berries, and prosciutto [along with] something bubbly like sparkling water, sparkling wine, or even kombucha" would be ideal. She also says the crepes would make a great lunch accompanied by a side salad.
Savory Eggless Crepes Recipe
Love crepes? You can enjoy Kit Hondrum's savory cheese-stuffed crepes even if you're allergic to eggs, as this recipe is egg-free.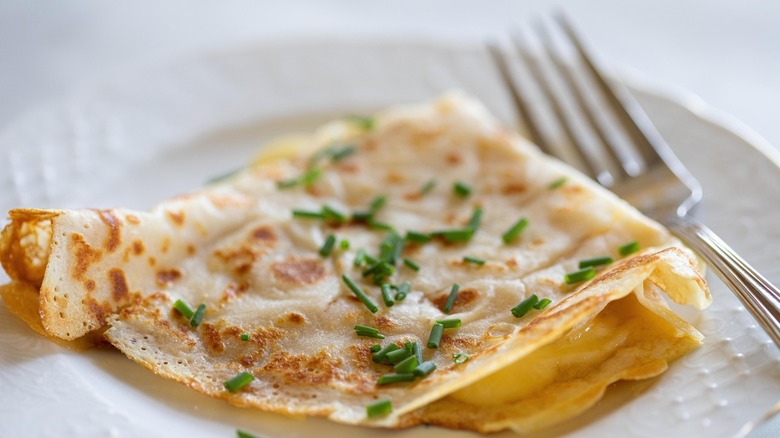 Ingredients
1 ½ cups whole milk, room temperature
1 tablespoon salted butter, melted
1 cup all-purpose flour
¼ teaspoon fine sea salt
4 ounces Brie, thinly sliced
Optional Ingredients
Small handful of fresh chives for garnish
Directions
Add milk, melted butter, flour, and salt to a blender, and blend for about 10 seconds on medium until combined.
Allow batter to sit at room temperature for 30 minutes.
Preheat a crepe pan or a 10-inch non-stick skillet over medium heat.
Lightly grease the pan with butter.
Pour ¼ cup of batter into the pan and rotate the pan to spread the batter evenly over the bottom.
Allow the crepe to cook for 1 minute, then flip and cook for 1 minute.
Cover crepe with sliced Brie, then fold it over on itself two times.
Cook filled crepe for 1 minute or until the cheese is melted.
Remove crepe to a plate and repeat with remaining batter.
Use scissors to snip fresh chives for garnish. Prepared crepes should be served right away or can be kept in a warmed oven until you're ready to serve.
Nutrition
| | |
| --- | --- |
| Calories per Serving | 290 |
| Total Fat | 14.0 g |
| Saturated Fat | 8.5 g |
| Trans Fat | 0.1 g |
| Cholesterol | 45.1 mg |
| | |
| --- | --- |
| Total Carbohydrates | 28.4 g |
| Dietary Fiber | 0.8 g |
| Total Sugars | 4.8 g |
| Sodium | 359.6 mg |
| Protein | 12.0 g |