20-Minute Italian Meatballs Recipe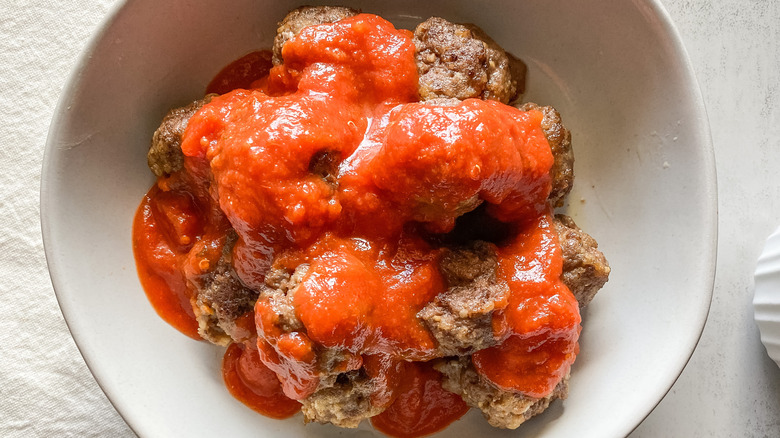 Kristen Carli/Mashed
There's nothing that hits the spot quite like homemade meatballs. Sometimes, the process of making this delicious Italian dish can deter people since it takes a long time to make and cook. However, recipe developer Kristen Carli, who is a wizard in the kitchen, came up with a way to make meatballs in just 20 minutes. Yep, that's all it takes for good old-fashioned, homemade meatballs. Can you even believe it? "These make for an easy and tasty protein option," Carli says.
These meatballs would be great on their own, or you can make them as an addition to pasta. They would also be the perfect accompaniment to garlic bread. You can serve these to impress your guests, and another great part about this recipe is that you can make them ahead of time. "Yes, you can roll these out a day before and then cook the day of if you need," Carli shares.
Keep reading to find out how to make these delicious meatballs.
Gather the ingredients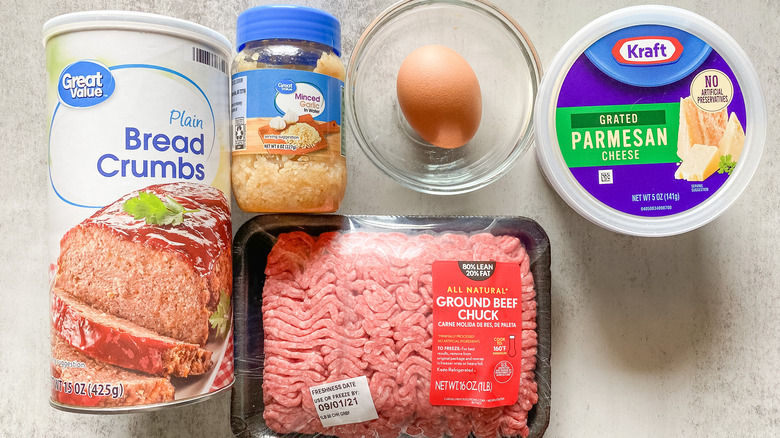 Kristen Carli/Mashed
The first thing you need to do is gather all of the necessary items to make this dish. In this case, there are only a few things that you will need to get. Your main ingredient is ground beef, which makes up the bulk of the meatball. You will also need a tablespoon of minced garlic, a teaspoon of salt, and some pepper. As with most meatball recipes, you will need breadcrumbs and grated Parmesan. The last two items on your list should be an egg and olive oil.
Once you have everything in front of you, it's time to begin.
Preheat the oven and mix the ingredients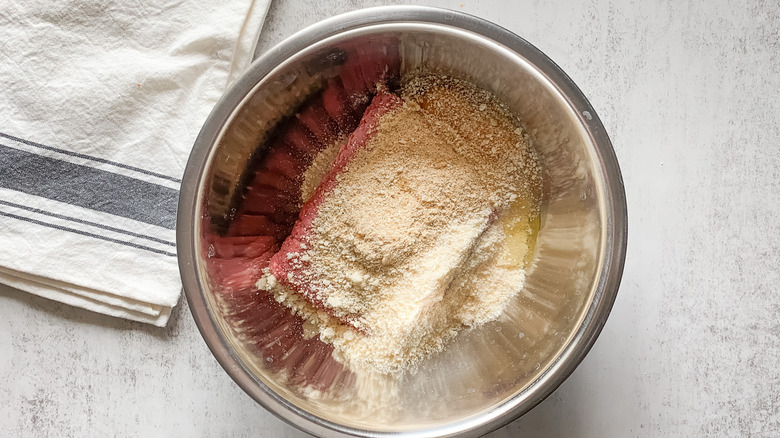 Kristen Carli/Mashed
Turn your oven dial to 400 F. This is the temperature you will need to cook the meatballs. As a reminder, you need to wait for the oven to fully preheat before you put anything in it.
Then, take out a large bowl to mix up the meatballs. Throw in the beef, followed by garlic, salt, and pepper. At this time, you will also want to add breadcrumbs, Parmesan, and eggs. Pretty simple, isn't it? 
Mix and roll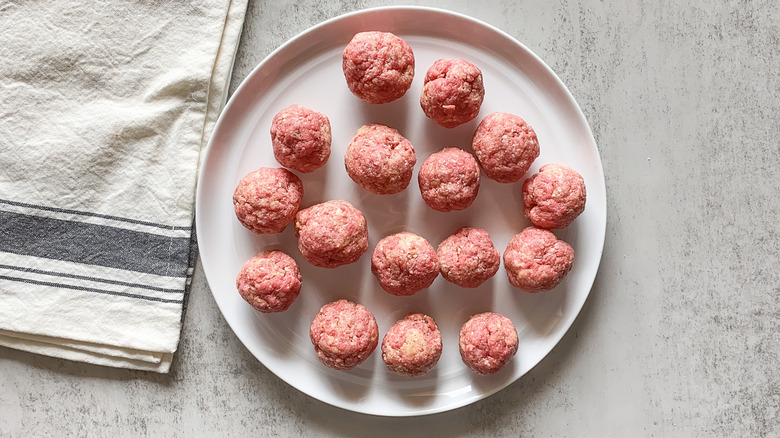 Kristen Carli/Mashed
Once you have all your items in the mixing bowl, it's time to get mixing. To keep things simple, use your hands to mix the beef and all other ingredients until they're well combined. That makes it a lot easier than having to worry about a spoon. You can also wear gloves if you're worried about beef sticking to your hands.
Then, roll the mix into one-inch balls. You don't have to make them perfect, but be sure to try and make them as close to the same size as possible so they cook evenly in the oven.
Heat oil in a pot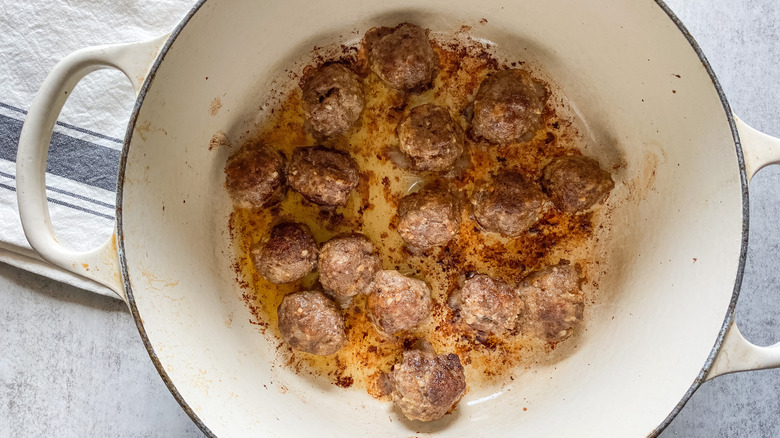 Kristen Carli/Mashed
Now, take a large stockpot and put it on your stove. Toss in some oil and turn the heat to medium-high. As the oil starts getting hot, add the meatballs to the middle. Cook them for about eight minutes total, turning them occasionally as you go. This ensures that the meatballs will not stick to the bottom of the pan. When the meatballs are done cooking on the stove, the sides should be pretty crispy. Then, you can turn off the stovetop and prepare to stick the meatballs in the oven. 
Put the meatballs in the oven and enjoy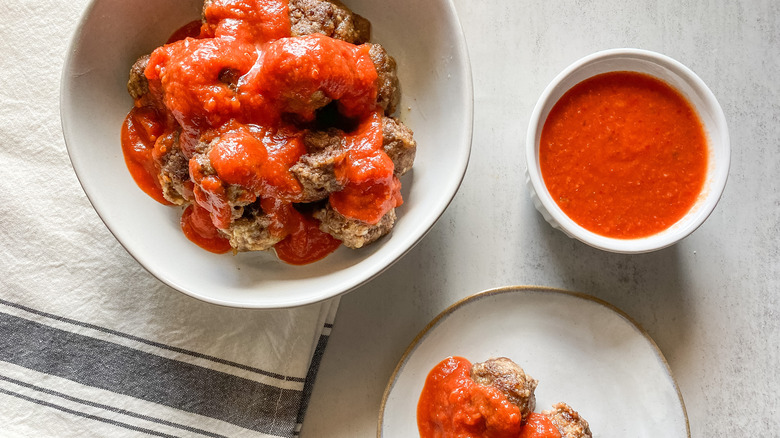 Kristen Carli/Mashed
Use the oven to mitts to lower the stockpot from the stovetop to the oven. Set your timer for seven minutes to let them bake. Once the timer goes off, remove the meatballs from the oven. Voila, you're all set.
There are plenty of ways to enjoy these delicious meatballs, but Carli likes to keep things simple. "I love these on spaghetti with marinara sauce, but I also love these served alongside roasted potatoes and veggies," she shares.
"Leftovers can be stored in an airtight container in the fridge for up to three days or in the freezer for up to three months." Now, dig in!
20-Minute Italian Meatballs Recipe
We came up with a way to make meatballs in just 20 minutes. Yep, that's all it takes for good old-fashioned, homemade meatballs. Can you even believe it?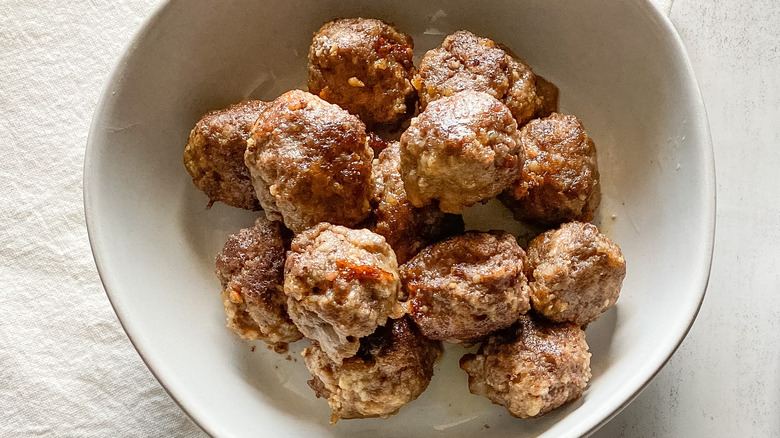 Ingredients
1 pound ground beef
1 tablespoon minced garlic
1 teaspoon salt
½ teaspoon pepper
½ cup breadcrumbs
½ cup grated Parmesan
1 egg
1 tablespoon olive oil
Directions
Preheat oven to 400 F.
In a large bowl, add beef, garlic, salt, pepper, breadcrumbs, Parmesan, and egg.
Using your hands, mix well until combined.
Roll into 1-inch balls.
Heat a large stockpot over medium heat. Add oil.
Add meatballs to pot. Cook, turning occasionally, until all sides are crispy, about 8 minutes.
Turn off stovetop. Using oven mitts, lower stockpot into oven. Bake for 7 minutes. Remove from oven.
Serve and enjoy.
Nutrition
| | |
| --- | --- |
| Calories per Serving | 309 |
| Total Fat | 21.7 g |
| Saturated Fat | 8.4 g |
| Trans Fat | 0.9 g |
| Cholesterol | 88.8 mg |
| | |
| --- | --- |
| Total Carbohydrates | 7.6 g |
| Dietary Fiber | 0.5 g |
| Total Sugars | 0.7 g |
| Sodium | 296.8 mg |
| Protein | 19.6 g |