Football Fans Will Love Pepsi's New Collaboration With Dapper Dan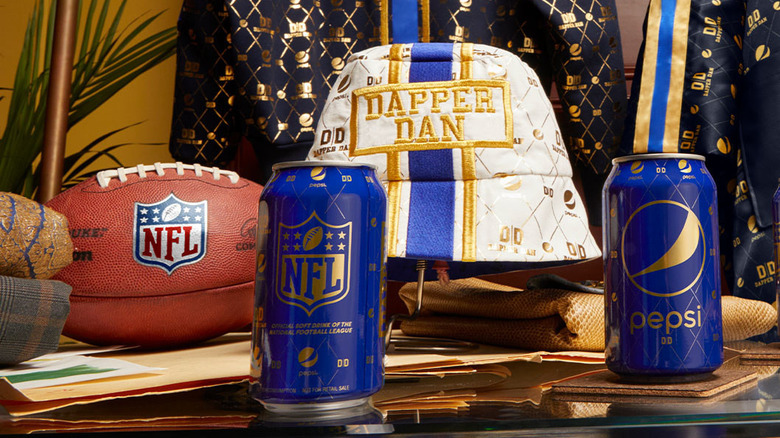 PRNewsfoto/PepsiCo
While the interests of hardcore fashionistas and football fans don't often intersect, a new Pepsi collaboration with the king of streetwear is primed to bring the two communities together. The soft drink juggernaut just announced (via Instagram) a buzzy partnership with famed fashion designer Dapper Dan that aims to make football-watching a more stylish affair than ever before. Pepsi, which has a longstanding relationship with the NFL — the brand is the Official Soft Drink of the NFL and has sponsored the Super Bowl Halftime Show since 2013 — has unveiled a limited-edition capsule collection that will excite sports and fashion fans alike.
To create this capsule collection, the brand teamed up with Harlem-based fashion icon Dapper Dan, who pioneered the streetwear design movement in the 1980s. The designer parlayed a successful retail operation into a career outfitting celebrities like Beyoncé, Mike Tyson, Missy Elliott, LL Cool J, and JAY-Z. Now, Dapper Dan is hoping to introduce his designs to a whole new football-watching audience.
"As the NFL season and New York Fashion Week both kick off, Pepsi is ... bringing luxury streetwear and football watching apparel together through a limited-edition capsule collection with legendary Harlem couturier Dapper Dan," the company shared in a press release (posted at PR Newswire), adding that the aim of the partnership is "taking the football fan apparel game to the next level to ensure fans show up in style, no matter where they're watching."
The Pepsi x Dapper Dan collection is made for football fans and fashionistas in mind
The collaborative collection, which will be available in limited quantities, will include a bucket hat, hoodie, cozy "lounger" with vegan leather pockets, and commemorative Pepsi can adorned with gold accents and a specially designed Dapper Dan x Pepsi logo.
The acclaimed streetwear designer, who is known for his use of logos in his designs, made sure to prominently display the specially designed logo across the collection. Each of the items in the capsule heavily features the gold Dapper Dan and Pepsi logos, and are embellished with luxurious blue and metallic accents.
"This capsule collection is equally inspired by the Pepsi brand, football fans, and my one-of-a-kind looks," Dapper Dan shared of the collaboration. "Fashion and football have never come together like this before. Athleisure has a new name on the block, and it's Pepsi x Dapper Dan."
The extremely limited-edition capsule items will only be available to the first 400 eligible consumers that sign up through the Made For Football Watching website, while supplies last. The Dapper Dan Football Watching collection drops tomorrow, September 8, at 10 a.m. ET.