10 Popular Disneyland Halloween Time Foods, Ranked From Worst To Best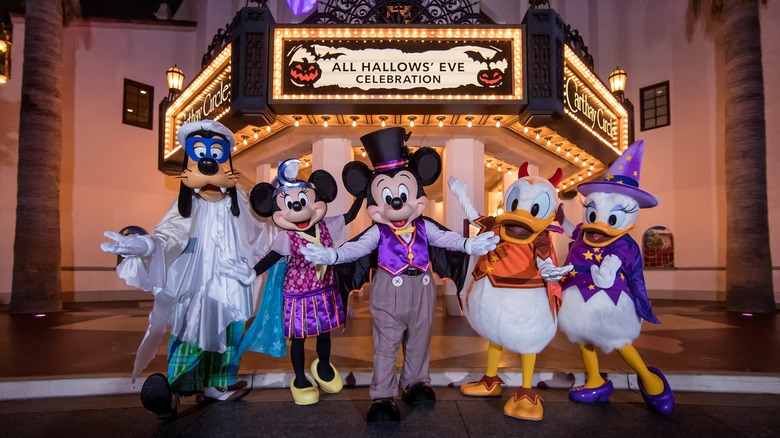 Disney Parks
If you want to get a head start on your Halloween festivities (who doesn't?), the Disneyland resort is already scaring up a fun time. After a 2020 hiatus due to some genuinely scary circumstances, Halloween Time is back at the Mouse House now through October 31. Throughout the always-anticipated celebration, Disneyland Park, Disney California Adventure Park, and Downtown Disney undergo a spooky transformation with chilling ride overlays, thrilling activities including the after-hours Oogie Boogie Bash, creepy visuals, and plenty of frighteningly delicious eats.
The laundry list of seasonal menu items is heavy on the sweet stuff, but since this is a Halloween party, you shouldn't feel guilty about indulging in a few extra treats.
If you're a Disney completist, recruit plenty of friends and allot some extra days at the resort to tick off all those bites. But if your time is limited, we suggest focusing on a food tour of California Adventure with its superior Halloween eats, particularly at the Coco-themed Plaza de la Familia, which will stick around until November 2 to honor Dia de los Muertos.
You'll also want to download the Disneyland app and plan for mobile ordering whenever you can, because the standby lines for food can rival those of the rides.
With dozens of options, prioritizing your culinary game plan may seem like a nightmare. But don't worry, we've done the research. Here you'll find our ranking of popular Disneyland food and beverage items that are available exclusively during Halloween Time.
10. Jack Skellington Cakepop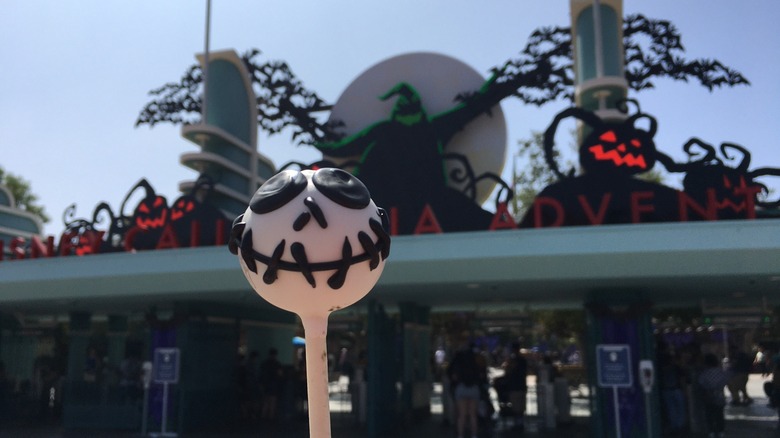 David Klein/Mashed
This mini munchie deliciously manifests Oogie Boogie's fantasy of having Jack Skellington's head on a stake. The outside is dark chocolate scribbled confectioners coating, while the interior is devoted to an orb of ooey gooey vanilla cake that teeters on the consistency of batter (fans of cookie dough are sure to appreciate the texture).
While the cakepop hits the sweet spot, it's... shall we say, a little too bare bones for the price. At $5.99 a pop, the math boils down to about two bucks per bite which is pricey — even for Disney standards. But if you're a "The Night Before Christmas" die-hard that wants to track this one down, you're in luck. It's available at multiple venues in both Disneyland Park and California Adventure, including Candy Palace and Candy Kitchen, Pooh Corner, and Trolley Treats. And if you don't have a park ticket, that's not a problem. They are also available, along with several other Halloween treats, at Marceline's Confectionary in Downtown Disney.
9. Caramel Apple Churro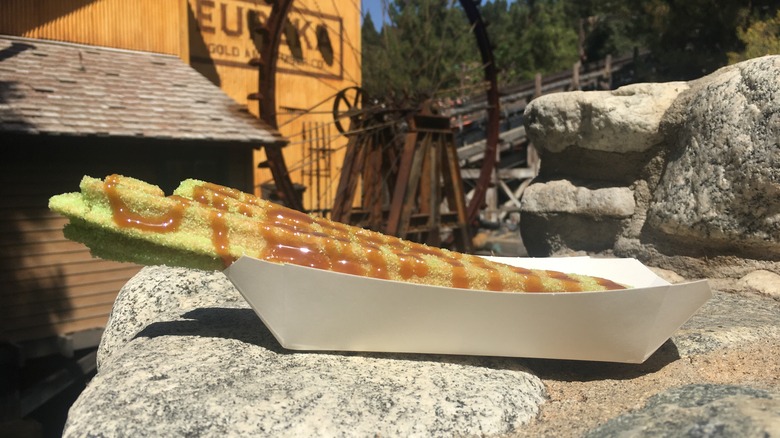 David Klein/Mashed
Along with corn dogs, Dole Whip, turkey legs, and the Cafe Orleans Monte Cristo sandwich, churros are in the pantheon of Disneyland foods. During Halloween, you'll find an impressive nine variations on the addictive cinnamon sugar dusted fried dough wand at multiple venues throughout both parks. Options include everything from a chocolate churro with pumpkin spice and a brown butter cream cheese dipping sauce, to a tea-spiked version with matcha cream cheese buttercream, chocolate cookie crumbs, and raspberry sauce.
At the Grizzly Peak Churro Cart in California Adventure, the specialty option is inspired by a classic fall flavor pairing, subbing in green apple flavored sugar and adding a caramel drizzle for a successfully sweet combo. (Just be sure to enjoy immediately while it's still hot — cold churros are about as enjoyable to eat as melted ice cream.)
Our (minor) quibble here is that while we do appreciate all these churro variations, nothing beats the original. Much like the Star Wars franchise, even with all the bells and whistles of the spinoffs, the more "basic" throwback simply can't be beat.
8. Halloween Candy Sundae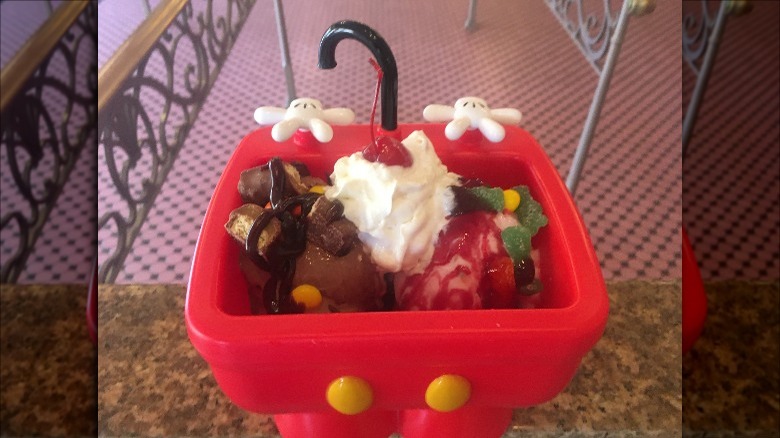 David Klein/Mashed
Sour patch kids are nothing new to Disneyland, particularly in the evening when there is the inevitable horde of young ones who are inconsolable when they realize their time in the Happiest Place on Earth has come to an end. But in this case, we're talking about the candy Sour Patch Kids, which make a dual appearance in this kitchen sink sundae offered at the Gibson Girl Ice Cream Parlor on Main Street U.S.A. Not only do the beloved sweet and sour gummies show up as a topping, but they are sprinkled on top of a scoop — brace yourself — of Sour Patch Kids watermelon ice cream. Yes, this is a thing, and it's shockingly tasty with a creamy, tangy blend of light vanilla ice cream, lemon sorbet, watermelon swirls, and itty bitty Sour Patch Watermelon pieces.
But that's not all. A scoop of chocolate (Dreyer's is the brand of choice here) shares top billing and it gets some assistance from Twix, Reese's Pieces, and a drizzle of hot fudge. The obligatory whipped cream and cherry on top brings it all together.
As for that kitchen sink, it's not merely a reference to the mish mash of ingredients. The sundae is served up in a nifty Mickey Mouse-less container — it's simply those iconic red shorts and white gloves with the addition of, brace yourself yet again, a faucet!
It's all pretty sweet. But be warned: Unless you plan on taking home your souvenir container, the $16.99 price tag may end up leaving a sour taste in your mouth.
7. Blood Orange Slush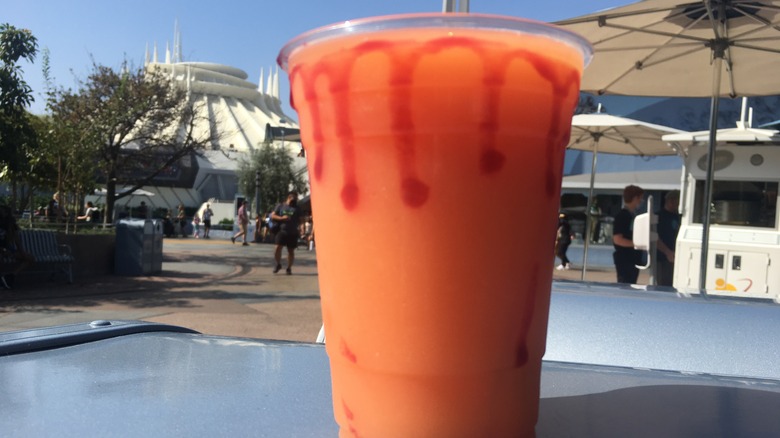 David Klein/Mashed
With the possible exception of horned melon and monstera deliciosa (yep, that's a thing too), there isn't a fruit better suited for Halloween in name and appearance than the blood orange. But the dark-hued citrus isn't a mere novelty,and its intense sweet and tangy juice certainly shines bright in this refreshing frozen slush from the Galactic Grill, which is located at the far edge of Tomorrowland.
Though the signature fruit is more orange than blood in appearance, a swirl of raspberry sauce bears an unmistakably creepy resemblance to the "What We Do in the Shadows" crew's beverage of choice. (If you happen to be a raspberry fan, just note that while its addition offers plenty of visual appeal, the flavor is drowned out by the blood orange.)  
Speaking of choices, deciding when to get slushed is a tough call. It's the ideal quencher for beating the peak heat during the day, but a multicolored glow cube addition makes it a colorful showpiece to sip at night.
6. Halloween Candy Funnel Cake Fries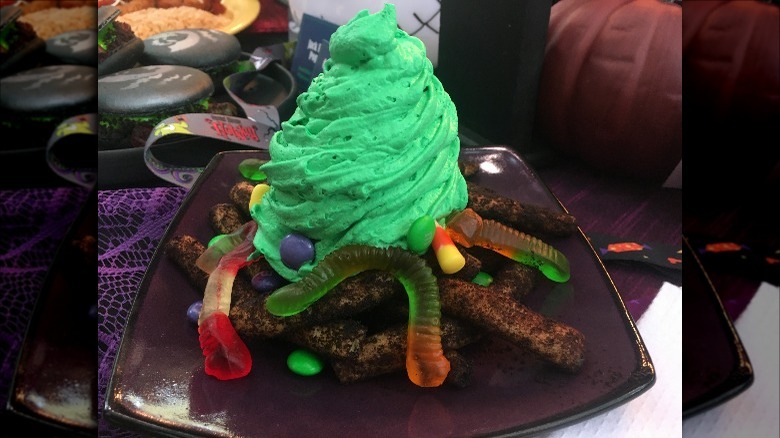 David Klein/Mashed
Halloween Candy Funnel Cake Fries sounds like it was conceived by a focus group of young Disney gourmands — and we're totally on board with that. The loaded to capacity dessert, available at Award Wieners in California Adventure, is anchored by crispy batons of funnel cake dusted with crushed chocolate cream-filled cookies. Next comes more cookies, gummy worms, and chocolate-coated candies. A cream cheese sauce and green whipped cream topper elevates this to the peak of gluttony. (If you want to go the extra mile, for an extra $7 you can have it all piled into a Mickey Ear Hat Bowl.)
The monster trick or treat and state fair food mashup is a dessert that is definitely suitable for sharing. Try to time an order prior to a long walk (there are plenty of opportunities at the parks for that) to burn off the calories. And absolutely do not consume this just before riding the Incredicoaster or Space Mountain, because tummy turbulence will be an inevitability.
5. Spicy Corn Dog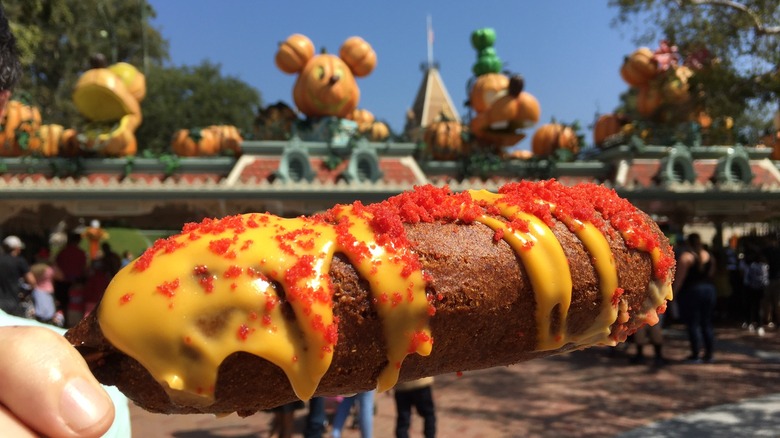 David Klein/Mashed
It wasn't a matter of if there would be a Halloween-themed corn dog, the question was which venue would be offering it. That honor was bestowed upon Stage Door Café, the al fresco eatery located next to The Golden Horseshoe in Adventureland.
The Disneyland corn dog is legendary, and this version is straight fire with a featured spicy beef frank. There are also a couple of welcome accoutrements to the batter dipped wiener: cheese sauce and fiery red chips, which are finely crushed and scattered like pixie dust. If you're cautious about spicy foods, take note that the burn is certainly detectable, but never overwhelms.
The hefty meat on a stick masterpiece also includes a side of ho-hum fries (but hey, some fries are better than no fries) and at $8.49 for the meal, that's some prime Disneyland value. In fact, for some reason it's priced $1.30 cheaper than the standard corn dog offering, so If the idea of a corn dog and nachos hybrid sounds appealing, definitely kick that heat up a notch.
4. Howl-o-Ween Concoction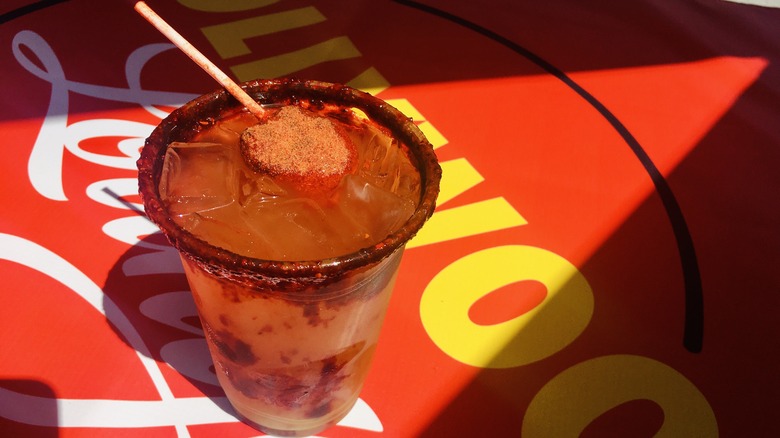 David Klein/Mashed
If you'd had the pleasure of imbibing in Oga's Cantina or Trader Sam's, you're well aware that the Disney mixology team knows how to successfully shake things up on the cocktail front. The Howl-o-Ween Concoction, which is currently pouring at Hollywood Lounge in California Adventure, is no exception.
The star is a pineapple michelada mix, only instead of the standard beer pairing, white tequila gets the booze call and, quite frankly, we don't miss the suds. But it's not just what's inside the cup that counts. A blend of pineapple and chamoy (a picante sauce made with pickled fruit) is slathered around the rim, and the added ring of flavor takes this boozy beverage to the next level. As an added treat, the cocktail is topped with a piece of sweet and spicy candy.
There is clearly a lot going on here, but everything manages to come together. Each sip offers a different sensation: some sweet, some sour, welcome savory notes, along with a touch of heat creeping in and out of the equation.
(If you're familiar with the phenomenal Chili-Mango Whip at The Tropical Hideaway, the flavor profile is similar.)
Just be careful enjoying your drink on-the-go, because things can get messy when that crimson rim starts to drip, as your hands and clothes may start to resemble a Halloween horror show (and yes, we unfortunately offer this warning from experience).
3. Tortitas de Papa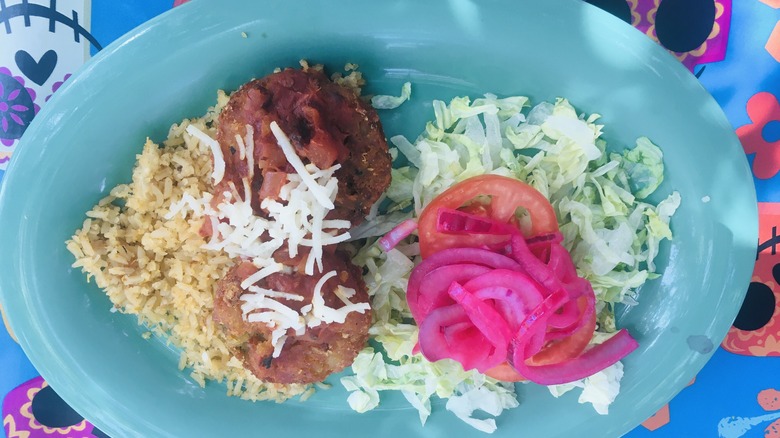 David Klein/Mashed
Throughout the Disneyland Halloween season, Plaza de la Familia (which takes over Paradise Garden in California Adventure) is Coco central, with plenty of Dia de los Muertos-themed activities, live music, and, of course, food. Paradise Garden Grill is serving up multiple Mexican dishes, including a chicken burrito drenched in salsa verde, steak tacos, and a traditional tamale plate.
But the entrée that should be at the top of your list is the tortitas de papa. Disney Parks has been making a big plant-based push over the last couple of years and these delicious fried potato discs (think Mexican latkes) provide further evidence that their meatless menu items aren't a mere afterthought.
The mashed taters are nice and fluffy, providing the perfect contrast to the crunchy coating. Spinach also makes an appearance as part of the interior to add an irony kick and help soften that fried food guilt. A zesty ranchero sauce topping and side of golden rice and pickled onion salsa take up the rest of the real estate on this stellar plate.
2. Coco Cake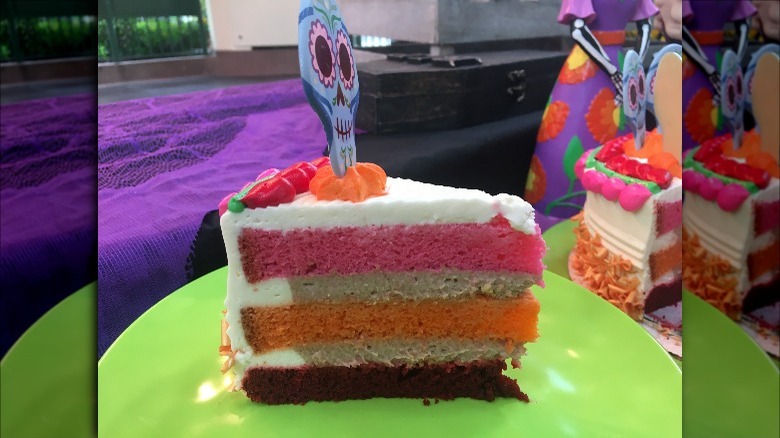 David Klein/Mashed
Once you've filled up on your savory main course at Paradise Garden Grill, don't forget to stick around so you can indulge your sweet tooth. The Coco Cake is an absolute blockbuster, and it's a dessert that you'll be sure to remember. To be clear, the name refers to the movie, not the water-filled tropical nut. The exceptionally moist tri-colored cake is pink on the top, marigold orange in the middle, and red velvet on the bottom. Despite the different shades, each level is vanilla-flavored. Joining in the fun are two thick layers of heavenly cinnamon-spiked "churro" mousse. The sweetness is deftly balanced out by a tangy cream cheese frosting.
The slice can be polished off solo, but it's hefty enough to share with friends and family (this is Plaza de la Familia, after all). Priced at a mere $5.99, it's also a relative bargain.
Though it may be tempting to commence eating immediately, get in some pics before chowing down because this one is a beauty.
1. Ghost Pepper Nachos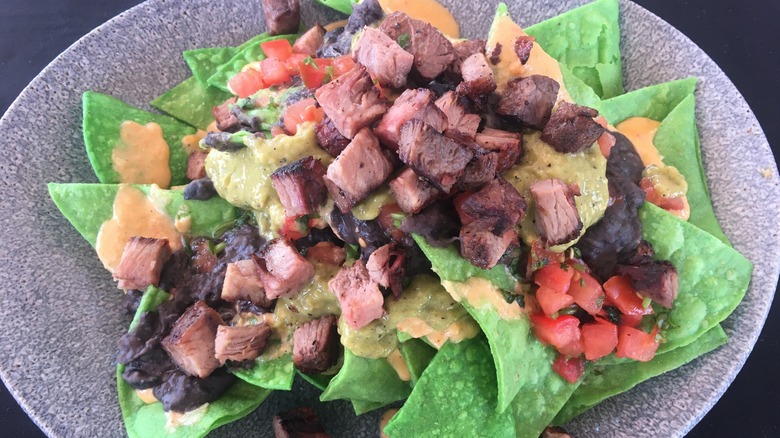 David Klein/Mashed
They're ba-ack! This Halloween Time sensation returns with plenty of heat and a new, colorful enhancement. Ghost Pepper Nachos are available exclusively at California Adventure's Lamplight Lounge — Boardwalk Dining. The scenic spot, overlooking the festive Pixar Pier, has a history of serving high-end nachos starting with the celebrated lobster topped version made famous during the Ariel's Grotto days and now a fixture on The Lamplight menu. This seasonal specialty continues that tradition trading the surf for turf, with cubes of ghost pepper marinated steak. The cheese sauce also gets the ghost pepper treatment while a tangy avocado and tomatillo salsa help to cool things down. The high-quality toppings (no canned stuff to be found!) are plentiful, so you'll never be left with a naked chip.
And as for those tortillas (which are now an eye-popping Oogie Boogie green), they're made in-house and offer a supremely satisfying crunch.
Despite the seventh hottest pepper in the world billing, you won't need a medic on hand to enjoy these. You'll definitely feel the heat as you work your way through the tortilla pile, but nary a tear will be shed during the experience.
This is a dine-in only option and seats on the Lamplight patio fill up fast, so make sure to join the walk-up list either in-person or via the app when you're close to the restaurant to avoid a long wait.