What Is A Michelada And What Does It Taste Like?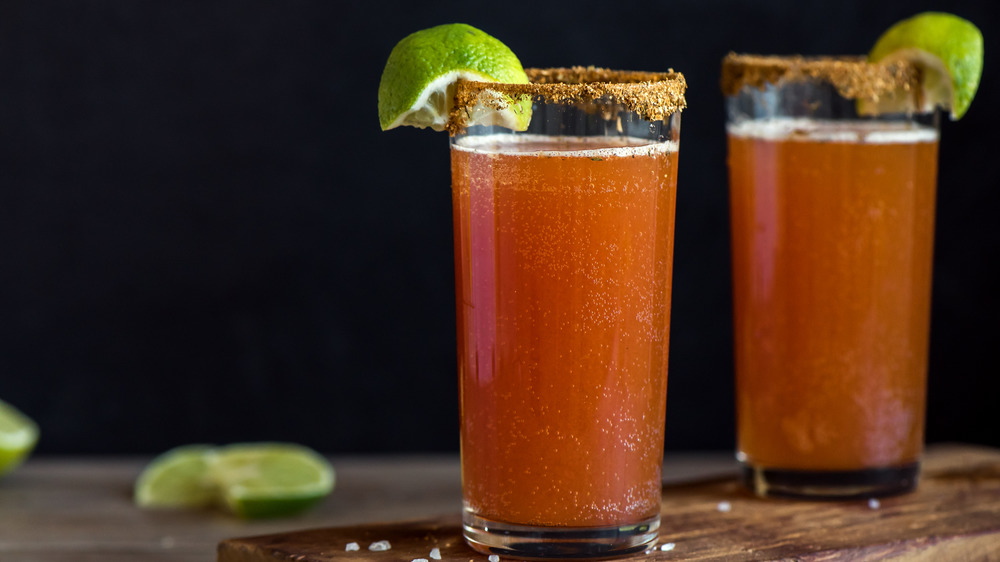 Shutterstock
If you're looking to give your brunch or Taco Tuesday a bit more flair, a michelada may be the perfect drink to take your meal to the next level. The Mexican beer cocktail sometimes gets overlooked next to a beverage menu full of tangy margaritas and palomas, but it's certainly not one to count out.
According to the Los Angeles Times, there are a few different origin stories for the michelada's name, with some claiming that it was bestowed its title in honor of its supposed inventor Michel Esper, who is said to have come up with the libation on a hot day in Central Mexico. Tales of the Cocktail provides a more obvious inception, noting that michelada is a combination of two Spanish words: "mi" (which means mine) and "helada" (a slang term for a cold beer), making the rough translation "my cold beer." The drink, however, is much more than a simple chilled cerveza, combining acidic, spicy, and savory elements all together in one glass for a unique concoction that delivers a delicious and refreshing taste with every sip.
Tailor the ingredients of a michelada to your liking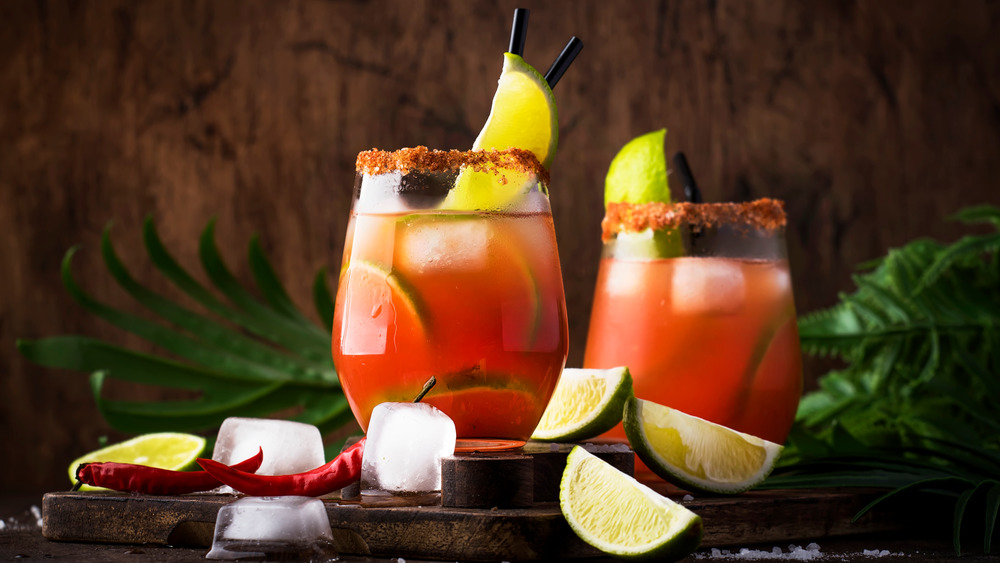 Shutterstock
Crafting a michelada, Serious Eats notes, usually begins with rimming a pint or pilsner glass with salt, or even a chili lime salt such as Tajín for an extra special kick. Next you pour a mixture of two ounces of lime juice, two teaspoons of hot sauce (like "Mexican-style brand" Tapatío), and one teaspoon of Worcestershire sauce. Chili Pepper Madness suggests the addition of tomato juice if that tickles your fancy, as well as a dash of soy sauce or Maggi to attain that coveted umami flavor. Whatever ingredients you choose, the key is tailoring the ratio so that it is satisfying to your own taste buds — cut the lime juice in half for something less tart, or go for a more powerful hot sauce to really heat things up.
While the above ingredients may make this cocktail sound like a bloody mary, a michelada calls for a chilled brewsky rather than vodka, adding a delightful crispness to this delectable beverage. Fill up the rest of your glass with your favorite light Mexican beer, such as Corona or Pacifico, along with some ice and a pinch of salt to complete your creation. And of course, keep the bottle nearby to top off your drink as you sip it down with your meal.