Simple Baked Chicken Livers Recipe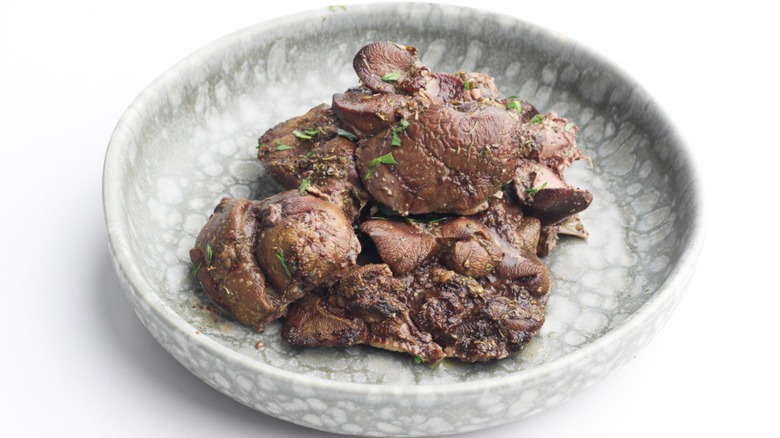 Susan Olayinka/Mashed
If you've enjoyed a smooth pâté spread before, let us show you what it's really made of! Food photographer and recipe developer Susan Olayinka from The Flexible Fridge has a family-friendly recipe that takes a quick 30 minutes to bake and even less time to devour. We know you'll absolutely love the taste of these herb-baked chicken livers. 
Chicken liver is a nutrient-rich delicacy. Though organ meat is less popular than common meats, chicken liver is packed with vitamin A and iron, folate, omega-6, and high-quality protein. This particular liver has plenty of selenium, which is good for thyroid function, and vitamin B12, an ideal vitamin for cell repair. If you're on a calorie-conscious diet, enjoying these herb-baked livers won't dent your calorie count. Livers actually have fewer calories than ribeye steak, chicken breasts, and lean ground beef. Moreover, livers are versatile. You can mince them up to make Bolognese, or finely chop them to mix with beef in burgers. To circle back to where we started, you can always use them to make a smooth pâté. Either way you want to serve 'em, we'll give you the simplest recipe around. 
Gather your ingredients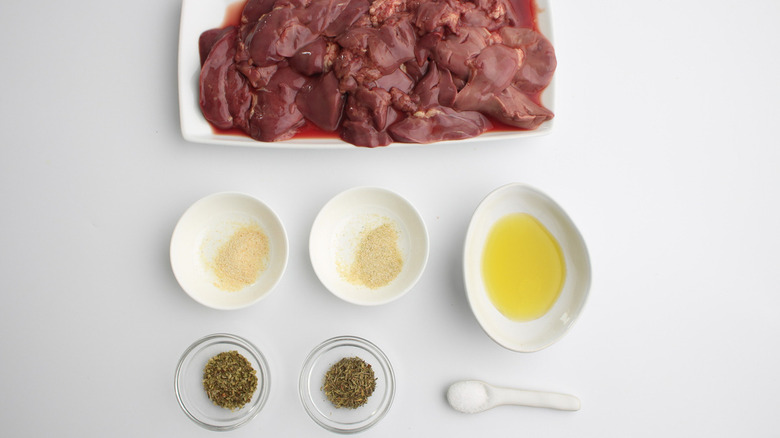 Susan Olayinka/Mashed
Let's dive into the simplest set of ingredients ever. Start off by bringing out 13½ ounces of chicken liver along with ¼ teaspoon of garlic powder and ¼ teaspoon of onion powder. To dress the meat, you'll also need 1 tablespoon of extra-virgin olive oil, 1 tablespoon of oregano, and ½ teaspoon of dried thyme.
Optionally, you can have a bit of fresh chopped parsley on hand for garnish if your plan to serve these as an entrée by themselves and you want to make them look fancy!
Season the livers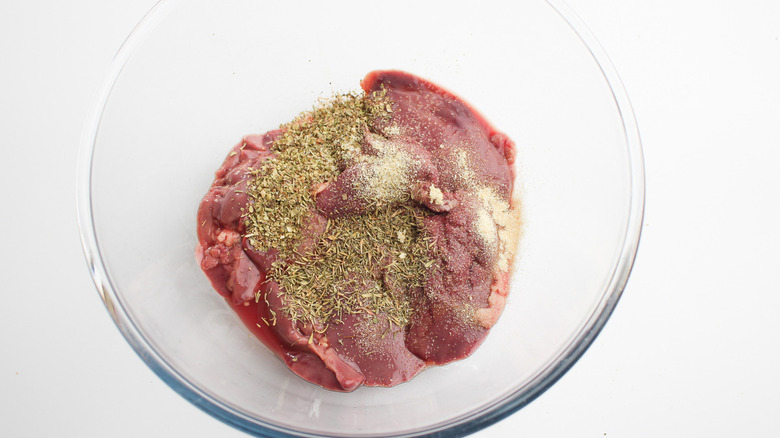 Susan Olayinka/Mashed
This next step is fairly simple as well. First, rinse your chicken livers well. Grab a good-sized mixing bowl place the chicken livers into it. Then dust your chicken livers with the garlic powder and onion powder. Drizzle your extra-virgin olive oil on top. Drop in the oregano and sprinkle the dried thyme over everything.
Once the livers are covered with the herbs, use your hands to intermingle all of them together. Rub the livers with the oil and herbs until they are fully covered.
Lay the livers out on a baking sheet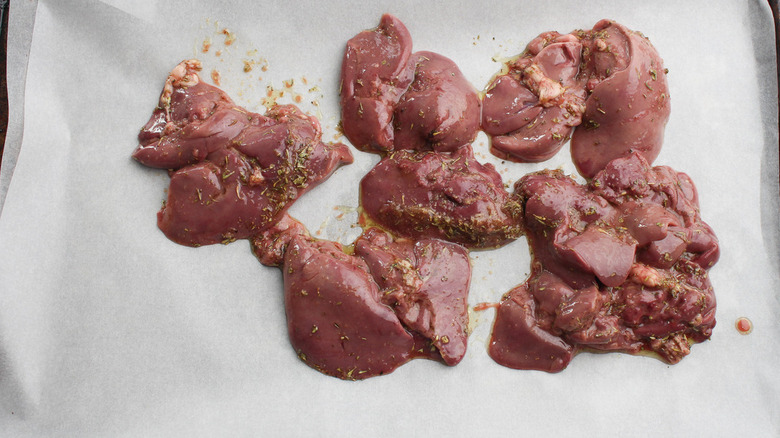 Susan Olayinka/Mashed
Wash your hands for a quick moment, and set the oven to preheat at 350 Fahrenheit. Grab a medium-sized baking tray and line it with parchment paper. Set your chicken livers on the parchment paper in the lined tray. 
Is this your first time trying chicken livers? We asked Olayinka how she would describe their flavor compared to regular chicken. She told us, "It's not really like chicken, although it does smell like it when cooking. It's got a slightly bitter taste. That is covered up by the spices though."
Slide them in the oven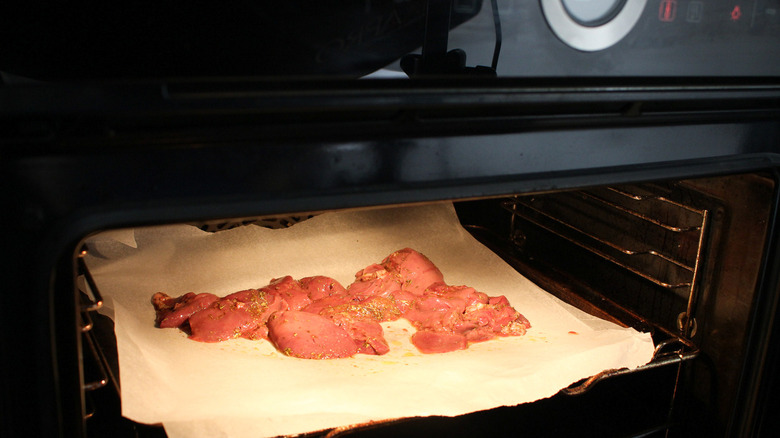 Susan Olayinka/Mashed
Slide the baking sheet into the oven to bake for 30 minutes. You may want to take a peek every once in a while and turn them occasionally. Ideally, the livers will be well done, without being overcooked. If the livers cook too much, they may turn out grainy if used for pâté.
Olayinka explained more to us about the texture.  "It's more a fattier, gummier type of meat," she tells us. Baking the livers adds a perfectly enjoyable smoothness to your dining experience.
Serve your herb-baked chicken livers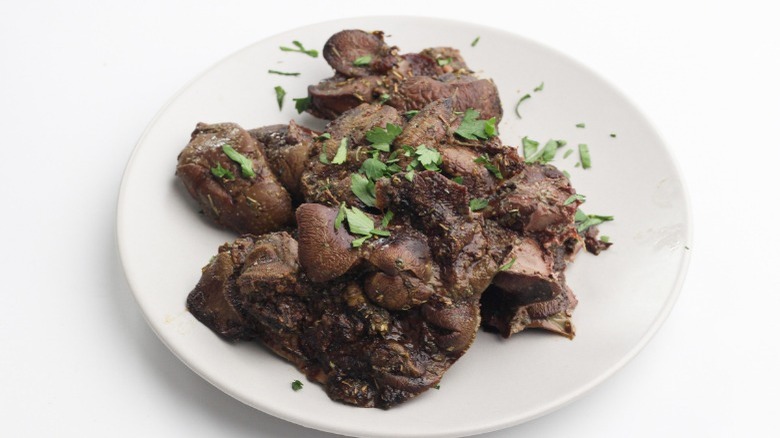 Susan Olayinka/Mashed
And now for the final result! The livers should come out cooked through. Olayinka let us know that "there's some juice that bakes off. I tipped this out in the sink." Once they're finished in the oven, transfer the livers to a serving plate. Garnish them with fresh parsley and these beauties are ready to eat! 
There are many ways to enjoy your delicious herb-baked chicken livers. They can be caramelized with onions in brown gravy or add mac and cheese for a simple side. We think the easier, the better, and Olayinka agrees, suggesting to serve it "with some rice or turning it into a patê is the most popular!" As you decide how to feed your guests, we hope you savor each moment and enjoy sharing these herb-baked livers around the table. If you have leftovers, Olayinka tells us they can be stored "for 2 to 3 days in the fridge in an airtight container."
Simple Baked Chicken Livers Recipe
With just a few ingredients, you can bake delicious chicken livers everyone will love. Not only that, but they are packed with vital vitamins and nutrients!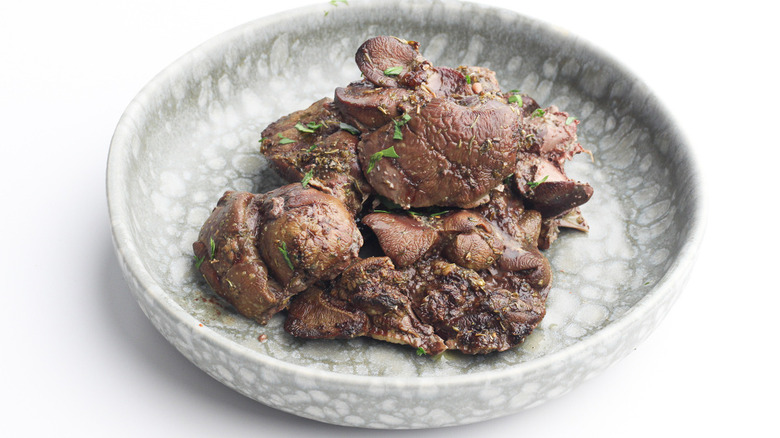 Ingredients
13½ ounces of chicken liver
¼ teaspoon garlic powder
¼ teaspoon onion powder
1 tablespoon extra-virgin olive oil
1 tablespoon oregano
½ teaspoon dried thyme
Optional Ingredients
chopped parsley, as garnish
Directions
Preheat the oven to 350 F.
In a large mixing bowl, add the chicken livers, garlic powder, onion powder, extra-virgin olive oil, oregano, and dried thyme.
Mix it all together and place the livers on a lined baking tray.
Bake for 30 minutes.
When they are done, transfer the livers to a serving plate
Top with chopped parsley, if using, and serve.
Nutrition
| | |
| --- | --- |
| Calories per Serving | 196 |
| Total Fat | 10.7 g |
| Saturated Fat | 2.6 g |
| Trans Fat | 0.1 g |
| Cholesterol | 440.1 mg |
| | |
| --- | --- |
| Total Carbohydrates | 2.1 g |
| Dietary Fiber | 0.5 g |
| Total Sugars | 0.1 g |
| Sodium | 91.3 mg |
| Protein | 21.8 g |