Martha Stewart's Trick For Homemade Everything Bagel Seasoning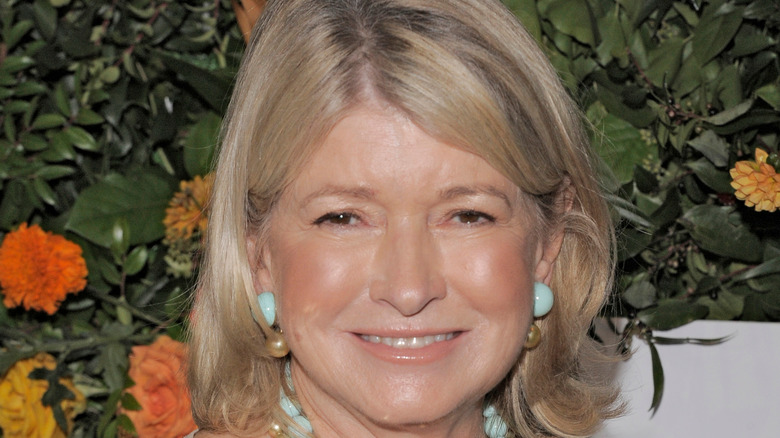 Shutterstock
While everything bagels have been around since the 1980s (via NPR), grocery chain Trader Joe's decision to add Everything But The Bagel: Sesame Seasoning Blend in 2017 reinvigorated the excitement surrounding the flavor, according to Forbes. However, individuals in countries without Trader Joe's don't need to worry — it's very easy to create the addictive blend from ingredients you may very well already have in your pantry.
Martha Stewart offered a recipe for those curious to craft their own Everything blend, and it's an easy mixture to remember. Simply combine equal parts of toasted sesame seeds, black sesame seeds, poppy seeds, dried minced garlic, dried minced onion, and flaky sea salt. Martha Stewart suggests using one tablespoon of each, but as long as you keep the equal proportions in mind, you can make as much or as little of the mixture as you want. And, if you find yourself sprinkling it on nearly every meal you make, you just might want to upgrade to a bigger jar and take advantage of the three-month shelf life.
Having the knowledge to craft your own might also help you avoid paying a premium if you can't find the product in Trader Joe's. Back in 2019, as Bro Bible reported, a couple from Los Angeles crafted a spicy side hustle by reselling the seasoning blend on Amazon. By simply buying the seasoning mixture from the retailer for under two dollars, and selling it for a markup, the duo brought in over $30,000 within a year.
What can you use Everything seasoning on?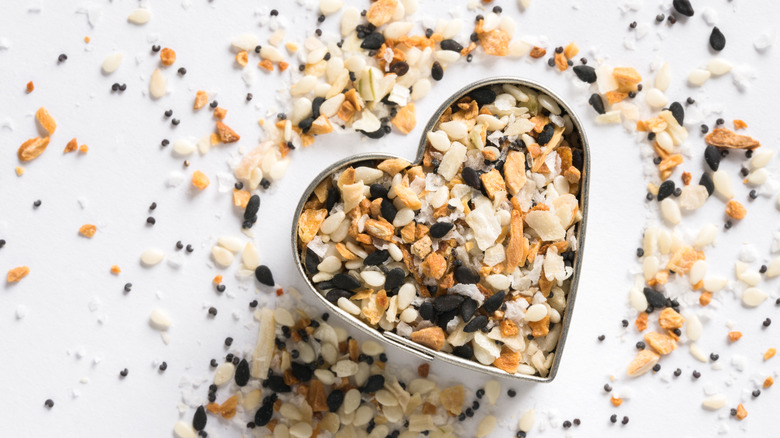 Shutterstock
One of the reasons that consumers have taken to the spice mixture is that it's incredibly versatile and can be used in a huge variety of dishes. Martha Stewart recommends it as a flavorful garnish for butternut squash soup, or even during cocktail hour on the rim of a bloody Mary. Incorporate it into your breakfast game on far more than just bagels by sprinkling it liberally over fried eggs or avocado toast for a flavor boost (via Taste of Home).
If that's not enough culinary inspiration for you, MyRecipes has a list of over 100 ways to incorporate the trendy seasoning blend into your cooking and has a suggestion for every possible meal. Kick your day off with some Everything spice-enhanced hash browns, savory oatmeal, or some smoked salmon on toast with all the toppings. Incorporate the seasoning blend into your lunch grain bowl or creamy mac and cheese. Finally, wrap up your day with some grilled chicken breast seasoned with the Everything blend, or serve up an Everything-packed aioli with some crispy fries alongside your favorite sandwich.
It has even taken over the dessert world. Jeni's Ice Creams took to Instagram to share one of its creations earlier this year: an Everything Bagel ice cream that consists of a sweet cream cheese base with streusel and, of course, the signature seasoning blend.