Nearly 24% Of People Agree This Is The Worst Salad At Panera Bread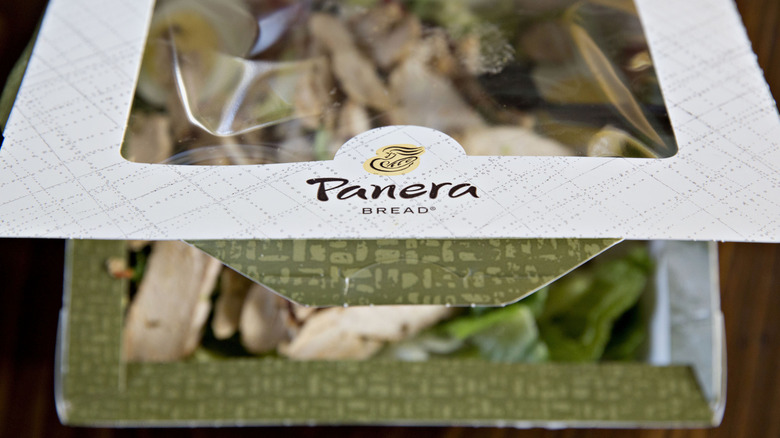 Bloomberg/Getty Images
Despite "bread" being right in the name, the fast-casual restaurant chain Panera Bread is perhaps most popular for its salads and soups, which have become lunchtime favorites for hungry diners who are short on time but don't want to rely on greasy fast food. The popular bakery/restaurant chain — which specializes in fresh baked goods and flavorful soups, salads, and sandwiches — has released a bevy of new salads throughout the years in addition to its select group of classic salads that are perennially on the menu. While there's no denying that the restaurant chain's salads are tasty, it appears that not all Panera salads are created equal, as indicated by a recent poll of Mashed readers.
We polled 599 U.S.-based readers on their least favorite salad at Panera Bread. Respondents were given a selection of six classic Panera salads to choose from: Caesar salad, Greek salad, BBQ chicken salad, Asian sesame salad, Fuji apple salad, and Green Goddess Cobb salad.
Classic salads proved to be the favorites at Panera
Coming in last place in the Panera salad poll — meaning it's a favorite among the responders — was the classic Caesar salad, with 10.52% of the vote, followed by the Greek salad, with 14.19% of the vote. Nearly tying for third and fourth position in the poll were the Green Goddess Cobb salad (with avocado, smoked bacon, hard-boiled egg, and herby Green Goddess dressing) and the Asian Sesame salad (with wonton strips, sesame seeds, almonds, and a sesame vinaigrette), which received 15.03% and 15.36% of the votes, respectively.
Surprisingly, the Panera salad that received the second-most votes for the worst salad was the BBQ chicken salad — with 21.04% of votes — which ranked fifth on our rankings of the best Panera menu items and comes topped with frizzled onions, corn and bean salsa, and BBQ ranch. And taking the top spot with 23.87% of the vote was the Fuji apple salad — perhaps due to the fact it contains ingredients like Gorgonzola cheese, pecans, and apple chips, which may not be everyone's cup of tea. Despite the Fuji apple bringing in the most votes for the worst salad at Panera Bread, the wide spread of votes indicates that even the least popular salad at the fast-casual chain still has its fair share of herbivorous fans.