Why This Alton Brown Pizza Dough Recipe Calls For Bottled Water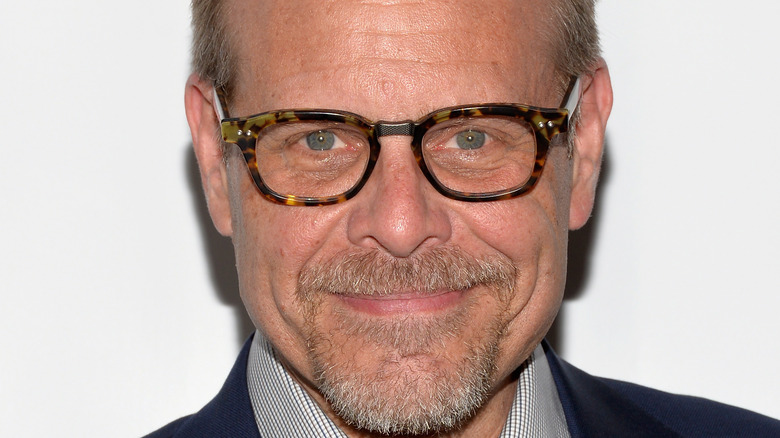 Michael Tullberg/Getty Images
Love pizza but tired of takeout? For a fun date night idea or a meal you can enjoy with your family and friends, try making your own pizza. While you can buy premade dough and sauce, you can also get fancy with your dinner and whip up your own dough. Plus, if you end up with extra, there's a bunch of uses for pizza dough you might not have thought of, like making doughnuts.
If you need a great pizza dough recipe, Alton Brown has a tried-and-true option. Meghan Splawn wrote about it for The Kitchn, and she's even made this dough with Brown himself. The one thing that's a bit surprising about the recipe is that you have to use bottled water. But does water really matter that much? It turns out, yes.
At the end of the article, Splawn offered a few tips to get Brown's pizza dough recipe just right. Earlier in the piece, she mentioned that Brown uses bottled water in this recipe, explaining that "it's the one ingredient that gives the consistency that Alton promises in the dough." But if you don't have any bottled water on hand, Splawn gives a workaround.
Other tips for making pizza dough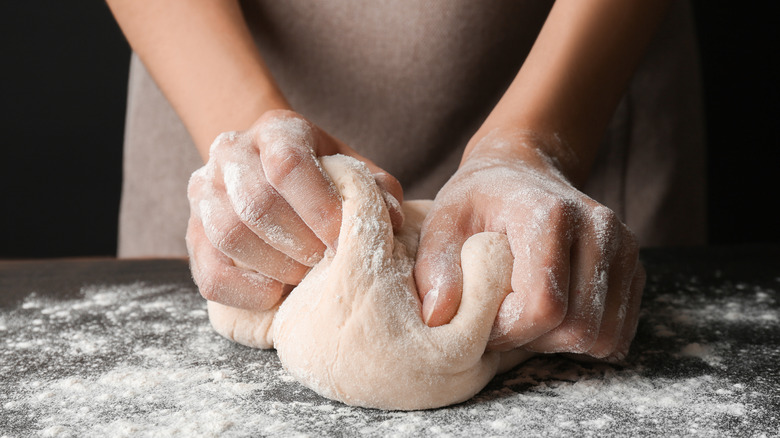 Africa Studio/Shutterstock
Want to make Alton Brown's pizza dough but don't want to use bottled water? Meghan Splawn of The Kitchn suggests a simple solution: Just filter water in a pitcher, but make sure that it's not cold. 
Brown's pizza dough method is a good one to know, but there are plenty of other tips that will take your pizza night to the next level. Here at Mashed, we've also written about The Pioneer Woman's secret to pizza dough. Ree Drummond's trick is to give the dough plenty of time to rise in the fridge, which in some cases, can mean letting it sit for more than a day. This is par for the course with pizza — in Brown's recipe, the dough also needs 18-24 hours in the fridge.
Of course, plenty of other chefs have their own version of pizza dough. Here's Robert Irvine's own pizza dough as seen on "Restaurant: Impossible," and Duff Goldman gives us some of his tips for making a delicious dough. Try them all to find out which one is your favorite!