This Is The Pioneer Woman's Secret For Perfect Homemade Pizza Dough
Americans love pizza — that's a fact. According to Eat This, Not That!, Americans eat 350 slices of pizza every second (!!) and almost 13 percent of us eat pizza on any given day in the United States. Whether it's Pizza Hut, Papa John's, or Domino's, we just can't resist reaching for another slice (or two or three) of cheesy, saucy, doughy goodness.
While there are plenty of pizza joints and Italian restaurants serving up (and delivering) delicious pies, pizza is also one of those dishes that even the most beginner cooks can make at home. You can use premade dough in a pinch, but if you really want to go the extra mile, homemade dough will make your pizza infinitely better, and after just one bite you'll understand why it's worth the extra effort. To help you make the best pizza dough, Food Network's Ree Drummond has shared her hack for the fluffiest, tastiest crust.
Timing is everything when it comes to pizza crust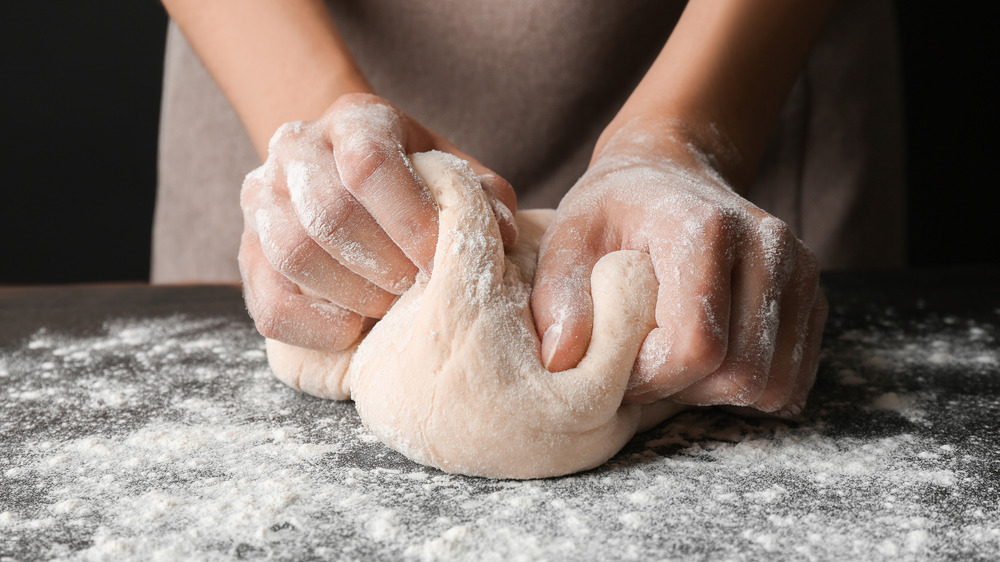 Shutterstock
According to The Pioneer Woman's pizza dough recipe, the secret to the perfect crust isn't so much about what goes in it but rather how you make it. More specifically, how long you let the dough rest and rise. Because most recipes use yeast, you'll have to let the dough rise for at least a few hours. But Drummond actually recommends covering it (or putting it in a sealed plastic bag) and letting it sit in the fridge for up to a couple of days. She says it ups the flavor and texture and makes it "aged to perfection."
Drummond isn't the only one who says the longer you let your dough rest, the better. HuffPost interviewed several professional pizza makers (i.e. chefs) and all of them agreed that cold fermentation is ideal for pizza dough, which means putting it in the refrigerator for at least 24 hours before baking.