The One Grocery Store Item Barbara Corcoran Can't Live Without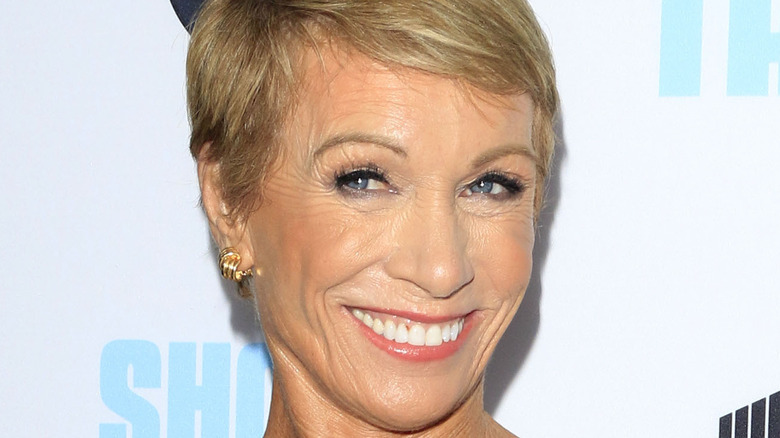 Kathy Hutchins/Shutterstock
Barbara Corcoran may be best known as a panelist on ABC's "Shark Tank." But before she was advising and investing in other entrepreneurs, she was a D student in high school and college who turned a $1,000 investment into a billion-dollar real estate business. Not too shabby, if you ask us. Corcoran clearly knows a winning investment when she sees one — just ask the creators of Cousins Maine Lobster. In October 2012, they appeared on "Shark Tank," and Corcoran invested in this now booming seafood food truck chain that has grown into a $20 million business (via Business Insider). 
Maybe Corcoran is a secret foodie as well. Per CNBC, in 2020, the businesswoman invested in Holly Cooper, founder of the food company Fried Green Tomatoes, which is another food truck purveyor. During her pitch, Cooper shared, "Our food truck makes everything fresh to order. Our bacon, lettuce, fried green tomato sandwich is the favorite. We're known best by visitors from all over the country for our hand-battered, fried green tomatoes, fried pickles, and our secret sauce." Those sandwiches sound like they are worth investing in. It makes us wonder what grocery store items someone as smart and successful as Corcoran can't live without. Well, the answer might surprise you.
Tostitos Hint of Lime
Barbara Corcoran is a fan of Tostitos Hint of Lime tortilla chips. We didn't see that one coming, but it's true. And Corcoran explained her fetish and snacking discipline with her beloved Tostitos chips to New York Magazine's The Strategist. "This is my problem," she said. "I'm not a fat person, but I have to restrict myself to two bags of these a week because I will eat the whole bag." So relatable, right? 
But the author and podcast host went on to share that she doesn't eat her Tostitos with dip or salsa because the taste is perfect as is. Corcoran said, "It has this cilantro and limy tart flavor that's perfect. The chips are so light, you swear you aren't putting on any weight. I don't know how many calories are in a bag. I don't want to know. I've introduced them to so many people who adore them now. It makes a mundane potato chip feel like it should be put to rest."
Corcoran loves these chips so much she tweeted photos of herself eating a bag with the caption, "Happy #NationalTortillaChipDay! You know I'll be celebrating with my favorite Hint of Lime @Tostitos as always. (Not sponsored, but I'd make a great rep)." Tostitos was quick to respond by retweeting Corcoran's tweet and writing, "Meet our new (unofficial) rep." We smell success.