Slow Cooker Al Pastor Recipe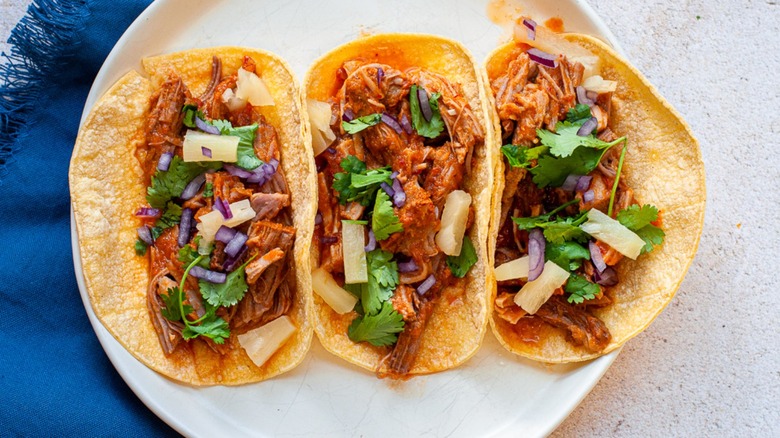 Christina Musgrave/Mashed
Tacos al pastor are super trendy at the moment — and for good reason. You may be vaguely familiar with the tacos, which involve pineapple, pork, and a warm tortilla. You may even know that "al pastor" means "shepherd style," though you may not know exactly how the al pastor style of cooking actually came to be. As Amigo Foods reveals, al pastor originated in the 1930s when Lebanese immigrants made their way to Puebla, Mexico. They brought with them the shawarma-method of cooking meat on a spit and then shaving it thin before serving. Mexicans adapted this method, using their own preferred spices and swapping the lamb for pork. While we're not sure who got the idea to add pineapple, we extend our heartfelt gratitude, since it's an absolutely genius pairing.
While preparing authentic al pastor meat is difficult for any home cook who doesn't have a rotating spit in the kitchen, recipe developer Christina Musgrave came up with this slow cooker al pastor recipe that makes things much simpler. This recipe is easy to cook, requires simple ingredients, and will still have a flavor reminiscent of your taco truck favorite. "The flavors are just so unique and delicious that it's a crowd favorite every time," Musgrave says of the recipe. Well, what are you waiting for? Let's get into this slow cooker al pastor recipe!
Gather the ingredients to make slow cooker al pastor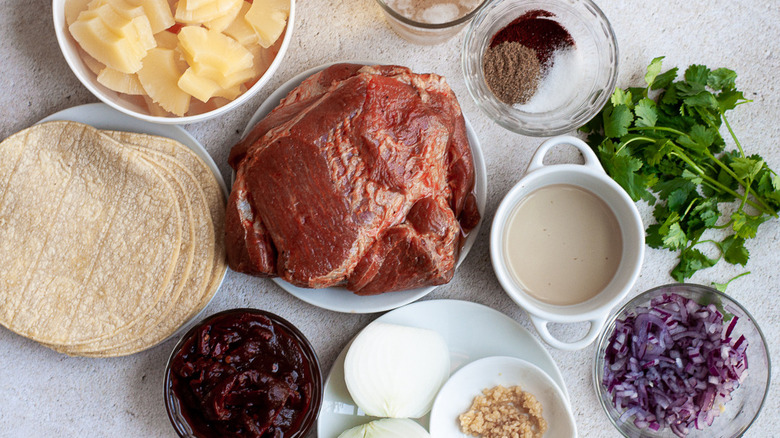 Christina Musgrave/Mashed
The main ingredient in this al pastor recipe is a boneless pork shoulder, so you'll want to get one that's about three pounds in size. You'll also need a white onion (a yellow one could work, as well), a few cloves of garlic, and an entire fresh pineapple. As a cooking liquid, you'll be using beer. "I used a light Mexican beer," Musgrave explains. Finally, you'll need some apple cider vinegar for a pop of acidity, a can of chipotle peppers in adobo sauce, chili powder, and cumin to round out the flavors.
Make the sauce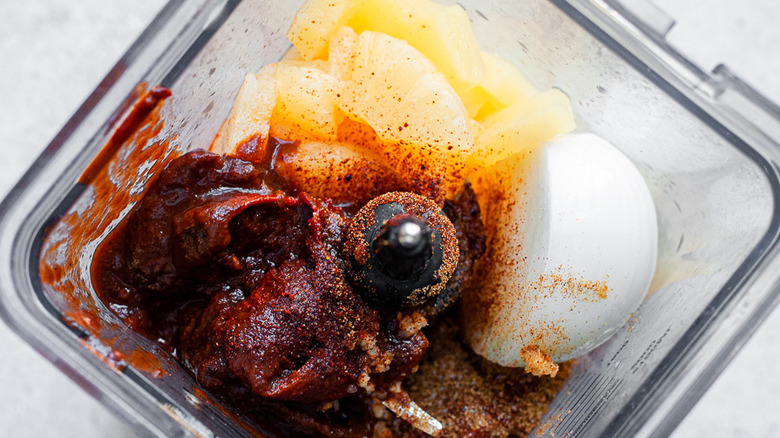 Christina Musgrave/Mashed
All of the ingredients (except for the pork) are going to be blended into a sauce, so you don't need to do all that much chopping. That being said, you will need to peel an onion and garlic cloves and chop the onion in half. Additionally, you will need to peel, core, and chop up the pineapple. Then, grab a blender or food processor and toss in the onion, chipotle peppers, garlic, apple cider vinegar, chili powder, salt, cumin, and an entire chopped pineapple in. Pulse the ingredients until they form a smooth sauce, about one minute. Then, pour in the entire bottle of beer and thoroughly mix it into your sauce — just like that, you're ready to cook the pork!
Simmer the pork in the pineapple and beer sauce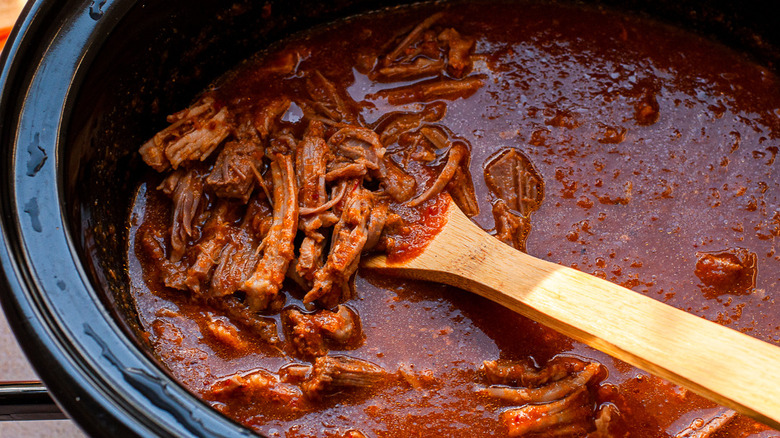 Christina Musgrave/Mashed
Put the entire pork shoulder into the slow cooker. Then, pour all of your sweet, tangy sauce over the pork, ensuring that the entire shoulder is thoroughly covered. Close the lid and set the slow cooker for four hours on high or eight hours on low. After the time is up, carefully remove the lid and take a moment to savor the impeccable aroma of pork and pineapple. Finally, using a fork, shred the meat so it looks something like pulled pork.
Serve the al pastor pork with your favorite sides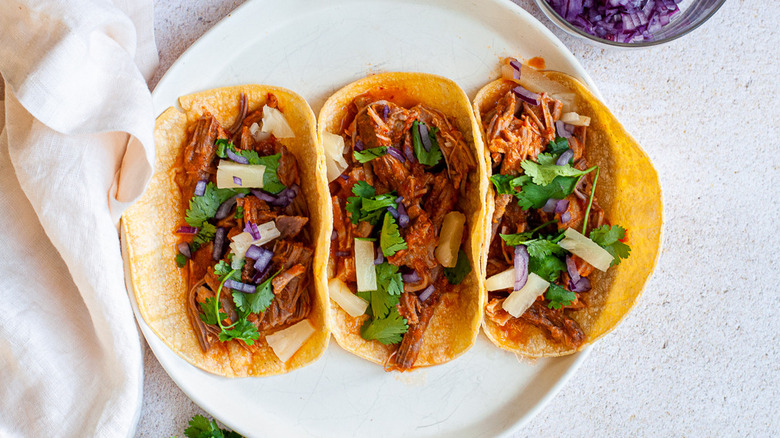 Christina Musgrave/Mashed
Now that the pork is shredded, you're ready to serve your slow cooker al pastor and enjoy! While you could enjoy the meat on its own, it works especially well on tacos, along with a variety of other toppings. Musgrave notes that you can use either flour or corn tortillas as the base, and she also suggests garnishing these al pastor tacos with cilantro, diced red onion, additional fresh pineapple, and lime wedges. As side dishes she recommends "cilantro lime rice, Mexican rice, and refried beans." Whichever way you serve up this al pastor, it's guaranteed to be an absolute crowd pleaser!
Slow Cooker Al Pastor Recipe
This slow cooker al pastor recipe is easy to make, incredibly flavorful, and perfect for a weeknight dinner.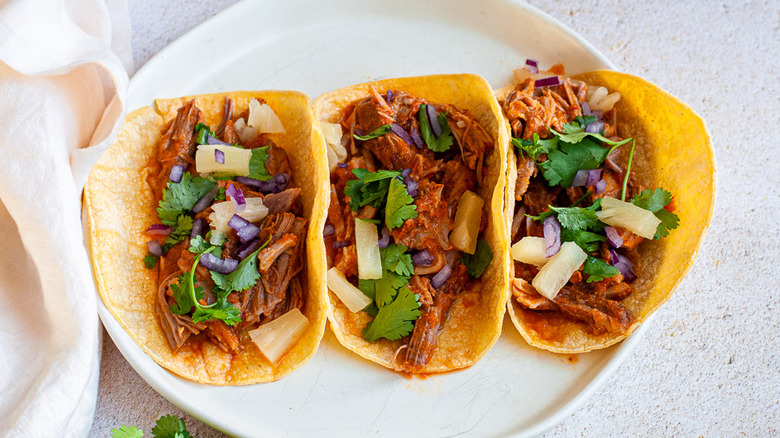 Ingredients
1 white onion, peeled and sliced in half
1 (7-ounce) can chipotles in adobo sauce
2 cloves garlic, peeled
2 tablespoons apple cider vinegar
1 tablespoon chili powder
1 teaspoon cumin
1 large pineapple, peeled, cored, and chopped
1 (12-ounce) bottle of beer
3-pound boneless pork shoulder roast
Optional Ingredients
tortillas
cilantro
diced red onion
additional fresh pineapple
lime wedges
Directions
Puree onion, chipotles, garlic, vinegar, chili powder, cumin, and diced pineapple with 1 teaspoon salt in a food processor or blender, pulsing for about 1 minute or until smooth.
Stir beer into the mixture.
Put the pork in the slow cooker.
Pour pineapple and beer mixture over pork.
Cover pot and cook on high heat for 4 hours or low for 8 hours.
Once the pork is cooked, shred with a fork.
Serve pork with tortillas, extra pineapple, cilantro, and diced red onion, or any preferred sides.
Nutrition
| | |
| --- | --- |
| Calories per Serving | 525 |
| Total Fat | 25.8 g |
| Saturated Fat | 8.9 g |
| Trans Fat | 0.2 g |
| Cholesterol | 140.6 mg |
| | |
| --- | --- |
| Total Carbohydrates | 31.9 g |
| Dietary Fiber | 3.9 g |
| Total Sugars | 20.7 g |
| Sodium | 783.7 mg |
| Protein | 41.1 g |