Kraft's Pumpkin Spice Mac And Cheese Is Turning Heads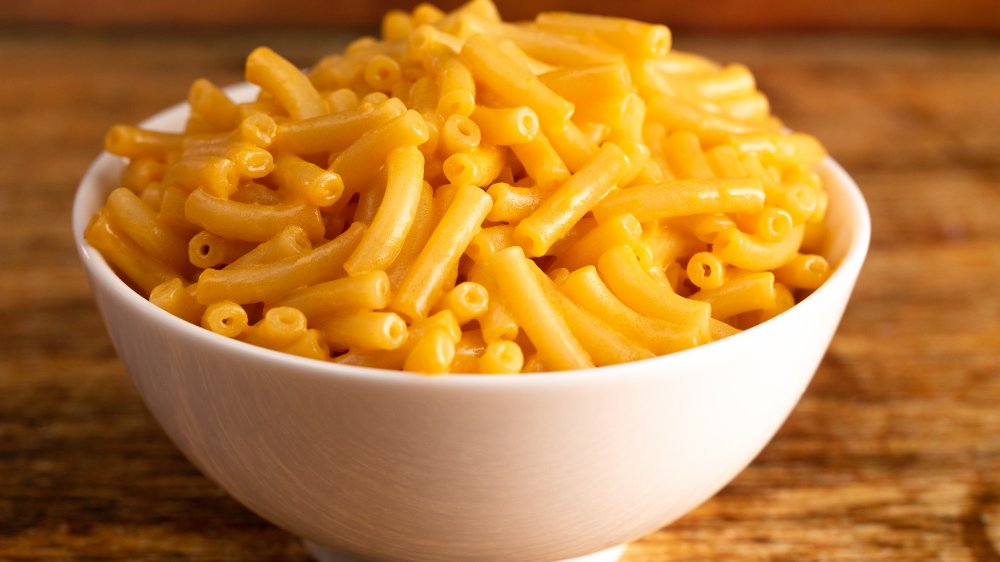 Shutterstock
How deep is your love for pumpkin spice? Pumpkin spice lattes? Yes, of course. Pumpkin pie pancakes? Sure. How about pumpkin spice mac and cheese? Perhaps things have gone too far. But a little side eye from some of us isn't keeping Kraft from jumping on the fall bandwagon and adding pumpkin spice to their classic macaroni and cheese in the blue box.
The whole pumpkin spice mac and cheese adventure began earlier this week in Canada, where the famous mac and cheese dinner is known as "Kraft Dinner" or "KD." Kraft rolled out a giveaway of boxes of the autumn-flavored macaroni and cheese on Instagram, encouraging fans in Canada to join an online waitlist (via Delish). The first 1,000 entrants will receive a sample of pumpkin spice mac and cheese when it's released in October. 
Kraft's waitlist website PumpkinSpiceKD.com asks, "Ever wondered what KD with pumpkin spice would taste like? Like if your mac and cheese had hints of cinnamon, dashes of allspice, and layers of ginger, nutmeg, and cloves all slathered in KD cheese? Probably not, but we made it anyway." We appreciate the honesty, Kraft! While these fall-themed shenanigans began as something only available north of the border, Kraft just made an exciting announcement for Americans.
Kraft announced pumpkin spice mac and cheese is coming to America too
When Kraft launched the idea of pumpkin spice mac and cheese in Canada earlier this week, 30,000 Canadians joined the waitlist within the first 48 hours. This response prompted Kraft to share the love. According to Today, Martina Davis, the brand manager for Kraft Macaroni and Cheese said, "After seeing the huge response Pumpkin Spice Mac & Cheese received north of the border, and even hearing some heated debates about it down here, we had to bring it to the U.S. for Americans to try."
The company announced the American version of the giveaway on Twitter today. From now through September 29, Americans can enter for a chance to get the limited-edition mac and cheese by using #PumpkinSpiceKMC #Sweepstakes and tagging @KraftMacNCheese on Twitter. According to a press release from Kraft via Cision, the first 1,000 people to enter will receive Kraft mac and cheese with a pumpkin spice boost pack, a fork, and a "signature white coffee style cup with your name written on it (spelled wrong of course)." Oh, burn. Yeah, that's a jab at Starbucks and their baristas, for sure. We're sure it's all in good, cheesy fun though. Meanwhile, the response to Kraft's announcement has been mixed. Detractors responded with comments like, "No one asked for this!!!!" while others call the idea a "perfect combination." Whether Kraft's new mac and cheese is pumpkin spice and everything nice or just plain weird remains to be seen.