3-Ingredient Oatmeal Pancakes Recipe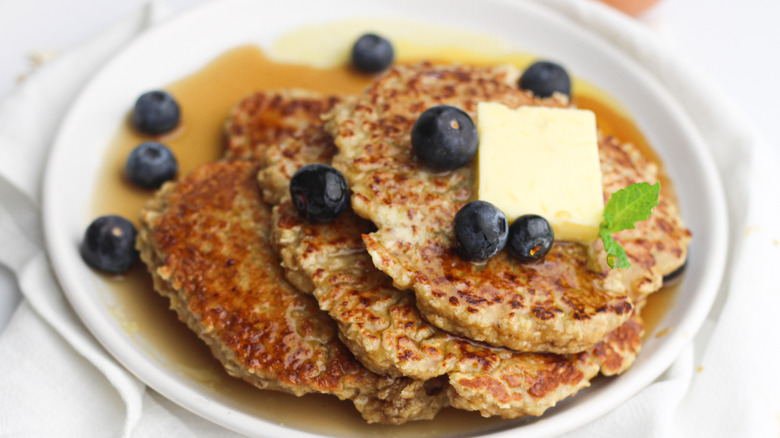 Susan Olayinka/Mashed
When it comes to breakfast, the more basic the better. Sure, you want something nourishing and filling, but you don't want to spend too much of your busy morning cooking. Well, you won't find a much simpler breakfast recipe than this one for three-ingredient oatmeal pancakes by recipe developer Susan Olayinka of The Flexible Fridge. As simple as the ingredient list and the cooking may be, these oatmeal pancakes do indeed taste good, and that's true even before you start dressing them up with optional butter, syrup, fresh fruit, and so on. "These are a bit heavier than regular pancakes but that's a good thing because all that fibre will keep you full for longer," Olayinka says.
Oatmeal pancakes are a hearty, healthy breakfast option you can enjoy on their own or beside bacon and eggs, fresh fruit, or whatever else sounds like a perfect morning meal. And because they are so easy to make and use so few ingredients, you could also make them your go-to choice for eating when you're at the campsite or cabin. And, if you want to sweeten the deal even more, consider making a seasonal treat with pumpkin spice oats as the base in the autumn or a winter holiday inspired flavoring as the colder months close in. Simple, healthy, and incredibly versatile — it doesn't get much better than that!
Gather your ingredients to make oatmeal pancakes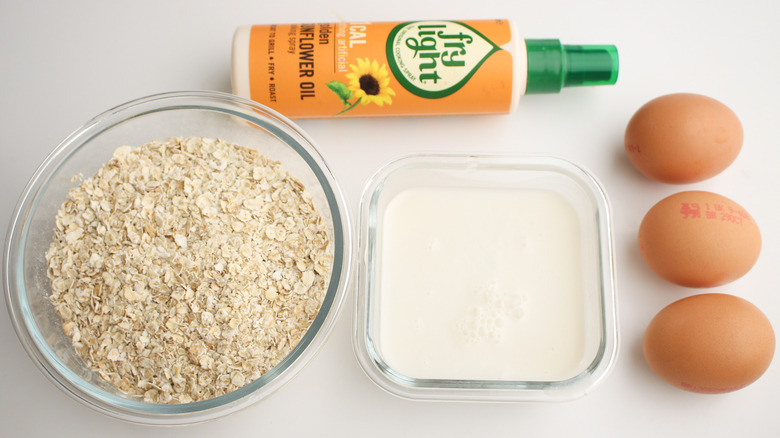 Susan Olayinka/Mashed
It really does take just three ingredients to make these pancakes in their most basic form, and those are a cup and a half of oats, three eggs, and a quarter cup of milk. That said, you may want some cooking spray to grease your pan and some butter and berries to add some flavor to the cooked pancakes. And some syrup, sure, why not? And, while the ingredient quantities specified here are for making just four pancakes, you can easily scale things up as much as you want for a larger batch. Just keep the math the same as you double or even triple the recipe to make breakfast for the whole family.
Prepare the pancake batter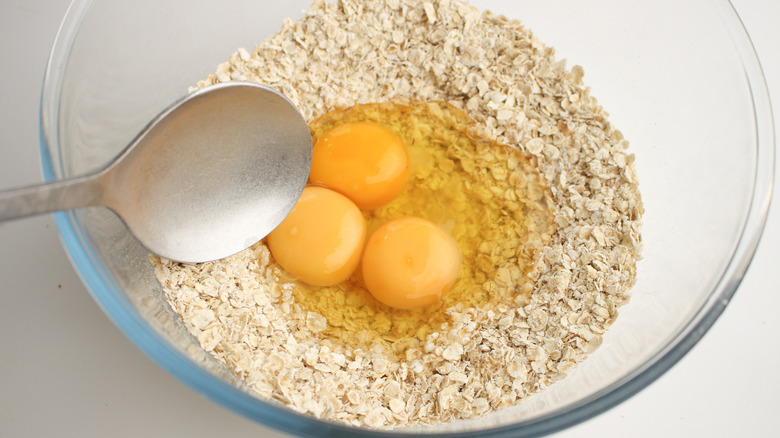 Susan Olayinka/Mashed
Get a mixing bowl and add in the oats and the eggs, then give them a thorough stir. It's best to use a metal spoon for this so the oats don't get stuck to the tines of a fork or the coils of a whisk. Once the oats and eggs are mixed, pour the milk in and mix everything together again. Finally, leave the batter to rest for five minutes, which will allow the mixture to thicken slightly.
Cook the oatmeal pancakes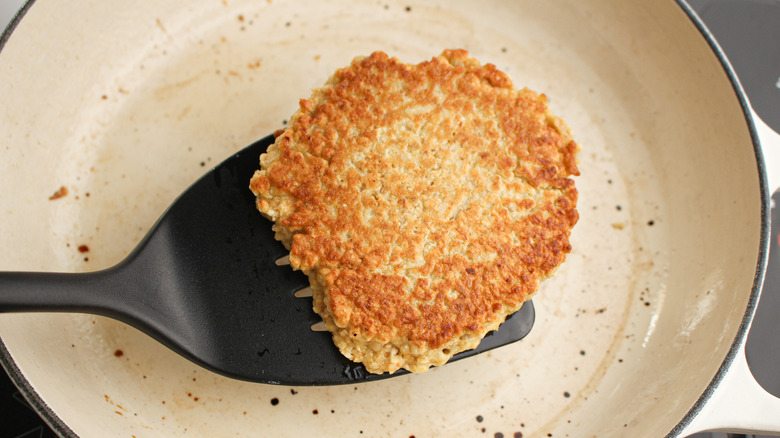 Susan Olayinka/Mashed
If you're using it, now is the time to add oil or cooking spray a large pan set to medium heat. (And do use a nonstick pan either way, if you have one handy.) Now, working in batches, scoop out batter in approximate ¼-cup portions and add these scoops to the heated pan, pressing them out flat and into that classic pancake shape.
Cook the pancakes until they are golden brown — which should take about three minutes — before flipping them to the other side and cooking each for another two minutes. Repeat the process until you're all out of batter, remembering that this amount batter should make four pancakes.
Serve the pancakes immediately and enjoy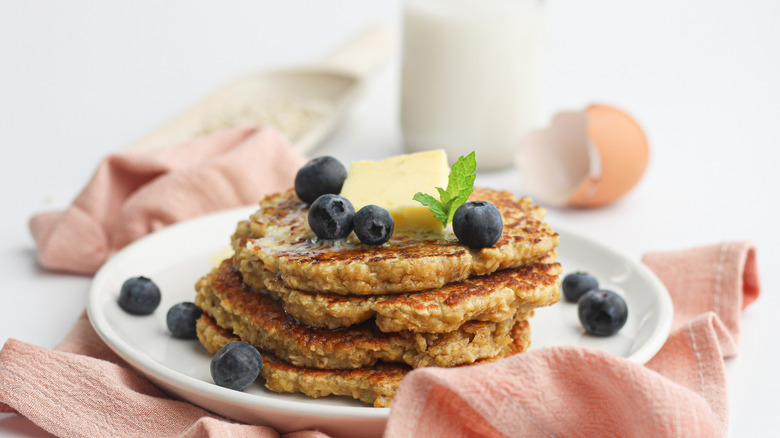 Susan Olayinka/Mashed
We hope you're hungry, because the meal you have just cooked up is very filling. Rich in protein and complex carbs, these oatmeal pancakes will keep you fueled up all through the morning. And, when you pair them with fresh fruit, you have a complete meal on your hands. 
Olayinka recommends that you serve these hearty pancakes with berries, maple syrup, butter, and honey, though you can top them off with anything that you'd like. And do serve them right after cooking, by the way. "It is best to make them fresh," Olayinka explains, noting that they may get a bit hard if they sit out for too long. We hope you enjoy this hearty and wholesome three-ingredient oatmeal pancake recipe!
3-Ingredient Oatmeal Pancakes Recipe
Oatmeal pancakes are a hearty, healthy breakfast option, and these three-ingredient oatmeal pancakes couldn't be easier to whip up.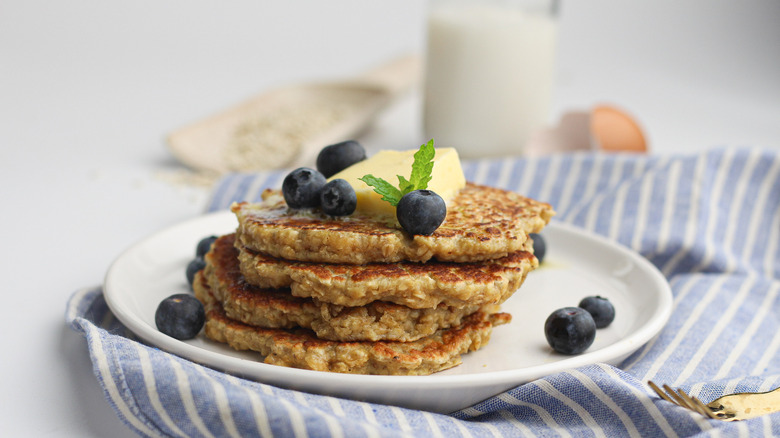 Ingredients
1 ½ cups oats
3 eggs
¼ cup milk
Optional Ingredients
cooking spray
butter
berries
Directions
Place oats and eggs into a mixing bowl and combine together with a spoon.
Add the milk and mix everything together, then leave the mixture alone for 5 minutes to allow it to thicken slightly.
Add cooking spray to a large nonstick pan set to medium heat and, working in batches, scoop out batter in ¼-cup portions and add to pan.
Cook the pancakes until golden brown, about 3 minutes, before flipping to the other side and cooking for another 2 minutes. Repeat until you're all out of batter.
Serve pancakes immediately with fruit, drizzled with maple syrup, or any other desired toppings.
Nutrition
| | |
| --- | --- |
| Calories per Serving | 283 |
| Total Fat | 7.6 g |
| Saturated Fat | 2.0 g |
| Trans Fat | 0.0 g |
| Cholesterol | 121.5 mg |
| | |
| --- | --- |
| Total Carbohydrates | 39.7 g |
| Dietary Fiber | 6.2 g |
| Total Sugars | 0.9 g |
| Sodium | 53.5 mg |
| Protein | 14.4 g |